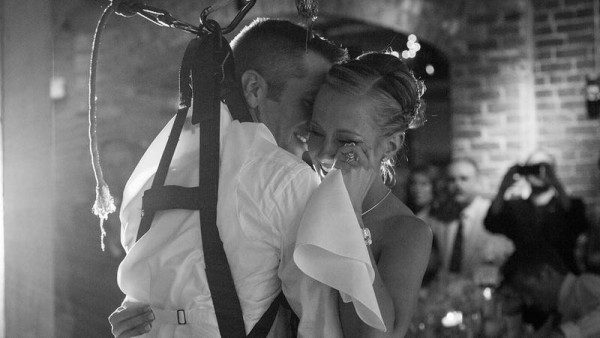 Michelle is a wedding planner, but she would never have guessed the special surprise her husband-to-be had planned for their first dance.
Joey and Michelle met at a country music concert in 2012. They quickly realized they shared a last name (Johnson) and had the same birthday! It was only a matter of time before they fell in love.
Joey proposed a year later, and they set a date for June 28, 2014.
Another special thing about Joey is he is a veteran — he served in Afghanistan for 10 months before he met Michelle. He suffered from PTSD after he returned home and took up motorcycle riding for the rush. Only 4 months after meeting Michelle, he was in an accident that left him paralyzed below his chest.
They got married as planned on June 28. After they cut the cake at the reception, her mom told Michelle to take a break in the bridal suite. When she came back, Joey was standing in the dance floor waiting for her.
He and his friends had rigged up a system so he could be out of his wheelchair for their first dance. Michelle was totally surprised. "It was so amazing to be eye to eye with him again and such a dream come true."
What a sweet story, and a perfect picture of true love.
Read more on the Patheos Faith and Family Channel, fan me on Facebook and follow this blog on Twitter!