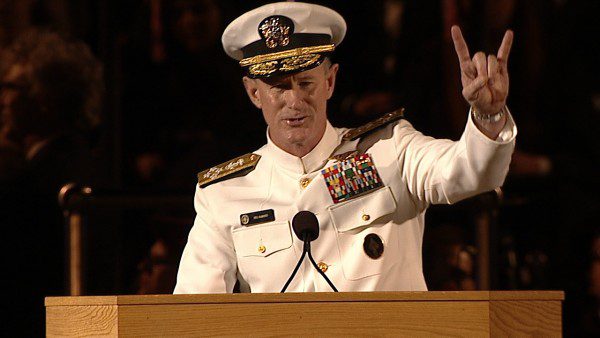 You can't beat the advice in this commencement speech.
I've always been impressed by the military, especially since my big brother joined the Army. I'm so thankful for the brave men and women who risk their lives for our safety. I really respect those who have what it takes to get through the grueling training we all hear about – and then make it their career.
I just came across this speech by Admiral William McRaven that he gave at Commencement for The University of Texas at Austin this year. He shared 10 life lessons that he learned from his training as a Navy SEAL — his advice if you want to change the world.
Some of them were really simple, like start with making your bed. Others were profound, like sing when you're up to your neck in mud, and don't back down from the sharks. A lot of them made me laugh at first – like get over being a "sugar cookie." (You'll just have to watch to see what that one means!)
But they were all inspirational — such great lessons to teach boys, for young people to learn, or really for anyone to use throughout their life!
The Admiral has a commonsense way of putting things. He's also the man who organized the raid that killed Osama bin Laden. He's not messing around. He has a lot of life experience and a lot of wisdom to pass on.
As a mom who wants my little boy to grow up into a good man, I can definitely use these lessons as Tripp gets older. (And fortunately, we've already got a head start on making the bed!)
So, "if you want to change the world," take 19 minutes and watch this video!
Read more on the Patheos Faith and Family Channel, fan me on Facebook and follow this blog on Twitter!