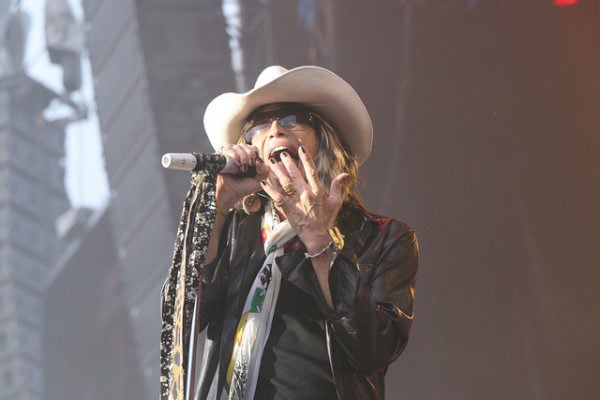 Sadly, there are so many stories of celebrities admitting they've had an abortion, and talking about how much heartache it caused. These stories are sad, but important to let people know how devastating abortion really is! I'm going to do a series of blog posts about some of those stories, hoping we can all learn from their mistakes and pray that God would heal their heartache… and that people will quit seeing abortion as the way to handle an unwanted pregnancy.
Aerosmith singer Steven Tyler has spoken out more than once about the abortion his young girlfriend had in the 70s. He was traumatized by watching it, and now the mother of his child, Julia, has written her version of the story. She tells how the abortion affected her and how she's been able to find healing.
Abortion just continued a string of traumas Julia Holcomb suffered in her young life. She was almost aborted herself. Her mom divorced Julia's father, a "charming gambler," then a terrible car accident killed her brother. Her mom divorced a second time, and their family stopped going to church. During that time, she met Steven Tyler backstage at an Aerosmith concert. Her mom signed papers to make him Julia's official guardian, and she moved to Boston with him.
When she got pregnant, she felt alone and abandoned by everyone and gave in to the pressure to abort the baby. When Julia told her own story, she said,
For the first time I realized that I should not have been foolish enough to conceive a child outside of marriage with a man who might not be interested in a life-long relationship.

My baby had one defender in life; me, and I caved in to pressure because of fear of rejection and the unknown future.  I wish I could go back and be given that chance again, to say no to the abortion one last time.  I wish with all my heart I could have watched that baby live his life and grow to be a man.
Steven Tyler wrote about his own trauma after watching the abortion in his autobiography:
It was a big crisis. It's a major thing when you're growing something with a woman, but they convinced us that it would never work out and would ruin our lives. … You go to the doctor and they put the needle in her belly and they squeeze the stuff in and you watch. And it comes out dead. I was pretty devastated. In my mind, I'm going, Jesus, what have I done?
Thankfully, for Julia at least, this story had a happier ending. In time, she returned to church, found forgiveness from God, and married a wonderful man. She is now strongly pro-life because of her experiences:
Today I am a pro-life Roman Catholic, the mother of seven children, and this year my husband and I will celebrate our 30th wedding anniversary.  Joseph and I have six children of our own, and I give thanks for each of them, as they are truly a gift from God.  We are also legal guardians to a beautiful little girl whose young mother made the choice for life in a difficult pregnancy, and then entrusted her to our care.

…I pray that our nation will change its laws so that the lives of innocent unborn babies are protected.

Our nation's young girls, especially those like me, who have experienced trauma and abuse, and are vulnerable to exploitation should not be used as sexual playthings, scarred by abortions to free their male partners from financial responsibility, and then like their unborn children, tossed aside as an unwanted object.
In case you missed them, here are some other celebrities who've admitted their abortions caused heartbreak:
Lisa Robertson, wife of Duck Dynasty's Al Robertson
Read more on the Patheos Faith and Family Channel, fan me on Facebook and follow this blog on Twitter!
Photo credit: Hans Westbeek via Flickr, CC.