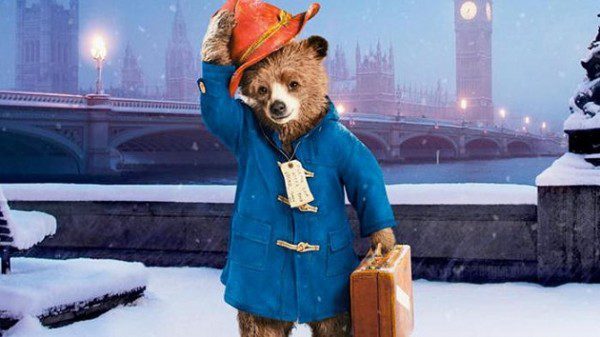 Another great children's book is going to be a movie! Paddington comes out on Friday, and it's the story of everyone's favorite marmalade-loving bear.
Not only does it look like an adorable movie, with stars like Hugh Bonneville and Nicole Kidman – there will also be plenty of lessons for kids and adults.
Paddington has something to say about home, family, persistence, and welcoming people who are different from us (or bears who can talk, in this case). Best of all, it shows a small example of what God does for His children when he takes us in to His family!
The creator of the Paddington Bear books has talked about his inspiration for writing the stories. Michael Bond was deeply moved by seeing Jewish evacuee children traveling through Reading railway station from London in the late 1930s. He said,
They all had a label round their neck with their name and address on, and a little case or package containing all their treasured possessions. So Paddington, in a sense, was a refugee, and I do think that there's no sadder sight than refugees.
The bear has many traits that make him a good role model for kids to watch (except for his knack for mischief, maybe):
…eternally optimistic and always comes back for more, no matter how many times his hopes are dashed. Paddington stands up for things – he's not afraid of going to the top and giving them a hard stare.
As for the spiritual lessons,
Stephen Sizer
says that Paddington's search for a family reminds him of this verse from Ephesians 2:12-13:
Remember that at that time you were separate from Christ, excluded from citizenship in Israel and foreigners to the covenants of the promise, without hope and without God in the world. But now in Christ Jesus you who once were far away have been brought near by the blood of Christ
Paddington is looking for a place to belong, just like so many people today. We can welcome them into our own lives like the Brown family does for Paddington. But even families have pain and heartbreak.
The one place we will always belong is in God's love and his family. This movie is a sweet reminder of that greatest story ever told.
Plus, the bear is super cute.
I can't wait to take Tripp to see this. Just the scene in the trailer below will have him in stitches!
Read more on the Patheos Faith and Family Channel, fan me on Facebook and follow this blog on Twitter!