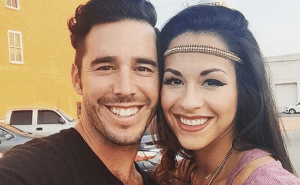 We were all crushed when we heard the news last week that Craig Strickland would not be coming home to his new bride.  The country music singer's body was finally found several days after he went missing during a duck hunting trip.
But now his widow,  Helen, is taking to social media to celebrate their life together.  This week she has posted several sweet videos of the couple and a sweet love letter Craig wrote to her on their wedding day.
What a precious letter! It is amazing to me that she is willing to share her personal memories of Craig with the world, all the while pointing people towards the Gospel.  Throughout the gut-wrenching days that she waited for news of her husband, Helen continually posted messages asking for prayer and speaking about her faith.  And now, even after she has gotten the worst possible news, she continues to praise Jesus online, in person, and in public statements!
It is such an incredible testimony of Craig and Helen's faith that in the midst of such a nightmare, Helen is still so quick to rest in the arms of her Savior and point the watching world to Him.  I am positive that even during what I can only imagine is one of the hardest points in her life, God is working through Helen's unwavering faith.
We are praying for you, Helen!
Read more on the Patheos Faith and Family Channel, fan me on Facebook, follow me on Instagram and follow this blog on Twitter!