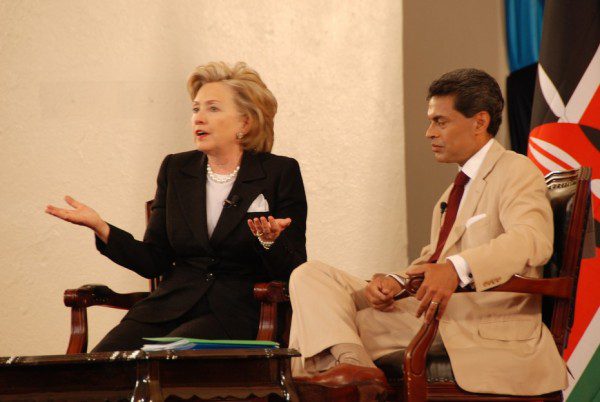 Hillary Clinton was in the headlines last week for using her personal email for government business when she was secretary of state. Her supporters are saying, "who cares?" But even CNN knows why those are important facts to consider in a more-than-likely presidential candidate!
Emails are getting to be a big way to see what our officials really think and do, and to hold them accountable. (And can I just say, my mom's emails were examined and they found absolutely NOTHING on her!)
Now it's Hillary's turn to be scrutinized, and she's not so squeaky clean. Here are the reasons CNN said Americans have to be concerned:
She violated the spirit of the law. Even if the law wasn't as specific as it is now, isn't it kind of common sense to keep government business on government channels?
"It fits with criticism that the Clintons are sneaky and skirt the rules." Their family charity got a few foreign donations while she was Secretary of State, which DID break the rules.
It's a security risk. The head of the state department really should know better.
It shows the opposite of transparency, that all-important government value. Government employees are supposed to use their federal emails so their messages can be archived. With a personal email, there's no accountability. What does she have to hide?
Business executive Carly Fiorina said, "This once again raises serious questions as to Hillary Clinton's definition of leadership."
But there's more.  Chris Cillizza of the Washington Post has new information…  emphasis mine:
The computer server that transmitted and received Hillary Rodham Clinton's emails — on a private account she used exclusively for official business when she was secretary of state — traced back to an Internet service registered to her family's home in Chappaqua, New York, according to Internet records reviewed by The Associated Press.

The highly unusual practice of a Cabinet-level official physically running her own email would have given Clinton, the presumptive Democratic presidential candidate, impressive control over limiting access to her message archives. It also would distinguish Clinton's secretive email practices as far more sophisticated than some politicians, including Mitt Romney and Sarah Palin, who were caught conducting official business using free email services operated by Microsoft Corp. and Yahoo Inc.
Here's the thing, Chris.  Do you think it's possible that the same people who went after my mom — and found nothing — also may have received e-mails from Hillary since that time?  Do you think for one second they even raised an eyebrow over her personal e-mail use?  Of course not.
I know people's tongues are wagging because they are beginning to realize the Clintons believe the rules don't apply to them.  But for me, the big revelation is that my mom's harassment was just that.  Politically driven malice toward someone who did nothing wrong.
How will the same liberals react to Hillary, when it's obvious to everyone that she's done something wrong?
They'll probably serve on her campaign staff and continue to carry her baggage.
Read more on the Patheos Faith and Family Channel, fan me on Facebook and follow this blog on Twitter!
Photo Credit: Bureau of IIP via Flickr.