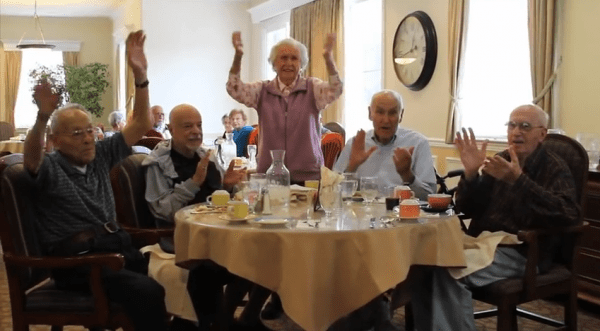 Check out this video of seniors at Meadowbrook Senior Living facility dancing to everyone's favorite "Happy" song! Even the caretakers get in on the fun.
The guy who shot the video was pretty busy and at first didn't want to do it. But he says the experience was totally worth it:
I met a man who was wounded among the first wave of soldiers storming the beaches at Iwo Jima. I met another man in his 90s who was so full of life despite losing most of his family in the Holocaust. I met a woman who'd just turned 100 but seemed decades younger. I met another woman in the Memory Ward who at first didn't want to dance because she said she couldn't. But once she started, she didn't want to stop. And as we were leaving, she came up to me, grabbed my hand, looked me in the eye and a in a moment of total lucidity said, 'Thank you so much for coming here and visiting us.'
There is so much we can learn from our elders. Starting with the simple lesson of how to have joy all through life!
Read more on the Patheos Faith and Family Channel, fan me on Facebook and follow this blog on Twitter!