Most Americans first met Chris Pratt as the lovably silly Andy Dwyer on Parks & Recreation. He then began his film career with small-but-important supporting roles in Oscar-nominated films, Moneyball and Zero Dark Thirty. Last summer, he became a global superstar when starring in two box office favorites, The Lego Movie and Guardians of the Galaxy.
And this week, Chris Pratt is everywhere in the media with the release of one of this summer's biggest blockbusters, Jurassic World.  I'm so excited to see his new movie,  but this Facebook post is even cooler:
Meant to post this on #MemorialDay but I was in China and my phone wasn't working. I'm proud to be American. I'm blessed to get to travel the world! #IPledgeAllegiance

Posted by Chris Pratt on Wednesday, May 27, 2015
I love that Chris is teaching his son at such a young age to be proud to be an American.  In an era where many celebrities in Hollywood
seem ashamed of our great nation
, it is so refreshing to see such a simple yet bold declaration of patriotism coming from one of America's biggest action stars right now!
Thank you, Chris. For being a positive role model for your son and the millions of your fans around the world.
Watch the video here: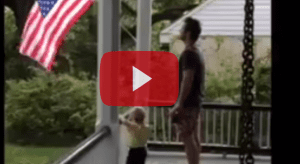 Read more on the Patheos Faith and Family Channel, fan me on Facebook, follow me on Instagram and follow this blog on Twitter!