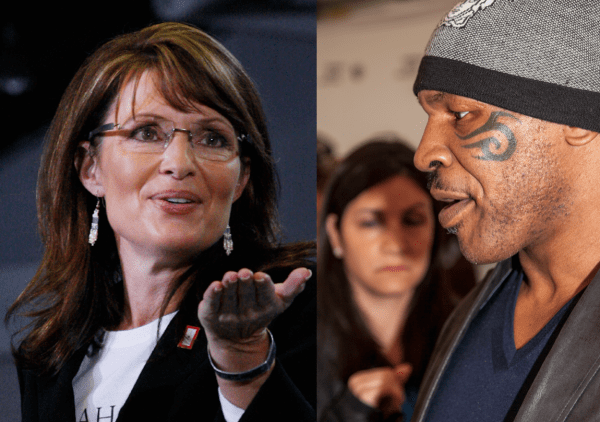 Hey ESPN, double standards much?
After suspending Curt Schilling for tweeting the truth about Islam, they showed they can't associate with people who hold views incompatible with their liberal views. But "Sister Toldjah" in 2011 reported on how ESPN was just fine with their radio host joking about my mom being raped. She quoted The Daily Caller's Jeff Poor:
Former heavyweight boxing champion Mike Tyson has plenty to say about allegations made about former Alaska Gov. Sarah Palin in Joe McGinniss' forthcoming book "The Rogue: Searching for the Real Sarah Palin."

In an interview on the radio show "Gridlock" on KWWN, ESPN's Las Vegas affiliate, Tyson took a few shots at Palin, boasting about interracial sex and the allegation that Palin had an affair with former NBA star Glen Rice.

"Glen Rice is a wonderful man," Tyson said. "He's a wonderful guy. You want her to be with somebody like [Dennis] Rodman getting up … in there. Pushing her guts up in the back of her head!"

Tyson went on to say that Rice was too "non-threatening."

"Glen Rice is a nice, mellow, docile man, non-threatening guy," he said. "You want someone like Rodman — yeah baby! Let's get that donkey in here now. [laughter] Just imagine Palin with a big old black stallion ripping. Yeehaw!"

[…]

Tyson was asked if Palin earned his vote by allegedly being open to sex with black men. Tyson explained that, as a felon, he is unable to vote. But he offered his opinion about what the allegation means for Palin's standing in the black community.

"She could always get boned out by a black person, a vote to bang her," Tyson said. "Other than a vote to run office, the only thing she can do … she's not a bad person because she likes black people at least in her."

Later in the interview, Tyson had a name for what Palin "needed."

"Sarah Palin … she met the 'wombshifter.'"
Sister Toldjah writes:
Of course, no one should be surprised that a convicted rapist and celebrity thug like Mike Tyson would get his kicks from talking about raping a woman's guts out. It's to be expected, considering the source. What wasn't expected, however, was the out and out laughter displayed by Gridlock's hosts – Mitch Moss and Paul Howard, which you can clearly hear at this link. Mediaite's rightly outraged Frances Martel describes it:

Tyson was a guest on the KWWN program "Gridlock," where the hosts cackled and guffawed in harmony at Tyson's every deplorable comment.

I mean, we're not talking about the 'polite' subdued laughter someone gets when they say something they think is humorous but in reality is most certainly not. The Gridlock hosts clearly found it absolutely hilarious that Tyson talked about Palin "meeting the wombshifter." I personally found the audio at the Daily Caller link so stomach-churning and offensive that I couldn't sit through all 9 minutes of it.
Well, the link from Sister Toldjah's 2011 blog post no longer works, but I think we can believe the accounts that she,  Jeff Poor, and Frances Martel wrote on the matter.
So, which is it, ESPN?
Are you now going to be water carrier for the Democratic Party?  If so, should we assume you're totally fine with a rapist joking about my mom being raped?
Read more on the Patheos Faith and Family Channel, fan me on Facebook, follow me on Instagram and follow this blog on Twitter!