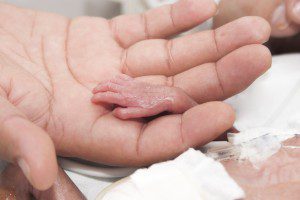 Have you read about the 1.5 pound baby boy who was born on a cruise ship last week when he was only 23 weeks? It is an incredible story that shows just how resilient human beings really are!
Yahoo News has the story:
A Utah woman who unexpectedly gave birth on a cruise ship months before her due date says she wrapped towels around the 1 1/2-pound boy and, with the help of medical staff, managed to keep him alive until the ship reached port.

Emily Morgan, of Ogden, said Thursday that doctors didn't expect her son Haiden to live, but thanks to strong lungs, a makeshift incubator and an early arrival in Puerto Rico, the baby made it. He's now receiving care at a neonatal intensive care unit in Miami.
The Washington Post has a great interview the family as well. Mother Emily Morgan told the Post:
"We've hit rock bottom of not knowing what was going to happen. We were on a cruise ship hearing he was going to die," Emily Morgan said. "And now he's 24 days old and he still is fighting."

"We can smile about that."
It is amazing that as pro-abortion advocates shout louder and louder, it is the resilience and spunk of precious little ones like Haiden who silence their messages. When tiny premature babies fight with all they have for life and win, despite the odds against them, the lies of those who shout for abortion are exposed!
Congratulations to the Morgan Family on their miraculous new addition!
Read more on the Patheos Faith and Family Channel, fan me on Facebook, follow me on Instagram and follow this blog on Twitter!