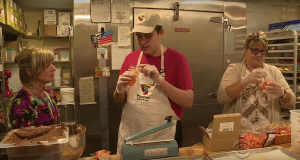 The Puzzles Bakery & Café isn't your average bakery.  In fact, I would say, its extraordinary!  All of Puzzles 25 employees have autism.
Watch this video to see for yourself just how amazing this café is!
Autism Awareness is often conveyed with brightly-colored puzzle pieces, as seen in the popular Autism Awareness Ribbon. The puzzle pattern reflects the mystery and complexity of the autism spectrum: No one knows what causes the disorder, and there is no "cure" for autism. The unique colors and shapes represent the diversity of the people living with the condition and the people in their lives that help them—direct care workers, teachers, parents, and siblings. The brightness of the ribbon signals hope—hope that through increased awareness of autism, and through early intervention and appropriate services and opportunities, people with autism will lead fuller, more complete lives.
I love that this café is not only providing employment opportunities for those with autism, but it also showing the community that each person with autism is full of potential and abilities.  We just have to give them a chance!
Read more on the Patheos Faith and Family Channel, fan me on Facebook, follow me on Instagram and follow this blog on Twitter!