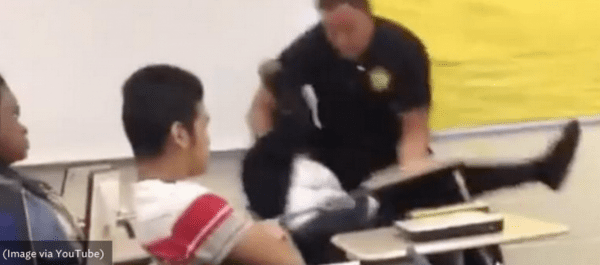 Yesterday on Facebook, I linked to this story about a cop who was called to deal with a student who was asked by her teacher, administrator, and the police to leave a classroom after being disorderly.  
She refused.
Every time.
Eventually, the policeman grabbed her, tipped over her chair, and put her in cuffs.  (See the video HERE.)
Of course, the video of this went viral and an investigation was begun — not over the disruptive teen, but the officer.  Today, he was fired!
Richland County Senior Deputy Ben Fields was told of his firing late Wednesday morning, Sheriff Leon Lott said. Lott said he would not describe the now-former resource officer at Spring Valley High School as remorseful, but that Fields was sorry the incident happened and tried to do his job.
I can't believe this, when are we going to look at what KIDS are doing wrong? Instead of instantly blaming police and higher authority? 
I know my son would leave a classroom if he was told to, so why didn't this student? Do parents teach their kids now to question authority? That they must be the victim? 
I don't know the full situation – none of us do, but this just makes me sick. When will parents take full responsibility for their kids, teach them not to act like punks, and listen to AUTHORITY – no matter what their race is.
Read more on the Patheos Faith and Family Channel, fan me on Facebook, follow me on Instagram and follow this blog on Twitter!