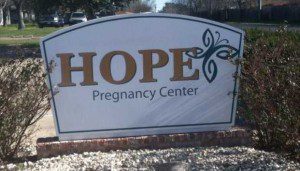 Yes!  I love the latest news out of Texas.  A former Planned Parenthood Abortion Clinic has just been re-opened as a Crisis Pregnancy Center!
LifeSite News has the story:
The Planned Parenthood facility where abortion center manager-turned pro-life advocate Abby Johnson worked is now a functioning pro-life pregnancy center.

Hope Pregnancy Centers of Brazos Valley purchased the Bryan, Texas Planned Parenthood building last year after the abortion center closed. The pro-life organization remodeled the facility and opened in September, according to the Christian News Network.

"What was once a place of death and grief where an estimated 6,400 abortions were performed has been transformed into a place of life," Tracy Frank, executive director of Hope Pregnancy, said in a statement. "We feel like we have reclaimed and redeemed the ground."

The new Hope Pregnancy Center site celebrated its grand opening on Nov. 4, according to the report. The life-affirming pregnancy center has seen about 40 women so far. Its free services include pregnancy tests, ultrasound, counseling about pregnancy options, baby supplies, STD testing, and more.
What an incredible story of redemption!  God has turned a place where thousands of children were murdered into a place of hope, life, and safety for unborn babies and their precious mothers looking for a helping hand! Let's all pray that in the coming months and years we will hear more stories like this!
And as advocates for life, let's remember to support our local Crisis Pregnancy Centers!  They are on the front lines of the pro-life movement.  They are being the hands and feet of Christ to mothers when they need it most!  They are saving lives everyday by helping moms see just how valued they are and just how valued their babies are.
Read more on the Patheos Faith and Family Channel, fan me on Facebook, follow me on Instagram and follow this blog on Twitter!