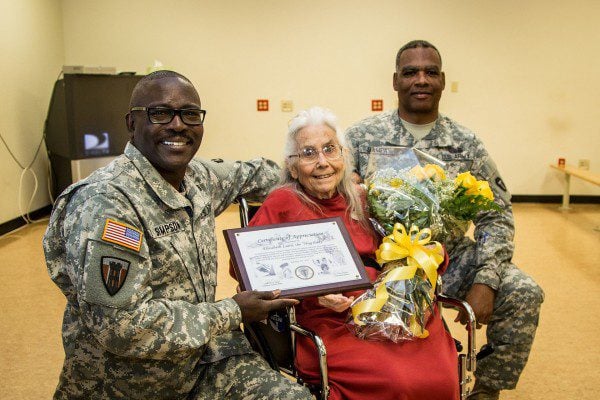 She's given over 500,000 hugs to every soldier leaving and returning through Fort Hood, and now they are hugging her back.
Elizabeth Laird, nicknamed the Hug lady, has been welcoming our men and women home since 2003. Whether it's a 2:00 AM flight, or two soldiers, the Hug Lady is there ready to embrace them with open arms–literally.
Currently hospitalized from a 10-year battle with breast cancer, the Hug Lady now has these same soldier lining up outside her door to give her a hug. Somedays the lines are so long the hospital staff has to turn people away.
Today was given the opportunity to interview this precious woman about her experience:
When they enter the room, they give me a hug and then we talk about anything from their family to what it was like overseas or if they got a civilian job upon returning…

They tell me how much my hug meant to them and how they'll never forget it. A lot of [them were] leaving home for the first time and some of their families couldn't be there to see them off…My hugs tell the soldiers that I appreciate what they're doing for us.
They go on to share her story of military service:
The Hug Lady, who enlisted in the U.S. Air Force on her 18th birthday in 1950, started volunteering for the Salvation Army with her late husband, Earnest, decades ago, but once the Iraq War broke out in 2003, she called the chief of the foundation to ask if she could go out to Fort Hood.
It is so inspiring to see the way her community has rallied around her. To assist with he medical bills, her son has created a GoFundMe account. Her site has already raised over $85,000 in less than a month. The lives she has touched span across the country and veterans have traveled over state lines to return the favor. President George W. Bush even sent a letter expressing his appreciation of her dedication.
Elizabeth Laird, you're a remarkable woman. Thank you for your service and thank you for your hugs.
Please join me in praying healing and strength over this sweet woman.
Read more on the Patheos Faith and Family Channel, fan me on Facebook, follow me on Instagram and follow this blog on Twitter!