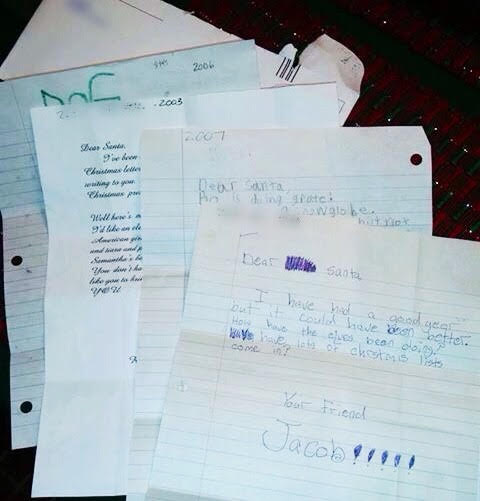 The Baltz family in Niceville, Florida were shocked to receive a very special package from their mailman this week. For the past 12 years, James had saved every letter the their children had written to Santa.
After 20 years of service as a mailman, he has been giving  these precious Santa letters back to every family on his route. 

In response to this random act of kindness, Kim Baltz wrote:
You can't imagine the happiness this letter brought to me. To recall pure childhood wonderment and anticipation. This is the first year our yard has not been decorated. Our youngest child's motto was always "The more lights, the better!" This year, at 14, he isn't interested. I have been experiencing a sense of melancholy and praying for the Spirit of Christmas to be felt. Receiving these letters from our local postmaster reminded me there are angels among us spreading love and hope. Our family was touched knowing the postmaster saved our Santa letters for the past 12-years! Thank you, James, for reminding us to show kindness during this Season.
Her daughter, Rachel Leigh, shared this sweet story to Facebook and her community flooded the post with amazement:

What a nice gesture for this Christmas season!
Buy my Mom's new devotional, Sweet Freedom, in bookstores everywhere!
Read more on the Patheos Faith and Family Channel, fan me onFacebook, follow me on Instagram and follow this blog on Twitter!
Photo Credit: Baltz Family