When I saw one of Cosmopolitan Magazine's most recent tweets, I was stunned. I know that Hollywood and the mainstream media are puppets for Planned Parenthood's agenda, but to see them so boldly mimic one of the abortion industry's most disgusting talking points was unbelievable to me.
See for yourself: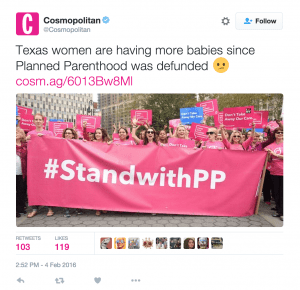 Are they really giving a frowny face emoticon to the news that babies are being born? (By the way, it looks like this tweet has since been deleted.)
Their tweet is in reference to a new study published this week in The New England Journal of Medicine, which reports that more babies have been born in Texas in the past few years . The study links this increase to common-sense abortion regulations implemented in Texas and the state's move to defund Planned Parenthood.
Babies are a gift from God and are incredibly precious- no matter the circumstances they are born into. It is so disrespectful to these children and their mother to insinuate that we should do anything less than celebrate their lives.
Yes, we should care about babies born into poverty and realize that their early lives might not be easy. (And as the church, we are called to serve these moms and babies!) But the best way to support them is not to convince their mothers to murder them before they are born. The best way to support these babies and their mother's is to empower their mom's to choose life!
Shame on you, Cosmopolitan and all the other news outlets who have written such hateful and demeaning things about the treasured children of Texas!
Buy my Mom's new devotional, Sweet Freedom, in bookstores everywhere!
Read more on the Patheos Faith and Family Channel, fan me on Facebook, follow me on Instagram and follow this blog on Twitter!