The following are the top ten best books I've read since this time last year — in alphabetical order by the author's last name because agonizing over a precise order would take all the fun out of remembering these books:
1. Democracy for Realists: Why Elections Do Not Produce Responsive Government by Christopher Achen and Larry Bartels(Princeton University Press, 2017):
assails the romantic folk-theory at the heart of contemporary thinking about democratic politics and government, and offers a provocative alternative view grounded in the actual human nature of democratic citizens. Achen and Bartels deploy a wealth of social-scientific evidence…to show that the familiar ideal of thoughtful citizens steering the ship of state from the voting booth is fundamentally misguided. They demonstrate that voters―even those who are well informed and politically engaged―mostly choose parties and candidates on the basis of social identities and partisan loyalties, not political issues. They also show that voters adjust their policy views and even their perceptions of basic matters of fact to match those loyalties. When parties are roughly evenly matched, elections often turn on irrelevant or misleading considerations such as economic spurts or downturns beyond the incumbents' control; the outcomes are essentially random. Thus, voters do not control the course of public policy, even indirectly. Achen and Bartels argue that democratic theory needs to be founded on identity groups and political parties, not on the preferences of individual voters. Now with new analysis of the 2016 elections, Democracy for Realists provides a powerful challenge to conventional thinking, pointing the way toward a fundamentally different understanding of the realities and potential of democratic government.
Read my reflections about this and related books in my post on "Daring Democracy."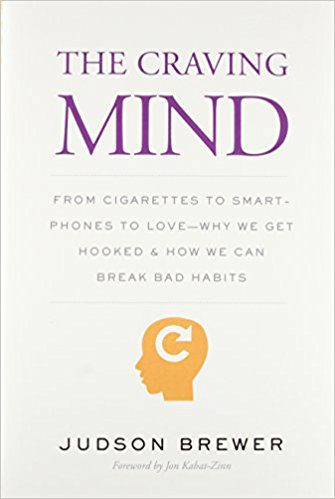 2. The Craving Mind: From Cigarettes to Smartphones to Love – Why We Get Hooked and How We Can Break Bad Habits by Judson Brewer (Yale University Press, 2017):
A leading neuroscientist and pioneer in the study of mindfulness explains why addictions are so tenacious and how we can learn to conquer them. We are all vulnerable to addiction. Whether it's a compulsion to constantly check social media, binge eating, smoking, excessive drinking, or any other behaviors, we may find ourselves uncontrollably repeating…. Dr. Judson Brewer, a psychiatrist and neuroscientist who has studied the science of addictions for twenty years, reveals how we can tap into the very processes that encourage addictive behaviors in order to step out of them. He describes the mechanisms of habit and addiction formation, then explains how the practice of mindfulness can interrupt these habits. Weaving together patient stories, his own experience with mindfulness practice, and current scientific findings from his own lab and others, Dr. Brewer offers a path for moving beyond our cravings, reducing stress, and ultimately living a fuller life.
3. We Were Eight Years in Power: An American Tragedy by Ta-Nehisi Coates (One World, 2017):
The National Book Award-winning author of Between the World and Me "reflects on race, Barack Obama's presidency and its jarring aftermath"*—including the election of Donald Trump. "We were eight years in power" was the lament of Reconstruction-era black politicians as the American experiment in multiracial democracy ended with the return of white supremacist rule in the South. In this sweeping collection of new and selected essays, Ta-Nehisi Coates explores the tragic echoes of that history in our own time: the unprecedented election of a black president followed by a vicious backlash that fueled the election of the man Coates argues is America's "first white president." Coates powerfully examines the events of the Obama era from his intimate and revealing perspective—the point of view of a young writer who begins the journey in an unemployment office in Harlem and ends it in the Oval Office, interviewing a president. We Were Eight Years in Power features Coates's iconic essays first published in The Atlantic, along with eight fresh essays that revisit each year of the Obama administration through Coates's own experiences, observations, and intellectual development, capped by a bracingly original assessment of the election that fully illuminated the tragedy of the Obama era.
4. The Cynic and the Fool: The Unconscious in Theology & Politics by Tad Delay (Cascade Books, 2017):
The questioning of religion is the beginning of a flood, one that cannot be contained and will soon drown every theological, political, economic, and cultural orthodoxy that pledged its allegiance to a sinking cause. We are in just such an era of revolt, and those with eyes to see are learning to interrogate motives. When we are told of an idea that cannot possibly be true, the most immediate question is this: does the speaker so very foolishly believe their own words, or is the person a cynic who knows perfectly well how they manipulate the truth? As individual personalities transform into a collective drive, the aftermath is a brutal mix of motives, fictions, and anxieties. The Cynic & the Fool explores theology and politics through the lens of our unconscious motives, our clever repression, and our deceptive denial. In nine chapters interspersed with nine parables, DeLay unites psychoanalysis, philosophy, and theology together for an accessible yet critical theory of culture. There could not be a more crucial moment to settle these questions. Why do we feel such anxiety over the most abstract orthodoxies, what conflicts of interest are we facing, and why we are commanded to see the world a certain way?
I address both Delay's book and the books by Gorman and Nichols referenced below in my post on Cynic or Fool? How to Not "Go Low" When We Can't Agree on Facts.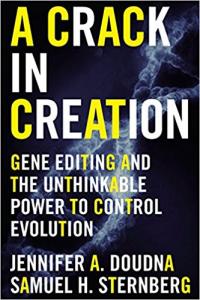 5. A Crack in Creation: Gene Editing and the Unthinkable Power to Control Evolution by Jennifer Doudna (Houghton Mifflin Harcourt, 2017) (An honorable mention along these lines is Our Grandchildren Redesigned: Life in the Bioengineered Society of the Near Future by Michael Bess.)
A trailblazing biologist grapples with her role in the biggest scientific discovery of our era: a cheap, easy way of rewriting genetic code, with nearly limitless promise and peril. Not since the atomic bomb has a technology so alarmed its inventors that they warned the world about its use. Not, that is, until the spring of 2015, when biologist Jennifer Doudna called for a worldwide moratorium on the use of the new gene-editing tool CRISPR—a revolutionary new technology that she helped create—to make heritable changes in human embryos. The cheapest, simplest, most effective way of manipulating DNA ever known, CRISPR may well give us the cure to HIV, genetic diseases, and some cancers, and will help address the world's hunger crisis. Yet even the tiniest changes to DNA could have myriad, unforeseeable consequences—to say nothing of the ethical and societal repercussions of intentionally mutating embryos to create "better" humans. Writing with fellow researcher Samuel Sternberg, Doudna shares the thrilling story of her discovery, and passionately argues that enormous responsibility comes with the ability to rewrite the code of life. With CRISPR, she shows, we have effectively taken control of evolution. What will we do with this unfathomable power?
I cover both Doudna's and Bess's books in two posts on bioethics.
6. Denying to the Grave: Why We Ignore the Facts That Will Save Us by Sara Gorman and Jack Gorman (Oxford University Press, 2016) (An honorable mention along these lines published in 2017 is Thomas Nichols, The Death of Expertise: The Campaign Against Established Knowledge and Why it Matters, also from Oxford UP.):
Why do some parents refuse to vaccinate their children? Why do some people keep guns at home, despite scientific evidence of risk to their family members? And why do people use antibiotics for illnesses they cannot possibly alleviate? When it comes to health, many people insist that science is wrong, that the evidence is incomplete, and that unidentified hazards lurk everywhere. In Denying to the Grave, Gorman and Gorman, a father-daughter team, explore the psychology of health science denial. Using several examples of such denial as test cases, they propose six key principles that may lead individuals to reject "accepted" health-related wisdom: the charismatic leader; fear of complexity; confirmation bias and the internet; fear of corporate and government conspiracies; causality and filling the ignorance gap; and the nature of risk prediction. The authors argue that the health sciences are especially vulnerable to our innate resistance to integrate new concepts with pre-existing beliefs. This psychological difficulty of incorporating new information is on the cutting edge of neuroscience research, as scientists continue to identify brain responses to new information that reveal deep-seated, innate discomfort with changing our minds. Denying to the Grave explores risk theory and how people make decisions about what is best for them and their loved ones, in an effort to better understand how people think when faced with significant health decisions. This book points the way to a new and important understanding of how science should be conveyed to the public in order to save lives with existing knowledge and technology.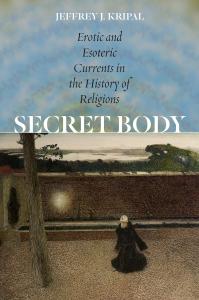 7. Secret Body: Erotic and Esoteric Currents in the History of Religions by Jeffrey Kripal (University of Chicago Press, 2017):
Over the course of his twenty-five-year career, Kripal's study of religion has had two major areas of focus: the erotic expression of mystical experience and the rise of the paranormal in American culture. This book brings these two halves together in surprising ways through a blend of memoir, manifesto, and anthology, drawing new connections between these two realms of human experience and revealing Kripal's body of work to be a dynamic whole that has the potential to renew and reshape the study of religion. Kripal tells his story, biographically, historically and politically contextualizing each of the six books of his Chicago corpus, from Kali's Child to Mutants and Mystics, all the while answering his censors and critics and exploring new implications of his thought. In the process, he begins to sketch out a speculative "new comparativism" in twenty theses. The result is a new vision for the study of religion, one that takes in the best of the past, engages with outside critiques from the sciences and the humanities, and begins to blaze a new positive path forward. A major work decades in the making, Secret Body will become a landmark in the study of religion.
Kripal is my favorite contemporary religion scholar. I have written about his work in previous posts including Comparing Religions: Reflexive Re-Readings.
8. Other Minds: The Octopus, the Sea, and the Deep Origins of Consciousness by Peter Smith (Godfrey-Farrar, Straus and Giroux, 2017):
Although mammals and birds are widely regarded as the smartest creatures on earth, it has lately become clear that a very distant branch of the tree of life has also sprouted higher intelligence: the cephalopods, consisting of the squid, the cuttlefish, and above all the octopus. In captivity, octopuses have been known to identify individual human keepers, raid neighboring tanks for food, turn off lightbulbs by spouting jets of water, plug drains, and make daring escapes. How is it that a creature with such gifts evolved through an evolutionary lineage so radically distant from our own? What does it mean that evolution built minds not once but at least twice? The octopus is the closest we will come to meeting an intelligent alien. What can we learn from the encounter? In Other Minds, Peter Godfrey-Smith, a distinguished philosopher of science and a skilled scuba diver, tells a bold new story of how subjective experience crept into being―how nature became aware of itself. As Godfrey-Smith stresses, it is a story that largely occurs in the ocean, where animals first appeared. Tracking the mind's fitful development, Godfrey-Smith shows how unruly clumps of seaborne cells began living together and became capable of sensing, acting, and signaling. As these primitive organisms became more entangled with others, they grew more complicated. The first nervous systems evolved, probably in ancient relatives of jellyfish; later on, the cephalopods, which began as inconspicuous mollusks, abandoned their shells and rose above the ocean floor, searching for prey and acquiring the greater intelligence needed to do so. Taking an independent route, mammals and birds later began their own evolutionary journeys. But what kind of intelligence do cephalopods possess? Drawing on the latest scientific research and his own scuba-diving adventures, Godfrey-Smith probes the many mysteries that surround the lineage. How did the octopus, a solitary creature with little social life, become so smart? What is it like to have eight tentacles that are so packed with neurons that they virtually "think for themselves"? What happens when some octopuses abandon their hermit-like ways and congregate, as they do in a unique location off the coast of Australia? By tracing the question of inner life back to its roots and comparing human beings with our most remarkable animal relatives, Godfrey-Smith casts crucial new light on the octopus mind―and on our own.
I explored the above book in this post.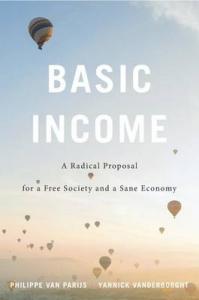 9. Basic Income: A Radical Proposal for a Free Society and a Sane Economy by Philippe Van Parijs (Harvard University Press, 2017):
It may sound crazy to pay people an income whether or not they are working or looking for work. But the idea of providing an unconditional basic income to every individual, rich or poor, active or inactive, has been advocated by such major thinkers as Thomas Paine, John Stuart Mill, and John Kenneth Galbraith. For a long time, it was hardly noticed and never taken seriously. Today, with the traditional welfare state creaking under pressure, it has become one of the most widely debated social policy proposals in the world. Philippe Van Parijs and Yannick Vanderborght present the most comprehensive defense of this radical idea so far, advocating it as our most realistic hope for addressing economic insecurity and social exclusion in the twenty-first century. The authors seamlessly combine philosophy, politics, and economics as they compare the idea of a basic income with rival ideas past and present for guarding against poverty and unemployment. They trace its history, tackle the economic and ethical objections against an unconditional income―including its alleged tendency to sap incentives and foster free riding―and lay out how such an apparently implausible idea might be viable financially and achievable politically. Finally, they consider the relevance of the proposal in an increasingly globalized economy. In an age of growing inequality and divided politics, when old answers to enduring social problems no longer inspire confidence, Basic Income presents fresh reasons to hope that we might yet achieve a free society and a sane economy.
Read more about this book in my post on Beyond $15: The Sturdy Floor of a Universal Basic Income #21stCenturyUniversalism.
10. The End of Protest: A New Playbook for Revolution by Micah White (Knopf, 2016) (An honorable mention along these lines published in 2017 is Mark Bray's Antifa: The Anti-Fascist Handbook.):
Is protest broken? Micah White, co-creator of Occupy Wall Street, thinks so. Disruptive tactics have failed to halt the rise of Donald Trump. Movements ranging from Black Lives Matter to environmentalism are leaving activists frustrated. Meanwhile, recent years have witnessed the largest protests in human history. Yet these mass mobilizations no longer change society. Now activism is at a crossroads: innovation or irrelevance. In The End of Protest Micah White heralds the future of activism. Drawing on his unique experience with Occupy Wall Street, a contagious protest that spread to eighty-two countries, White articulates a unified theory of revolution and eight principles of tactical innovation that are destined to catalyze the next generation of social movements. Despite global challenges—catastrophic climate change, economic collapse and the decline of democracy—White finds reason for optimism: the end of protest inaugurates a new era of social change. On the horizon are increasingly sophisticated movements that will emerge in a bid to challenge elections, govern cities and reorient the way we live. Activists will reshape society by forming a global political party capable of winning elections worldwide. In this provocative playbook, White offers three bold, revolutionary scenarios for harnessing the creativity of people from across the political spectrum. He also shows how social movements are created and how they spread, how materialism limits contemporary activism, and why we must re-conceive protest in timelines of centuries, not days. Rigorous, original and compelling, The End of Protest is an exhilarating vision of an all-encompassing revolution of revolution.
Read more in my post on What Protests Do (& Don't) Accomplish.
Previous Lists
The Rev. Dr. Carl Gregg is a certified spiritual director, a D.Min. graduate of San Francisco Theological Seminary, and the minister of the Unitarian Universalist Congregation of Frederick, Maryland. Follow him on Facebook (facebook.com/carlgregg) and Twitter (@carlgregg).
Learn more about Unitarian Universalism: http://www.uua.org/beliefs/principles