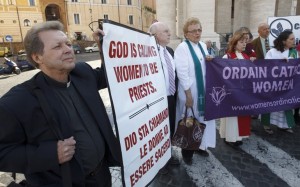 Father Roy Bourgeois is speaking on my campus tonight, and I'm thrilled to be having dinner with him before the event. The event tonight and one tomorrow in Springfield, Illinois, are being co-sponsored by Call to Action, the college, Abraham Lincoln Unitarian Universalist Congregation, and Holy Family Inclusive Catholic Community, a new church in town I have written about here before.
Here is an excerpt from Father Roy's 2013 op-ed in The New York Times after his excommunication from the priesthood.
After serving as a Roman Catholic priest for 40 years, I was expelled from the priesthood last November because of my public support for the ordination of women.

Catholic priests say that the call to be a priest comes from God. As a young priest, I began to ask myself and my fellow priests: "Who are we, as men, to say that our call from God is authentic, but God's call to women is not?" Isn't our all-powerful God, who created the cosmos, capable of empowering a woman to be a priest?

Let's face it. The problem is not with God, but with an all-male clerical culture that views women as lesser than men. Though I am not optimistic, I pray that the newly elected Pope Francis will rethink this antiquated and unholy doctrine. […]

Where there is injustice, silence is complicity. What I have witnessed is a grave injustice against women, my church and our God, who called both men and women to be priests. I could not be silent. Sexism, like racism, is a sin. And no matter how hard we may try to justify discrimination against others, in the end, is not the way of a loving God who created everyone of equal worth and dignity.
Tonight's talk is titled "Following Conscience for Justice and Equality." May we all be so brave.
Image via.
Author note: Honorable Mention is a recurring feature on this blog, a quick mention-or shout-out to someone or something worthy of notice.