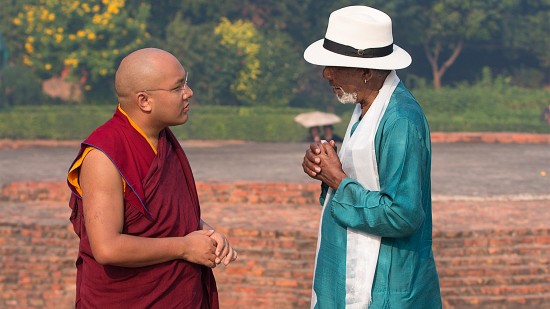 One of the highlights of last year was writing about National Geographic's "The Story of God with Morgan Freeman." Being part of Patheos' "blogging carnival" was a great writing experience and a chance for me to re-examine my faith. I was deeply challenged by that discussion and, in the end, it made my faith stronger.
National Geographic Channel will debut season two of "The Story of God" on Monday, Jan. 16 at 9 p.m. (8 p.m. Central Time). I will once again write about each episode. I will strive to have my posts up the weekend before the episode. This is only a three-episode season, lasting through the remainder of January. The first episode deals with the concept of Chosen Ones, and I think it's going to be an interesting conversation. Here's a clip:
The episode also features discussions with a Christian imprisoned in North Korea, a visit to a Sikh guru, a young boy believed by many to be the reincarnation of a sacred teacher, and a look at a Muslim holy day. I will provide a Christian perspective on these topics, which will also include heaven and hell, and the proof of God in our world.
I'm looking forward to this, and I hope you are too. Here are the previous posts in this series:
Tune in this weekend for the latest post, and then watch "The Story of God with Morgan Freeman" on National Geographic Channel at 9/8 p.m. January 16.