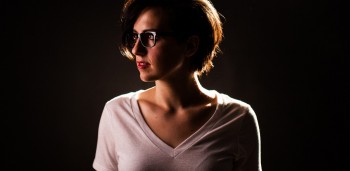 "For God judged it better to bring good out of evil than not to permit any evil to exist."
While searching for inspiration for her first indie album, Audrey Assad came across that quote by St. Augustine.
Those words struck a chord inside her, maybe because she had spent the previous few years trying to bring good out of the challenges she faced, including her parents' divorce and her husband's bout with cancer. Regardless of the reason, she spent the next month-and-a-half writing and pre-producing the songs that ended up on the album she entitled, "Fortunate Fall." (My album review here.)
The process of creating this record, with its songs about faith, doubt, surrender, and trusting in God, served as a way of finding the good on the other side of emotional and spiritual struggles. As Audrey explained during a recent interview on Christopher Closeup, "Especially when it comes to faith, I tend to write about the things that are giving me pause or that are stumbling blocks for me. So because I spend time writing songs to wrestle out those ideas and points of confusion, I sometimes find resolution in that and maybe some peace where I didn't have it."
Audrey learned the necessity of dealing with problems head on through experience. She said, "I've never gotten anywhere in life by denying I'm struggling with something. So for me to take a step forward into the path of healing or renewal or joy or gratitude has always come through a darker period. Not everyone may function that way, but I know that I do, so I have become willing to embrace those seasons because I know that they hold something [good] on the other side."
"Help My Unbelief"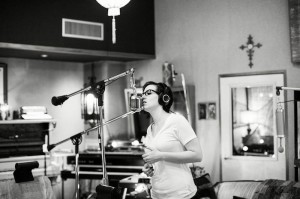 One of the ideas Audrey wrestles with in the song "Help My Unbelief" is the common problem of doubt. Far from thinking doubt hindered her relationship with God, she believes it actually strengthened it.
She said, "Hiding or denying your real feelings is usually not helpful in terms of strengthening the bonds in relationships, or feeling the unity that we need with people in our lives. I think it's the same with God…When we don't acknowledge our difficulties believing, we lose some of that intimacy that we need to overcome doubt."
Audrey also points out that acknowledging doubt is Biblically-based: "In the third verse of 'Help My Unbelief,' I reference doubting Thomas having his hand in the side of the Lord. Yes, we call him doubting Thomas in this disparaging way, but in the end, he's the one who had his hands on God. And I think that's beautiful that God invited him into that intimate place of touching His wounds. It's like the doubter, when honest about his doubt, has a special place in God's heart."
"Deliver Me, O God"
The idea of trusting God enough to surrender to His will instead of your own is another theme that worked its way into various songs on "Fortunate Fall," including the track "I Shall Not Want." Though most people think of surrender as a sign of weakness, in the context of the Christian story, it's liberating and leads to strength.
Audrey explained, "In the last few years…I've had a lot of opportunity to die to my own will. I think we all have those opportunities, and they come more intensely at some times than others. 'I Shall Not Want' wove the Litany of Humility together with Psalm 23, which promises we won't want for anything when we're under the care of the Lord. So if we are willing and able to die to our desires, to our will, we're not going to be hungry and thirsty; we're going to be satisfied and fulfilled…There's a lot of things that have happened that have caused me to test the things I know about God. I've not found myself hungry and thirsty as a result; I found myself largely satisfied in the Lord's provision."
Redemptive Quests
Audrey's willingness to wade through the darkness in order to find light influences not only her music, but also her reading and TV choices. On the literary front, she's a big fan of Catholic author Flannery O'Connor, whose Southern gothic stories are rife with religious and redemptive themes. She's not for the faint of heart, though, notes Audrey, who admires O'Connor's willingness to be brutal and "slap you in the face with your prejudice."
In terms of television, Audrey's favorite show is the soon-to-conclude series "Breaking Bad," about chemistry teacher Walter White, who receives a terminal diagnosis of lung cancer, then decides to become a crystal meth cooker in order to raise money for his family when he's dead. Walter White descends into evil and drags those around him into the darkness too. No doubt he could use one of Flannery O'Connor's slaps in the face, but there's more to the story as well.
Audrey says, "As the seasons progress, there are certain people who surprise you with their search for something better. You watch redemption start to happen, and you want it so badly for them. You end up sitting there and aching for that person to just reach out and take this opportunity to redeem themselves. I'm sitting here not glorying in this person's destruction, but actually desirous of their redemption. And I think that's a good thing…. Through that storyline, I have learned things about the dangers of power or money or greed. It does a good job of outlining where these vices will lead you. And in light of that, you really start to desire virtue for these people."
Chummy and Flabbergasted: A Good Place to Be
Audrey's approach to life and faith requires an embrace of Mystery. And while anything that can't be scientifically verified turns some people off to religion, Audrey has found that it helps her appreciate life at a deeper level.
She said, "The embracing of capital 'M' Mystery for me as a Catholic convert [helped me] feel comfortable in that space of wondering, of being content to experience Mystery and say, 'This is worth it in itself for me to sit here and be confounded by this.' That is a human and real experience. It's an experience of my finiteness that I don't want to miss. It helps me to appreciate the infinity of God more because I'm finally comfortable acknowledging and experiencing my own limits. I think Mystery does that for me in a way that has made me much more awed by the Lord. Yes, Jesus is human and became relatable, but that's the biggest Mystery of all: the Incarnation. It's both relational, close and intimate – and a confounding, massive idea. I feel it keeps me balanced between feeling chummy with Jesus – which I do – but I also feel completely flabbergasted by it. And I think that's a good place to be as a human being."
(To listen to my full interview with Audrey Assad, click the podcast link:)
Christopher Closeup podcast – Guest: Audrey Assad