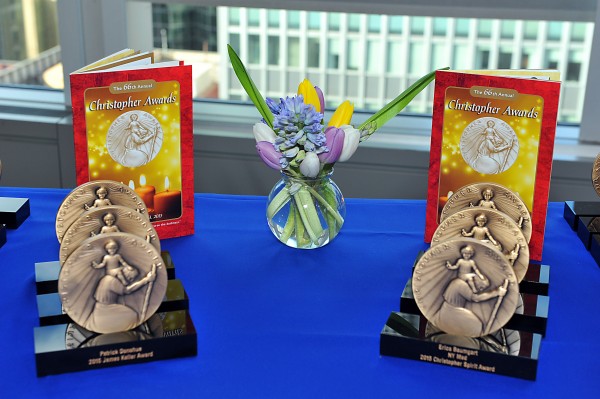 NEW YORK, May 21, 2015 — The 66th annual Christopher Awards ceremony, which took place in New York City last week, will air as a two hour special on Sirius-XM's The Catholic Channel (129) on Tuesday May 26th at 2:00pm and 9:00pm Eastern. The program will also feature original interviews with award winners and The Christophers' Director of Communications Tony Rossi. Comedy writer Tom Leopold (Cheers, Seinfeld), who won the Christopher Spirit Award in 2014 for helping families struggling with eating disorders because of his daughter's struggles in that area, will host the broadcast and provide commentary throughout.
Rossi said, "The Christophers have been a part of The Catholic Channel's programming since its launch through our weekly 'Christopher Closeup' talk show and daily 'Christopher Minutes' reflections. The purpose of everything we do is to speak hope, faith, and purpose into people's lives, and the Christopher Awards are no exception. Our honorees always leave the event feeling encouraged and like they've taken part in something special. We're grateful to The Catholic Channel for bringing that experience to an even wider audience through this broadcast."
Among the winning projects honored during the program are the books "The Invisible Front: Love and Loss in an Era of Endless War" by Yochi Dreazen and "Jesus: A Pilgrimage" by Father James Martin, SJ; the children's books "I Forgive You" by Nicole Lataif and Katy Betz and "Eliza Bing is (Not) a Big, Fat Quitter" by Carmella Van Vleet; the feature films "The American Nurse," "Selma," and "St. Vincent"; and the TV programs "48 Hours: The Whole Gritty City," "The Flash: Pilot," "The Gabby Douglas Story," "POV: When I Walk," "Sacred Journeys with Bruce Feiler: Lourdes," and "Signed, Sealed, Delivered for Christmas."
In addition, special honors went to Patrick Donohue, who created a school for children with traumatic brain injuries — and to the ABC News docuseries "NY Med," which covered stories at New York Presbyterian Hospital's Weill Cornell and Columbia campuses that highlighted ideals like love, service, gratitude, and seeking fulfillment in helping others.
Created in 1949, the Christopher Awards are presented to writers, producers, directors, authors and illustrators whose work "affirms the highest values of the human spirit." They celebrate sacred and secular works across a variety of media, and highlight people who rise above their own wants and needs to act selflessly, regardless of the sacrifice involved.
The Christophers, a nonprofit organization founded in 1945 by Maryknoll Father James Keller, is rooted in the Judeo-Christian tradition of service to God and humanity. The ancient Chinese proverb—"It's better to light one candle than to curse the darkness"— guides its publishing, radio, leadership and awards programs. More information and a complete list of winners is available here.
Pictures from the Christopher Awards can be found here.
Also, here are some short videos about the Christopher Awards ceremony. The first is a three-minute segment from "Currents." The latter a longer look from World Liberty TV.