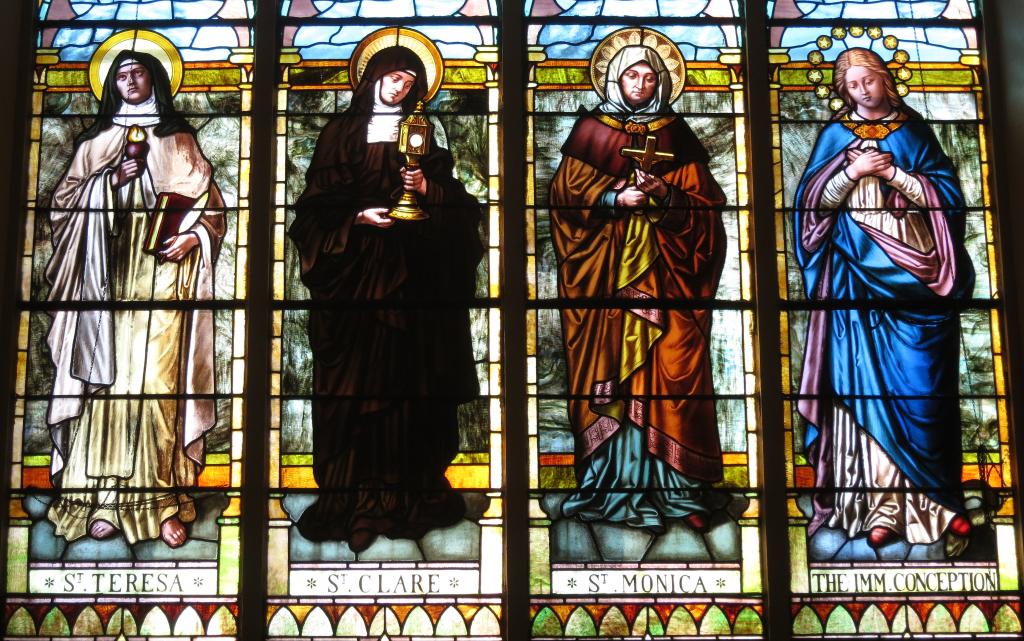 I've been a longtime admirer of Pope John Paul II even during my Evangelical years. The recently released report on former Cardinal Thomas McCarrick may shake other admirers as it has revealed that he (among others) was complicit in enabling Cardinal McCarrick (an accused sexual deviant and abuser) to rise up in the Church hierarchy. Some believe JPII's experiences with communist smear campaigns against the Church in Poland that involved false accusations of clerical sexual abuse have influenced him to believe McCarrick when he claimed he was innocent. Others believe that McCarrick was a master of flattery and took advantage of JPII's trust. Regardless, this situation surely raises some questions among Catholic laypeople about the integrity of declaring people as saints worthy of veneration.
When people criticize Catholics for venerating the saints, they will often resort to ad hominem attacks to discredit the person in question whether they are 'worthy' of sainthood. For example, Mother Teresa of Calcutta, in spite of her continual advocation and support for the poor, has often been the subject of ethical scrutiny by the secular media regarding her treatment of certain individuals in relation to her views on suffering, contraception and abortion. Prior to her canonization, some Catholics have even dubbed her as the queen of Purgatory because they didn't believe she was worthy of being a saint in light of personal letters revealing that she had a 50-year crisis of faith. Because JPII was canonized in 2014 (only 9 years after his death) and Mother Teresa in 2016 (19 years after her death), some believe their canonizations happened too soon after their deaths.
It is my understanding that every biblically-literate Christian understands that being a saint does not mean they lived perfect lives or never sinned. Many Protestants believe that believers in Christ who are still living on earth are the saints that the Bible often refers to. Catholics believe this as well, but emphasize that believers who have died and went to Heaven have crossed the threshold of having their souls sanctified by the grace of God. One of the passages that seems to sum it up best is:
"But now the righteousness of God has been manifested apart from law, although the law and the prophets bear witness to it, the righteousness of God through faith in Jesus Christ for all who believe. For there is no distinction; since all have sinned and fall short of the glory of God, they are justified by his grace as a gift, through the redemption which is in Christ Jesus, whom God put forward as an expiation by his blood, to be received by faith. This was to show God's righteousness, because in his divine forbearance he had passed over former sins; it was to prove at the present time that he himself is righteous and that he justifies him who has faith in Jesus." — Romans 3:21-26 RSV
We know John Paul II and Mother Teresa weren't perfect people, but sainthood does not retroactively make past deeds excusable, nor does it mean impeccability (on earth). The idea that a saint never would have committed a single atrocity is rooted in a complete misunderstanding of what it truly means to be a living saint. It's easy to criticize the actions of individuals and draw conclusions of what lies within their hearts from a distance or place of comfort and privilege. When the Gospel is viewed as though good deeds are the result of faith, a person is forced to reconcile how a seemingly holy person who spent their entire life in unwavering service to the poor (such as Mother Teresa) could possibly doubt the existence of God. In this case, there is a strong temptation to view such a person as a counterfeit believer.
There is a phrase, "Never meet your heroes, or they will surely disappoint you!" I think there is a lot of truth to that statement. Whether it's a Hollywood celebrity, a musician, an author, a prominent historical or public figure, I think everyone has at least one particular person they highly admire. I would even go as far as to say, if any Christian in the modern age were to go back in time and meet any prominent biblical figure, I'm willing to bet they would be drastically let down. Some of the worst sinners ever mentioned in Scripture eventually became saints — not because of what they've done, but because of their willingness to repent and accept the justice and grace of Christ. Noah was a drunkard. Abraham lied about his wife Sarah being his sister. Moses had a short temper. King David was an adulterer and a murderer. Peter denied Christ three times before His execution. Thomas doubted. Paul persecuted and murdered Christians. It always comes as a shock when a person someone admires either falls short of expectations or is caught committing a heinous act — shattering the spotless mental narrative of said person in the realization of how human they really are.
When I transitioned from cradle-Catholicism to Evangelical Protestantism, one of the things I've often heard was how Catholics supposedly worship saints like demi-gods reminiscent of those in Greek and Roman mythology. I think the apprehension towards giving honor to a mere human comes with reasonable concern. In accordance to biblical standards, nobody should be giving glory and adoration that should be due to God alone. Hence why the Early Protestant Reformers contributed to developing the Five Solas — two of which emphasize the need to continually keep God in the center: Solus Christus (In Christ Alone) and Soli Deo Gloria (Glory to God Alone).
But what I've discovered after spending 12 years as an Evangelical is that Protestant Christians are equally as capable of idolizing mere humans as Catholics are. Like every other human, Christians are prone to elevate their closest friends, their favorite pastor or elder, or even their favorite author, artist or Reformer. It is a natural human inclination to admire someone for their character or what they stand for to the point of wanting to absorb their virtues. But often what shatters a person's admiration for someone is seeing a side of their personality that seemingly conflicts with their positive attributes.
Whether they realize it or not, Evangelicals have a tendency to elevate their favorite pastors or apologists where it is almost indistinguishable from how Catholics venerate the saints, sans praying for their intercession. For example, Martin Luther is often hailed by Evangelicals as a heroic and holy figure for sparking a movement to oppose corruption within the Church. But few Christians realize that Luther wasn't as clean-cut as he is often made out to be (if you ever read the dialogues between him and Thomas More, you'll understand why). Luther was also believed to have suffered from extreme scrupulosity, which may have contributed to his belligerent, bipolar-like behavior. But to be fair, suffering from trauma and mental health complications should not disqualify a person from becoming a saint. It is also worth noting that many saints have been subject to being deceived or manipulated, such as St. Dymphna (patron saint of mental illness and anxiety). The flaws and experienced hardships only proves how human they really are.
Since Pope John Paul II has already been declared a saint, I'm willing to trust the Church in her judgment as guided by the Holy Spirit since he has already had to answer to God for his own shortcomings. But in light of what has been revealed by the McCarrick report, what bothers me the most is the victims of abuses may not have received the justice they so deserved during their earthly lives, and that it has taken this long for the Vatican to finally make an official public statement. I hope and pray that God will grant them the justice and peace they deserve in Paradise and that this will be a significant step forward for the Church to reform its own transparency and reconcile with those who have been wounded by her hands.
And as for McCarrick, while I don't anticipate he will be canonized as a saint, I hope to one day see him in Heaven; and I pray that he recognizes the depths of the immense pain he has caused, and repents before it's too late.
"Every saint has a past, and every sinner has a future." — Oscar Wilde