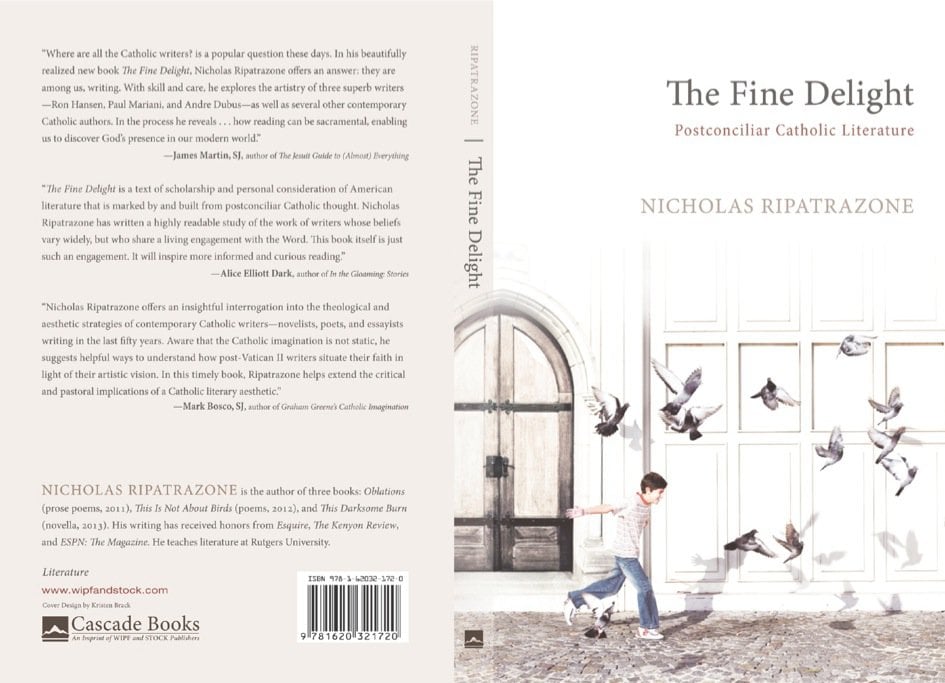 The transformation of Eerdmans, a mostly Calvinist publishing company from Grand Rapids, into a publisher of the highest quality Catholic books is a fascinating phenomenon that probably deserves at least an article from someone who knows the process from the inside. Eerdmans was founded in 1911. I still run across some of their books from the fifties and sixties that treat Catholics with the same consideration that Chick Tracts give Catholics.
The transformation probably had something to do with David L. Schindler, head of the JP2 Institute, whose family has roots in the Grand Rapids area. Schindler started the "Ressourcement" series with Eerdmans sometime around 1994. That's when classics such as Guardini's Letters from Lake Como (nice to see it back in print), Danielou's Prayer, Ratzinger's In the Beginning, and Blondel's The Letter on Apologetics and History and Dogma all appeared within several months of each other. These were all major publishing events for Catholic theology. All these years later Eerdmans continues to pump out must-read books in Catholic theology such as The Catholicity of Reason and Erich Przywara's groundbreaking Analogia Entis.
Right around the same time Wipf & Stock was founded by two former theological booksellers. I've always thought of them as a publishing house that specializes in both reprints and new books of solid mainline Protestant theology. They recently sent me a review copy of Between the Icon and the Idol. Then I noticed that my friend Nick Ripatrazone's book on postconciliar Catholic literature, The Fine Delight, is also published by one of their imprints. Finally, I remembered they also publish a reprint of Hans Urs von Balthasar's A Theological Anthropology.
The developing pattern led me to search for Catholic titles published by Wipf & Stock. Here are the ten best that I've been able to unearth in no particular order. I own at least half of these, but didn't notice they all come from the same Protestant publishing company.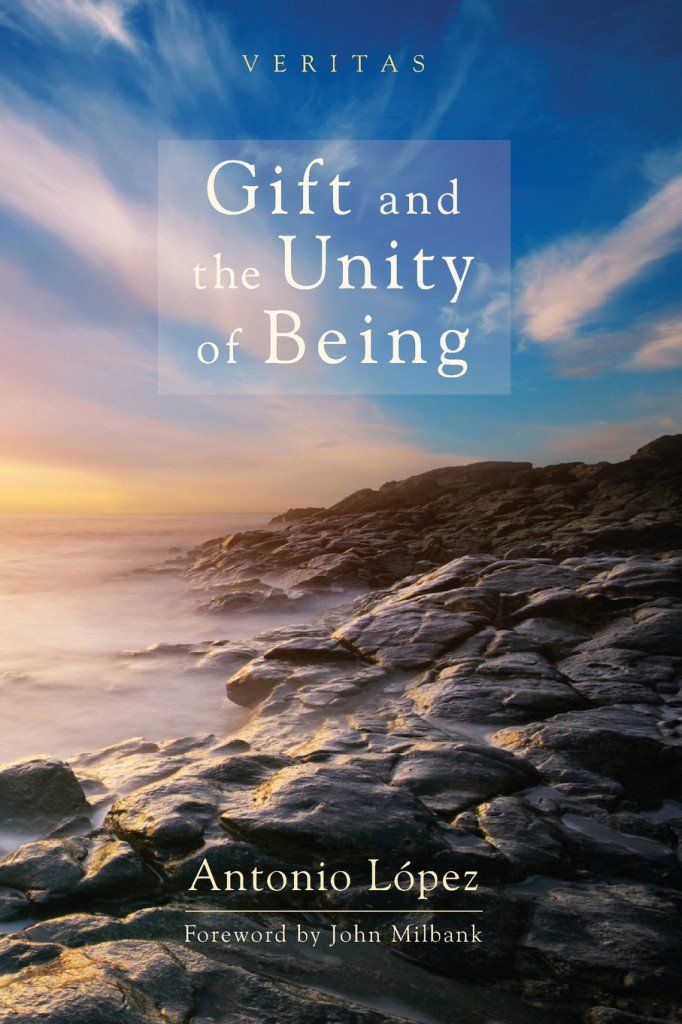 1. Gift and the Unity of Being by Antonio Lopez
"Gift and the Unity of Being ranks among one of the most impressive reflections on the nature of gift, ranging from deep reflection on the nature of birth to the Trinitarian God as the agapeic giver of all that is. It importantly stresses the reciprocity of giving and receiving, with due deference for the disproportion and asymmetry of the divine superiority. This book accomplishes this in both philosophical and theological registers, drawing especially on the work of Luigi Giussani."
—William Desmond, Villanova University
2. The Fine Delight: Postconciliar Catholic Literature by Nicholas Ripatrazone
"Where are all the Catholic writers? is a popular question these days. In his beautifully realized new book The Fine Delight, Nicholas Ripatrazone offers an answer: they are among us, writing. With skill and care, he explores the artistry of three superb writers–Ron Hansen, Paul Mariani, and Andre Dubus–as well as several other contemporary Catholic authors. In the process he reveals . . . how reading can be sacramental, enabling us to discover God's presence in our modern world."
–James Martin, SJ, author of The Jesuit Guide to (Almost) Everything
3. A Theological Anthropology by Hans Urs von Balthasar
Originally published in 1967 (the German title of the original volume translates to The Whole in the Fragment), A Theological Anthropology is described by the author as "an essay". Indeed, it is man's history of theology, without firm conclusions, but brilliantly written by one of the foremost theologians of his time.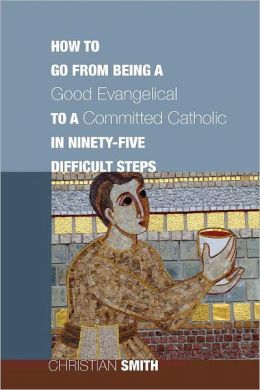 4. How to Go from Being a Good Evangelical to a Committed Catholic in Ninety-Five Difficult Steps by Christian Smith
American evangelicalism has recently experienced a new openness to Roman Catholicism, and many evangelicals, both famous and ordinary, have joined the Catholic Church or are considering the possibility. This book helps evangelicals who are exploring Roman Catholicism to sort out the kinds of concerns that typically come up in discerning whether to enter into the full communion of the Catholic Church. In simple language, it explains many theological misunderstandings that evangelicals often have about Roman Catholicism, and suggests the kind of practical steps many take to enter the Catholic Church. The book frames evangelicals becoming Roman Catholic as a kind of "paradigm shift" involving the buildup of anomalies about evangelicalism, a crisis of the evangelical paradigm, a paradigm revolution, and the consolidation of the new Roman Catholic paradigm. It will be useful for both evangelicals interested in pursuing and understanding Roman Catholicism and Catholic pastoral workers seeking to help evangelical seekers who come to them.
5. Christianity and Politics: A Brief Guide to the History by C.C. Pecknold
"At last I have found a textbook for my undergraduate course on Christianity and Politics! Pecknold's book is brief and crystal clear, ideally suited to supplement primary source readings in an introductory class. This book helps the student grasp the sweep of Christianity's political history in a relatively few deft strokes. The broad-brush approach does not mean the book is simplistic, however. To the contrary, Pecknold's analysis is insightful, engaging, and at times contentious. Pecknold shows how theological concepts like 'mystical body' have wandered in and out of different political arrangements. In so doing, he shows students how church history and political history are not two separate subjects but one, and a fascinating one at that."
6. Theology on Dover Beach by Nicholas Lash
"The risk is that a collection such as this will lack the unity necessary to make it useful, and readable, as a book. But the pieces in Theology on Dover Beach were selected because, for all the variety of their themes and levels of treatment, they seemed to me to illustrate two enduring preoccupations: an attempt to grapple with problems arising from the historical character of Christian faith and theology, and a conviction that, far from surrendering its critical integrity and (relative) autonomy, Christian theological reflection only attains its own proper rigour and significance if it is continually borne in mind that such reflection is dependent upon, secondary to, Christian faith and practice. I have therefore concentrated on these two issues in the Introduction.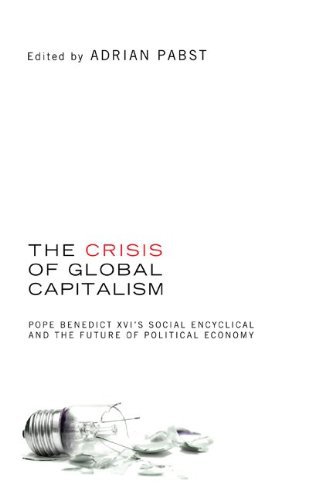 7. The Crisis of Global Capitalism Pope Benedict XVI's Social Encyclical and the Future of Political Economy edited by Adrian Pabst
The current economic crisis stems from a deeper crisis of cultural imagination and civilisational ethics: here is the starting point of this collection of essays which draw a new political economy facing the crisis of Western civilization. This book gathers together a range of audacious and provocative readings of Caritas in Veritate, the first papal encyclical that addresses issues immediately relevant for politic, economic, and social theory. These readings embody the kind of fruitful dialogue Pope Benedict XVI wanted to generate with his radical discourse for an alternative political economy.
8. Between the Icon and the Idol by Artur Mrowczynski-Van Allen (bow down: this book was featured previously here on this blog.)
The totalitarian state clearly intends to eliminate all those forms of organic community that rival the absolute loyalty of the individual to the state. This god is a jealous god. . . . Mrowczynski-Van Allen's diagnosis is therefore no less relevant after the fall of the Berlin Wall. And his proposed cure is no less salutary. He appeals to the work of Grossman and other voices from the East to oppose the idolatry of the deified self with the icon, which opens up a distance in which giving and forgiving can occur. Eastern voices are so helpful because they refuse to quarantine theological questions; the borders between theology, politics, and literature are fluid and porous, because they are all a part of an integrated life. The holism of totalitarianism must be opposed by another kind of holism that replaces the idol with the icon. At the same time, the aspiration of secularism to separate politics from theology, and power from love, must be opposed by a politics based on an opening of human persons to God and to each other, the kind of self-donation found in Grossman, and for Christians, on the Cross.
9. Inventing Catholic Tradition by Terrence W. Tilley
This creative argument that traditions are neither found nor made, but are invented and reinvented in practice, is carried out in dialogue with scholars such as Yves Congar and George Lindbeck. Tilley examines the actual practices as the bearers of tradition and argues that vibrant and meaningful traditions must be reinvented or reconstructed in every generation. He demonstrates how deliberately invented or imposed traditions are often resisted. Tilley applies his analysis to the Catholic Intellectual Tradition and, in the last chapter, shows how truth, revelation, and authority can be accommodated by a constructivist, practical theology of tradition.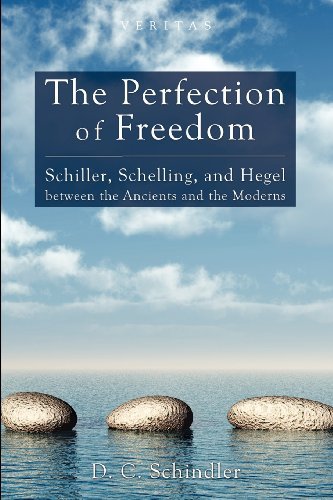 10. The Perfection of Freedom by D.C. Schindler
The Perfection of Freedom seeks to respond to the impoverished conventional notion of freedom through a recovery of an understanding rich with possibilities yet all but forgotten in contemporary thought. This understanding, developed in different but complementary ways in the German thinkers Schiller, Schelling, and Hegel, connects freedom, not exclusively with power and possibility, but rather most fundamentally with completion, wholeness, and actuality. What is unique here is specifically the interpretation of freedom in terms of form, whether it be aesthetic form (Schiller), organic form (Schelling), or social form (Hegel). Although this book presents serious criticisms of the three philosophers, it shows that they open up new avenues for reflection on the notion of freedom; avenues that promise to overcome many of the dichotomies that continue to haunt contemporary thought–for example, between freedom and order, freedom and nature, and self and other. The Perfection of Freedom offers not only a significantly new interpretation of Schiller, Schelling, and Hegel, it also proposes a modernity more organically rooted in the ancient and classical Christian worlds.
I almost forgot, Gregory Wolfe, whose defense of contemporary Catholic literary ouput was featured a couple of days ago here, also has an imprint with Wipf & Stock named Slant Books.
Καλά Χριστούγεννα!
While you're at it catch this blog's other TOP10 lists here.