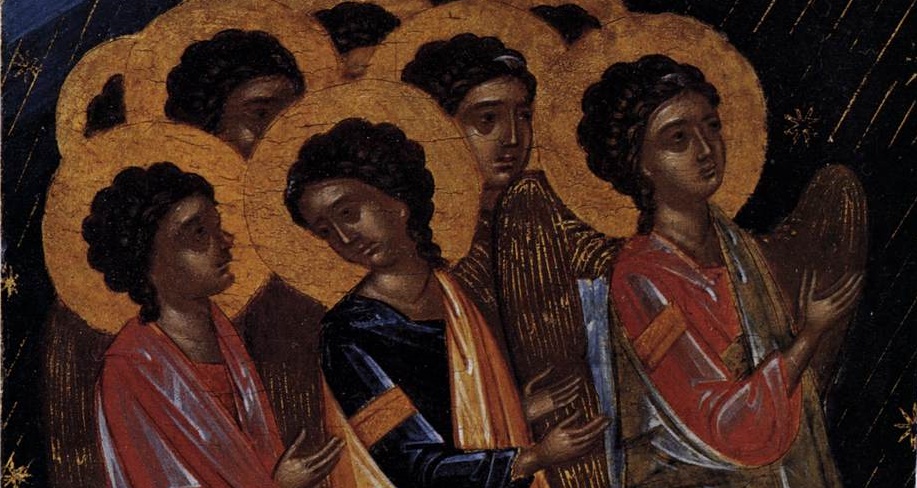 The letter and overly-earnest essay are the order of the day for apocalyptic-Protestant panicking about the Synod on the Family. Open letters have cropped up all over the place. The left wants to change everything to fit the Charamsa-mold. Whereas, the right has oddly enlisted both Protestants and former Protestants for their version of Cafeteria Catholicism.
The latter is more interesting, because the left's complaints and proposals are so stale and routine they write themselves. The right, on the other hand, has finally admitted to doing what the left's been doing for ages: cherry-picking the tradition.
The editor of First Things, Rust Reno, recently said what I've been saying for ages in a piece on the firing of one of their bloggers:
I was recently interviewed about Francis by America magazine. The interviewer asked whether American conservatives were not now the "cafeteria Catholics." I answered that, in a certain sense, yes, we are. We're all at odds with some aspect of the Church's leadership. It's not possible for Rome to teach in a way that entirely satisfies the social, moral, intellectual, and spiritual needs of more than one billion people. There's a hierarchy of truth that helps us understand why some things are obligatory, while others are recommended to us for our consideration. What matters most, however, is our spiritual disposition. Are we docile to our bishops and their fraternal head, the pope? Are we willing to see and learn what they want to teach us? Will we accompany them, to use one of Francis' favored images?
Reno's Protestant antagonism toward some aspect of Church leadership is behind the extortionist letters (DO THIS, OR WE LEAVE, OR DON'T JOIN). They come from "notable" former Protestants at Aleteia, First Things, and now Ethika Politika's proposed set off essays telling the Roman leadership what it should be doing. I'd link these, but if you've read Douthat's open calls for schism, then you've read them all. Their lack of faith disturbs me.
Where were the impassioned counter-cultural calls from the right in support of economic justice and the environment?
I would like to propose a simple Catholic response to all of this:
We're the laity, you do your own thing Synod Fathers. Call us when you're done.
Yes, it's that simple!
Please indicate your support for this truly Catholic proposal against meddling in ecclesiastical matters, especially because they deal with what you do with your genitals, in the combox below by stating your name and privileged position, or lack thereof. You can sign the letter whether you are a cradle Catholic or not. If you're not, then that means you've successfully assimilated the Catholic imagination. The letter will not, under any circumstances, or, for any reason, be forwarded to the Synod.
We already have a pre-open letter signal of support from a prominent cradle Catholic:
Starting to be with @CosmosTheInLost on #Synod15. Call me when it's over. I'll be at my parish, work, or home trying to put toddler to bed.

— Timothy O'Malley (@NDLiturgyCenter) October 7, 2015
After you do that, go back to prayer, serve your neighbor, avoid commentary on the Synod, and wait for the call (don't worry if it doesn't come, non praevalebunt). I apologize for not co-writing this with someone prominent, or waiting for a groundswell of support. It's much more Catholic to imposed this letter of indifference top-down.
All the emotive commentary is spiritually draining and falls under the rubric of #ShoutYourShout. We too often forget that humility towards what might be a corrupt Curia is a Catholic virtue. The conniving proceedings of Trent and Vatican I were not the first time the Church kept going thanks to corrupt clergy. The Synod on the Family won't be the last.
Do you remember who the Catechism singles out as the authoritative interpreters of the Tradition?
Hint: it's not you twitter troll!:
85 "The task of giving an authentic interpretation of the Word of God, whether in its written form or in the form of Tradition, has been entrusted to the living teaching office of the Church alone. Its authority in this matter is exercised in the name of Jesus Christ."47 This means that the task of interpretation has been entrusted to the bishops in communion with the successor of Peter, the Bishop of Rome.
Let's have some Rabelaisian Catholic perspective!
Should you be tempted to follow the coverage of the Synod and the commentary, you can remedy it with Sergio's Synod Drinking Game. It will send you on a bender that will disable your unnecessary commentary inclinations.
You might care to read about the formerly integral Catholic posture of the First Things crowd here.
I do care about making rent next month, so please keep the donations coming through the PayPal button on my homepage. Many thanks for your help so far.
NOTA BENE: Don't forget to sign this letter.