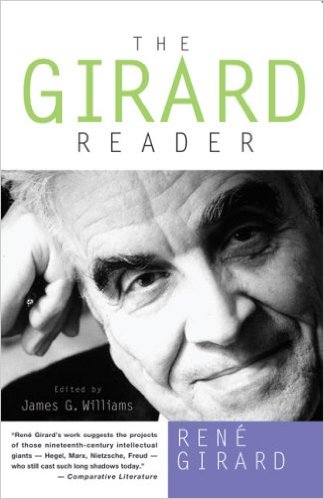 René Girard, Stanford University professor, an Immortel of the Académie Française, one of the most influential thinkers of the last fifty years, a practicing Catholic, died early in the morning on Tuesday. I have confirmed the news through those close to him.
Throughout this morning I listened to the original setting of a Penderecki Ciaccona (dedicated to John Paul II) the composer appended to his Polish Requiem after the pope's death in 2005. I dug out this mesmerizing piece of music, strangely enough, because I heard the Motion Trio play it on accordions at Benaroya Hall last night. The notes of this profoundly sad and Polish music have accompanied me all day long. I did not know why the music seemed so fitting. The question did not even come up in my mind.
The two great Catholic thinkers, René Girard and John Paul II, are nearly always connected in my mind. One devised a mimetic theory of scapegoating; the other fought non-violently against scapegoating all his life and made amends for Christian scapegoating of Jews. The one proposed Christianity as the only exit out of the violent tendencies of humankind; the other inspired Solidarity, arguably the most thoroughgoing non-violent revolution of modern times.
I also link them in my mind because of an anecdote my favorite Professor, Eugene Webb, liked to tell. Webb was at a COV&R conference (in Boston, I believe) where René Girard was supposed to give them keynote address. Girard surprisingly cancelled his keynote at the last minute. Why? Because John Paul II was then in New York. The pope wanted to meet with one of his favorite Catholic thinkers.
I had my own brief encounter with Girard when I started grad school. I drove down to San Francisco from Seattle in record time, on two hours of sleep, after completing a paper on Girard's mimetic theory. This was the first essay I wrote in graduate school. My friend and I were walking out of the Stanford bookstore after buying tourist kitsch and right then and there I noticed someone strangely familiar walk by. The man was impeccably well-dressed, spoke confidently yet calmly, and had an eagle-like face of a prophet. It took me a while to realize it was Girard. He was probably the greatest influence upon my graduate studies. His study of Dostoevsky, Resurrection From the Underground, showed me how to balance literary criticism and theology in a secular university setting.
As a literary scholar I also appreciate how Girard reverted to Christianity by reading the great novelists. He was fearless when it came to talking about the uniqueness of Christianity, because, according to him, it offers the sole escape from rivalry and scapegoating through the imitation of Christ. These theses lost him many of his early supporters, especially after the publication of Things Hidden Since the Foundation of the World.
He continues to influence me. I'm also glad he will continue to influence a new generation of scholars through the organization Imitatio set up by his former students.
If you are not familiar with Girard's groundbreaking (revelatory) theories, then you should familiarize yourself with his striking insights about violence and religion by reading the piece Is Christianity a Myth?
Girard was the first thinker to make me realize how much philosophy and spirituality apply to everyday life.
You can read his official obituary from Stanford University here. The author of the obituary, Cynthia Haven, will publish a Girard biography with MSU Press's Studies in Violence, Mimesis, Culture series in 2016.
Eternal Light from Poland to Stanford:
You might also want to read Girard's controversial thoughts on assisted suicide.