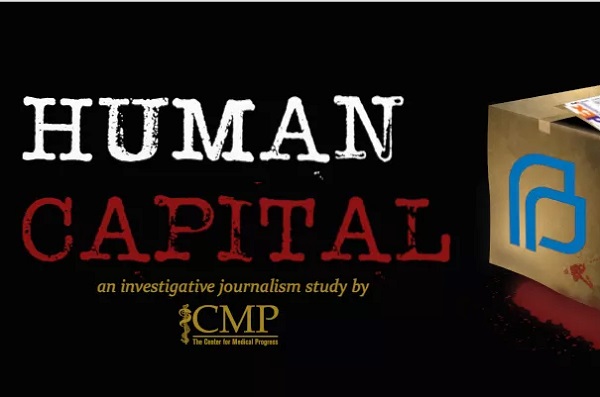 Dramatis Personae:
David Daleiden is a 27 year old investigative journalist who caused a national uproar after exposing Planned Parenthood's practice of selling baby body parts. Daleiden, a graduate of Claremont McKenna College, is the Project Lead for the Center for Medical Progress ("CMP") and the mastermind behind CMP's Human Capital Project – a 30-month-long investigative journalism study documenting how the abortion industry buys and sells the body parts of aborted babies. CMP's journalists spent years gathering hundreds of hours of undercover footage, dozens of eye-witness testimonies, and hundreds of pages of primary source documents. The undercover videos reveal the truth about the abortion industry, including that abortionists regularly engage in sordid and even criminal conduct. The videos show that Planned Parenthood illegally sells fetal body parts for profit and illegally alters the abortion procedure in order to obtain more valuable baby body parts. The Human Capital Project has resulted in the defunding of Planned Parenthood by Arkansas, Alabama, Louisiana, New Hampshire, North Carolina, Texas and Utah; the investigation of Planned Parenthood by the United States Congress and thirteen states; and the discovery by state authorities of Planned Parenthood's violations of laws or regulations in Florida and South Carolina.
Charles LiMandri is the President and Chief Counsel of the Freedom of Conscience Defense Fund. He earned his JD from Georgetown University Law School in 1983.
Artur Rosman: What does this ruling mean for Mr. Daleiden and the Center for Medical Progress?

Charles LiMandri The order dismissed one of two criminal indictments brought against David Daleiden – the criminal indictment for allegedly offering to purchase fetal tissue. The order is simply a win for David Daleiden. The Center for Medical Progress, as a non-profit entity, did not have any criminal charges brought against it. It is only involved in the civil litigation. David Daleiden and Susan Merritt are both still facing a second criminal indictment for the alleged use of a fake ID. Both of them have moved to quash that charge. The motion to quash that charge will be heard on July 26. The court's order dismissed the first criminal indictment on procedural grounds. Thus, numerous media outlets are noting that the prosecutor could re-file the charge and fix the procedural error. However, ABC news is reporting that the state is not intending to re-file the charge. We think this is because the prosecutor knows how weak the case is.

AR: Does it in effect give their type of abortion industry investigative reporting a green light?

CLM: No, the present order doesn't really speak to the merits of whether David Daleiden and other Center for Medical Progress journalists were acting within the law – although they were. The charges brought against David Daleiden were allegedly offering to purchase fetal tissue and allegedly using a fake ID. Both of these activities are common-place in the investigative journalism arena and should not have been the subject of criminal indictments. However, the court here did not address any substantive arguments. Instead it simply dismissed the first criminal indictment on procedural grounds. We are confident that if the court had reached the substantive arguments, the case should have been dismissed on those arguments.

AR: How has the traditional pro-life community reacted to this relatively new approach?

CLM: Investigative journalism has always been controversial, and it probably always will be. David Daleiden's journalistic approach, however, follows within a respectable line extending back to Upton Sinclair's reporting on treatment of factory workers in turn of the century America.

AR: How do you measure the success of the videos?

CLM: The videos have already achieved their most important goal. As a journalistic enterprise, the Human Capital Project was undertaken to determine whether Planned Parenthood was profiting from the sale of baby body parts, and if so, to document that reality. In that regard the project was a huge success. Like any journalist of conscience, however, David Daleiden would like to see the wrongdoing he uncovered both stopped and punished. With regard to "stopped," Planned Parenthood has stopped selling baby body parts, but the middle-men tissue procurement companies are still out there. They have simply moved on to harvesting fetal tissue from other abortion providers. With regard to punishment, Live Action News is reporting that at least 24 states have attempted to withdraw taxpayer funding from Planned Parenthood. Congress also voted to withdraw funding from Planned Parenthood, but the bill was vetoed by President Obama. Finally, the federal Department of Justice has proven unwilling to investigate the wrongdoing that David Daleiden uncovered. Instead, Congress's Select Investigative Panel on Infant Lives is investigating and putting together the criminal case against Planned Parenthood and the fetal tissue procurement companies. They are investigating so that, should a future executive administration ever seek to bring a criminal case, all the information will already be prepared.

AR: How are the CMP's actions coordinated with grassroots right to life activism?

CLM: The Center for Medical Progress is a journalist group interested in investigating and reporting on medical ethics. It did not intend to limit itself to the pro-life arena. It was simply labeled a pro-life group because of the huge success of its inaugural project. However, now that it is a bulwark in the pro-life arena, it does want to use its influence to promote pro-life values. It encourages pro-life activism by speaking and encouraging individuals to pressure their state officials to take action.

AR: Does this ruling affect Planned Parenthood in any substantial way, or will it bounce off of them?

CLM: The order dismissing the indictment for offering to purchase fetal tissue will not directly affect Planned Parenthood. Presently, in the majority of the legal battles, Planned Parenthood is the aggressor and David Daleiden is simply fighting off their attacks. Thus, this order merely takes one aggressive weapon away from Planned Parenthood. Planned Parenthood is only itself fighting off attacks in front of federal and state legislative bodies. In those arenas the indictments of David Daleiden have often been raised as a grounds for arguing – in a roundabout way – that Planned Parenthood was not actually engaged in criminal activity. Hopefully this order will take away that defense, at least partially.

AR: Are there any plans to bring the issue of collusion between the Texas DA and Planned Parenthood to the courts?

CLM: The collusion between the Texas District Attorney and Planned Parenthood is unlikely to be grounds for a lawsuit itself. However, that collusion has been raised as a grounds for quashing the remaining indictment. Once that motion is heard, we will know more about how the Court views the collusion – as damning or harmless.

AR: How much profit does Planned Parenthood make from baby part trafficking?

CLM: It is difficult to calculate how much profit Planned Parenthood and its fetal tissue procurement partners are making because they have been unwilling to provide authentic accounting records. Moreover, Planned Parenthood has been unwilling to identify which of its 59 affiliates participated in the sale of baby body parts. However, based on the few records that have been released, the Center for Medical Progress estimates that two affiliates, Planned Parenthood Mar Monte and Planned Parenthood Gulf Coast, were profiting between $264,000 and $300,000 a year.

AR: What other entities make money from this enterprise? How much taxpayer money goes into the equation?

CLM: The other entities that profit from the sale of baby body parts are the fetal tissue procurement middlemen, including StemExpress, LLC, Advanced Bioscience Resources, Inc., Novogenix Laboratories, Tissue BioSource, Da Vinci Biosciences, LLC and DV Biologics, LLC. It is impossible to estimate the amount of money that these entities are making, although documents procured by Congress do indicate that they have a healthy profit margin as a result of procuring fetal tissue. A significant amount of this profit does come from taxpayers as a result of taxpayer funded grants from the National Institutes of Health. The NIH funds research projects nationwide. One of the easiest ways to ensure the receipt of such a grant is to slightly modify a study that already received a grant. For example, a researcher could find a funded study that uses adult stem-cells. The researcher would then request a grant to reproduce it using stem cells procured from aborted baby body parts. In that scenario, the researcher knows that the area of study is of interest to the NIH and thus likely to be funded.
Take a look at The Anti-Abortion Supermajority: Beyond the Abortion Wars and Abortion is Not a Conservative Issue as well.
Please consider making a donation to this blog through the donation button on the upper right side of its homepage.
Stay in touch! Like Cosmos the in Lost on Facebook: