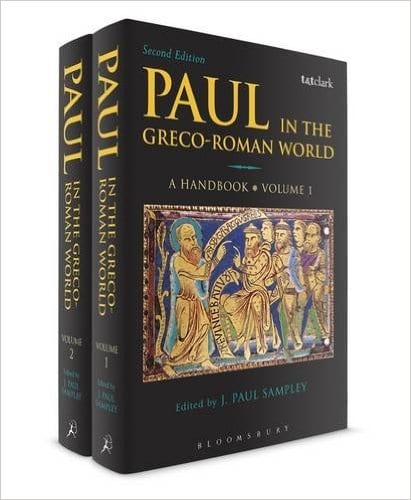 One of my favorite Christmas presents this year was getting Paul Sampley's (ed) 2nd edition, Paul in the Greco-Roman World (Bloomsbury, 2016), now expanded to two volumes. Originally 21 chapters, it is now 28 chapters, not only with several "brand new" essays but also with revisions to the original chapters. Before addressing the "new" chapters, I just want to say that when the first edition came out in 2003, I was in seminary and it quickly became one of my favorite works on Paul. I have used the book many times since then, for my research, but also for preparing lectures on Paul and the GR world. Some of my favorite essays from the first edition include Fitzgerald on "Paul and Friendship," Krentz on "Paul, Games, and the Military," Peter Lampe on "Paul, Patrons, and Clients," and Harrill on "Paul and Slavery."
New essays (some here new-author rewrites of older essays) include:
"Paul and Associations" (R. Ascough)
"Paul and Circumcision" (T. Martin)
"Paul and Family Life" (Margaret MacDonald)
"Better to Marry Than to Burn: St Paul and the Greek Novel" (Loveday Alexander)
"Paul and Games" (A.H. Cadwallader)
"Paul, Honor, and Shame" (David deSilva)
"Paul and Literacy" (J.C. Poirier)
"Paul and Memory" (Peter-Ben Smit)
"Paul and Performance" (Glenn S. Holland)
"Paul and Social Memory" (Rafael Rodriguez)
"Paul, Virtues, Vices, and Household Codes" (S.E. Porter)
Here are some quick notes:
Ascough is the leading expert on GR associations, so his essay is outstanding. Alexander's work, while useful, is a reprint already published elsewhere – so it breaks the mold of the expected way the chapters are constructed fyi. The essay on "Paul and Games" (Cadwallader) is a complete revision of the first edition essay by Krentz. Krentz's essay included both games and military – the new essay leaves out the latter. I think that is unfortunate. Poirier's work is informative, but has a very limited recommended bibliography (only 8-9 works). Smit's work, it should be noted, focuses on rhetorical appeals to a shared cultural memory.
Overall, I am very pleased with this new edition, the added chapters are handy (though not sure two separate chapters on memory was necessary). The chapters from the first edition have been updated, some more than others, though at least bibliographies have been revised. The editor took steps to include female authors in this edition, which is appreciated.
This is an expensive volume – $264 – so I hesitate to recommend it for the personal library, but I would highly encourage you to ask your librarian to order it.