We are continuing a series on Ten Things I Can't Live Without (As A Scholar). 
If you want to catch up on previous posts in the series, click HERE.
This is a companion series to go along with my new book THE WRITER: A Guide to Research, Writing, and Publishing in Biblical Studies.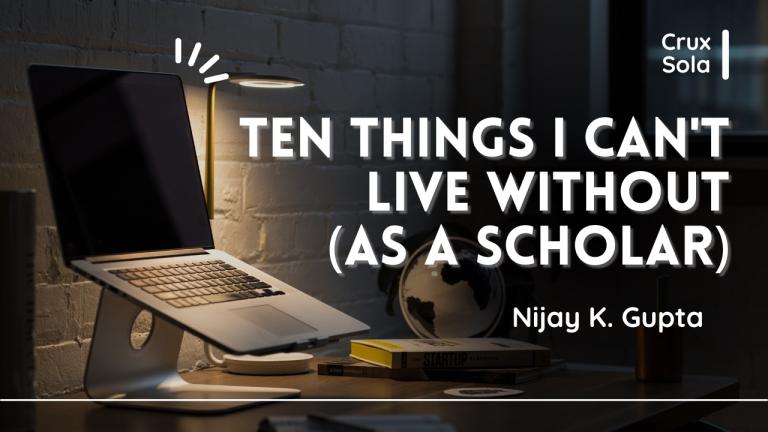 ---
#2: Portable External Monitor
My family knows, I love working with multiple computer monitors. In my home office set-up, I have three monitors in use: one laptop monitor, and two external monitors. One of those externals is known as a "portable monitor," meaning it is thin and small (the size of a large tablet) and is durable enough to carry around in a backpack or work bag. You can use it in your home office (which I do), and take it with you to a conference (to use in your hotel room) or a coffee shop. Also, it does not have its own power plug, but is powered by a computer/laptop.
My sense is that they cost $100-200 depending on the quality of monitor you want. I have a middle of the road one, and it has been great.
Depicted here is the $100 15.6 inch version, to be clear: these are not touch screen, no hard drive, no apps. It's literally just a screen. But it is lightweight, and you can easily throw it in your bag with your laptop and—voila!—you have another screen when you work. I like to have my Google Doc page on my main screen, and then the external will have Chrome open, or Accordance, or Logos. Otherwise, if I am just using one screen, I have to do a splitscreen scenario where I have to shrink everything down, or I have to toggle between windows, which is a nuisance.
But these portable screens have a couple of downsides. First of all, they are a bit pricey ($100 and it doesn't do anything other than display); and second, because it plugs into your computer for drawing the display and power, it drains your power fast. You will need to have your main computer (e.g., laptop) plugged in to charge to prevent the external monitor from draining it too quickly. That just means, when I take it to a coffee shop, I need to sit near a plug outlet. As you are looking for your best external portable monitor, the one thing I would make sure to understand is the brightness (luminance).
For me, this is a must-have resource if you want to do efficient research. 
---