We are continuing a series on Ten Things I Can't Live Without (As A Scholar). 
If you want to catch up on previous posts in the series, click HERE.
This is a companion series to go along with my new book THE WRITER: A Guide to Research, Writing, and Publishing in Biblical Studies.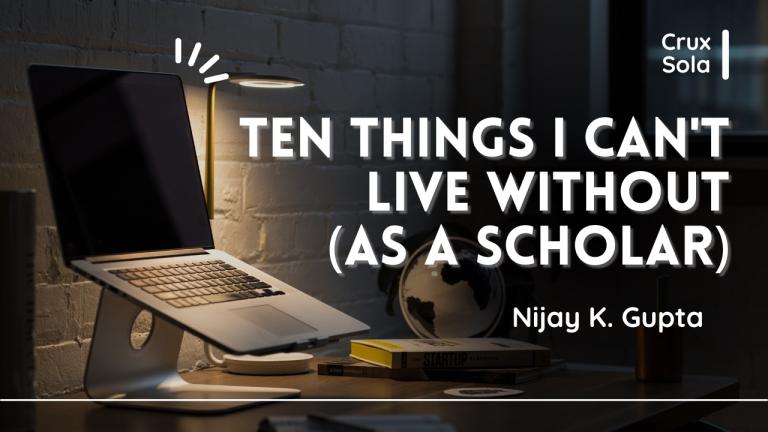 ---
#3: Portable Power Bank for Laptop 
Tell me if you know this scenario: You are at a coffee shop or in a meeting, and your laptop is almost dead. What do you do? You have to pack up all your stuff and walk around the room looking for a free plug outlet. Then you are still tied to the length of your power cord. Or your cord is dangling dangerously and someone is bound to trip over it.
About a year ago I came across an amazing solution. A portable powerbank that can recharge your laptop. Now—TAKE NOTE—not all powerbanks are capable of
recharging a laptop. Some work for phones and tablets, but are not strong enough to charge a computer. Just be sure the product description lists laptops. I have a Macbook, so I made sure my powerbank can handle a Macbook. Pros and Cons? Lots of pros.
Pro:
-The ones I have used, when full, can get your laptop from empty to full power.
-Most of these powerbanks have multiple port types, so you can charge multiple devices, even at once
-They are heavy, but not backbreakers. I throw it in my backpack for an emergency
-It is also handy on roadtrips when you need to charge devices in the car
Cons:
-They're not cheap, but I would still say worth the $$$
-I assume they lose some power over time and have a recharge life, but I have been using mine for a year with no problems
I can't tell you how much I love using my Power Bank.
 When I go to a coffee shop, I love that I can sit anywhere. And I can charge my phone on it too. At home, I can sit on the couch and work and not worry about plugging in. Great gadget!
Price: $40-150, I wouldn't pay more than $100. The device I use is middle of the range. The one extra feature I wanted was that it displayed the power level left in the bank. Here is the one I bought.
---