This month marks the first anniversary of my EcoPreacher blog on Patheos. I'm grateful to all my readers who have read, shared, commented, and Tweeted about the pieces I have posted over the past year. There is nothing more gratifying for writers than to know that people are engaging their work. So whether you've agreed with and appreciated what I've written, been angered by and pushed back against what I've said, or just quietly read and absorbed – thank you.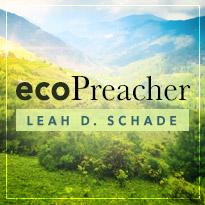 It's been fascinating to see what posts have garnered the most hits these last twelve months. The subjects have ranged from environmental issues to political critiques, from women in ministry to gun violence, and lots of things in between. Below is the list of the pieces that have garnered the most hits since April 2017. This is an annotated list starting with the highest ranking post.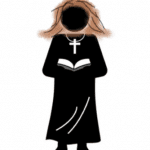 (Over 60,000 hits. Published July 31, 2017.)
If your church is blessed to have a female clergyperson, kudos to your congregation! Because of the systemic sexism baked into our culture, sometimes we inadvertently say or do things to our female pastors that are hurtful, undermined their authority, or subtly cast aspersions on their leadership. This is a list I put together after having served as a pastor 17 years, talked with female colleagues, and taught seminary students preparing for ministry.
(Over 18,000 hits. Published December 27, 2017.)
I first saw the commercial for "Trumpy Bear" and thought it was a joke or an SNL spoof. But it's real, and it's ridiculous. It's also a form of propaganda that I couldn't help but dissect. In this piece I metaphorically pull the stuffing out of the bear, critiquing the dangerous and disastrous policies and actions of the president and his administration as I go.
(Over 3500 hits. Published August 2, 2017)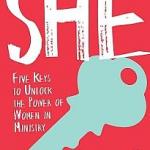 This was the follow-up piece to Top Ten Things Never to Say to Your Female Pastor. When I saw that post starting to go viral, I realized I needed to provide an article that gave positive ways for folks to be supportive of female clergy. Females in ministry don't need to be handled with kid gloves. But they do deserve equal pay with their male colleagues, for example. And to be called by the name they prefer. Everyone deserves the right to choose the name by which they want to be addressed.
(Over 3500 hits. Published March 14, 2018.)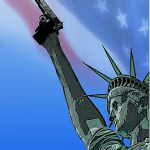 I was one of a handful of parents who came to my daughter's school on the day of the National School Walkout to protest gun violence and promote safety in schools. It was an amazing event, and the students were articulate and passionate. But there was a handful of students whose behavior surprised and concerned me. It showed me that young male rage is alive and well in my daughter's school.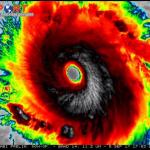 (Over 3100 hits. Published September 9, 2017.)
In light of the triple hurricanes that devastated parts of the United States, and especially Puerto Rico, I wrote this piece in response to Bill McKibben's assertion that we still have a chance to win the climate war. My premise is that we've already lost. And that we need to take on a spirit of humility and repentance toward this planet if we are to survive.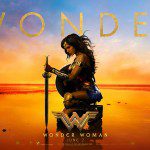 (Over 3000 hits. Published June 18, 2017.)
When the movie Wonder Woman was released last summer, audiences were amazed that a female lead could carry a superhero action film – and carry the box office as well. Using a feminist and biblical lens, this is my appreciative review of the movie.
(Over 2900 hits. Published December 31, 2017.)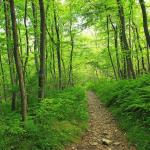 This was my New Year's Resolution piece encouraging clergy to take on healthy habits in the coming year that would benefit not just them, but also their congregation, and the environmental health of the planet. With clergy health care costs soaring higher than many other comparable professions, it's important that we take the steps necessary for wellness in our bodies, minds, and spirits. Along the way, we can also improve the health of the world around us.
(Over 2700 hits. Published March 5, 2018.)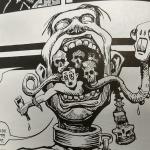 With opioid addictions reaching epidemic proportions, it's necessary for the church to address this crisis. I make the case that just as Jesus never demonized those who were victims of demon possession, so we should avoid demonizing those who are in the grips of addiction. Just as important is recognizing that entire systems can fall under the influence of destructive demonic powers. Jesus models for us how to confront and deal with these powers.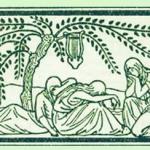 (Over 2700 hits. Published August 21, 2017.)
Psalm 137 is rarely ever used in worship. Why? Because it is a dangerous psalm. But we need to read it, study it, and listen to the voice of anguished rage. Because God is listening to those voices as well.
(Over 2000 hits. Published January 7, 2018.)

In the 2016 U.S. presidential election, an overwhelming 81% of Evangelical Christians turned out for a media personality/real estate mogul who fanned the flames of white nationalism, normalized and trivialized sexual assault, and bragged that he could shoot someone and still be elected president. How is it possible for those who profess to follow a savior who preached inclusivity, respect for all peoples, humbleness, and nonviolence to venerate a man whose every Tweet, every speech, and every action flies in the face of our understanding of what it means to be a Christian? One filmmaker – Christopher Maloney – set out to answer this question by examining the problematic relationship between Trump and Evangelicals. This is my appreciative review of his documentary.
So that's the Top 10 EcoPreacher posts since I began this blog in April 2017.
It's amazing to me to see that I posted nearly 100 pieces over the course of that year, with over 160,000 hits to my blog during that time. I believe the discipline of crafting 2 – 3 posts a week has helped to make me a better writer, so I've appreciated this opportunity to exercise my writing chops over the last year.
I'm even more appreciative of Benjamin Corey, the editor of the Progressive Christian Channel here at Patheos, for giving me the opportunity to have this blog. The community of writers on this channel and across the other channels of this site is supportive, challenging, and helpful to each other.
I'm grateful to Patheos, and look forward to many more years of blogging to come!
---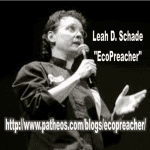 Leah D. Schade is the Assistant Professor of Preaching and Worship at Lexington Theological Seminary (Kentucky) and author of the book Creation-Crisis Preaching: Ecology, Theology, and the Pulpit (Chalice Press, 2015). She is an ordained minister in the Lutheran Church (ELCA).
Twitter: @LeahSchade
Facebook: https://www.facebook.com/LeahDSchade/.