2019 was a productive year. I wrote and edited three books:
Preaching in the Purple Zone: Ministry in the Red-Blue Divide
Rooted and Rising: Voices of Courage in a Time of Climate Crisis (co-edited with Margaret Bullitt-Jonas)
For the Beauty of the Earth: Lenten Devotional
And in 2019, I wrote 60 blog pieces which garnered over 240,000 hits.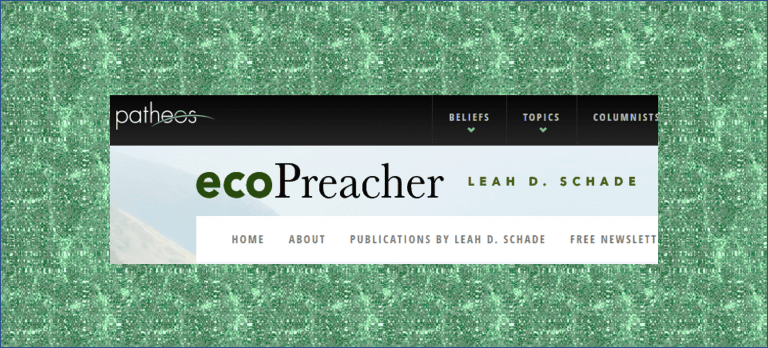 The piece that was #1 on my EcoPreacher blog for 2019 saw nearly 90,000 hits this past year:
#1: Trump's ICE Targets Lutheran Minister, Betty Rendón
It so happens that this piece on Pastor Betty Rendón was also the #1 post on Patheos for 2019. It is a bittersweet honor. This story should never have happened. I shouldn't have had to write this piece. Her deportation to Colombia on May 28 is a shameful mark upon this country. [You can read an update on her situation here.]
The #2 and #5 posts on my EcoPreacher blog for 2019 were related to the original story.
#2: Pastor Betty Rendón is Slated for Deportation – Why This is Crossing a Line
#5: When God Breaks the Law: Immigration, Asylum & Pastor Betty Rendón
What were my other top EcoPreacher posts in 2019?
#3 and #6 had to do with racism and white supremacy.
#3: Hi, I'm Leah. I'm a Recovering Racist. In this piece I share what part I play in this country's racism and white supremacy. It is not up to people of color to instruct us. It's up to us as whitefolks to engage in this work and do it now. So this post is part of my ongoing work to tell the truth about the "origin story" of my personal racism and the work I'm doing to deconstruct it while also addressing systemic racism.
#6: Kentucky, We Need to Talk About Our White Supremacist Problem was the piece that garnered the most hate messages, trolling, and threats in 2019. The article was about an incident involving a Covington (KY) Catholic High School student and an Indigenous tribal elder at the Washington Monument in January 2019. Was this a smirking, privileged white male silently taunting a Native American? Or a young man caught in the convergence of a cultural, ethnic, and racial melee attempting to de-escalate the situation? Regardless, I made the case that Kentucky – the state where I live – needs to look seriously at its history with Indigenous tribes and the fact that it is currently the headquarters of the Ku Klux Klan.
The blow-back on this piece was overwhelming. Trolls came out of the woodwork, and one even made threats against me. The fact that it garnered such hatred and anger indicates that this blog piece hit a nerve. And that white supremacy is, indeed, a major problem in this state and across the country.
Jesus, Mother Hen
#4: Jesus, Mother Hen: This is the God I Want to Worship. This piece was actually written for Mother's Day in 2017, but enjoyed a surge this year. I explored the ramifications of Jesus using a female image for himself in Matthew 23:37: "How often I have longed to gather your children together, as a hen gathers her chicks under her wings." How does this imagery challenge our notions of God as exclusively male? I examined how the characteristics of the "mother hen" are actually very appropriate to describe the nature of God.
The Challenges of Preaching in this Divisive Time
#7: Top 10 Taboo Topics for Preachers drew on the research I conducted for my book Preaching in the Purple Zone: Ministry in the Red-Blue Divide. The #1 topic that preachers avoid, according to my 2017 survey of 1200 mainline Protestant pastors, is women's reproductive health. In the piece I discuss the reasons why this is such a hot topic for pastors.
#8: Preaching in Trump's Shadow engages a book by Dean R. Stroud called Preaching in Hitler's Shadow and notes the eerie similarities between what clergy faced in Nazi Germany and what they face today in the United States of America. What is it like for pastors to stand in the pulpit and preach the gospel during this administration? I look to Luke 21:5-19 for guidance on how to persevere in the midst of negative pushback from parishioners and the culture alike.
A Marching Band's Prophetic Vision
#9: Seeking Refuge: The Surprising Prophetic Vision of a Marching Band was a piece I wrote about the Lafayette High School (Lexington, KY) Marching Band's provocative 2019 show, "Seeking Refuge." The show depicts soldiers attacking innocent children, bringing to mind countless incidents of children all over the world who have been caught in the cross-fire or deliberately attacked by men in uniforms with weapons (including in the United States). Yet the show ends by showing that transformation is possible – from fear to courage, from violence to peace, from hatred to love.
Climate Change and Greta Thunberg
#10 – We Will NEVER Forgive You: Greta Thunberg, Climate, and the Unforgivable Sin explored the heartbreak, the passion, and the righteous anger Greta Thunberg conveyed in her address to the U.N.'s Climate Action Summit in New York City on Sept. 23. Drawing on my book Creation-Crisis Preaching: Ecology, Theology, and the Pulpit I examine Greta's speech using Jesus' teaching about the "unforgivable sin" in Matthew 12:31-32. I urge people of faith to step up and join her and the Climate Generation in advocating for action.
The climate crisis is also the major theme in the second book I published this year, Rooted and Rising: Voices of Courage in a Time of Climate Crisis, a volume of 21 essays by religious environmental activists co-edited with my colleague Margaret Bullitt-Jonas. [You can also read the op-ed Margaret and I wrote about Greta being named Time Magazine's 2019 Person of the Year.]
Thank you, readers!
Thanks to all those who have read my blog and my books in 2019. There is nothing more gratifying for authors than to have people read what we write. Even better is when people post comments and engage with our work. So, thank you, and may 2020 bring us more opportunities to engage the important issues of our time together.
---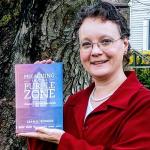 Leah D. Schade is the Assistant Professor of Preaching and Worship at Lexington Theological Seminary in Kentucky. She is the author of Preaching in the Purple Zone: Ministry in the Red-Blue Divide (Rowman & Littlefield, 2019), Rooted and Rising: Voices of Courage in a Time of Climate Crisis (Rowman & Littlefield, 2019), and Creation-Crisis Preaching: Ecology, Theology, and the Pulpit (Chalice Press, 2015).
Twitter: @LeahSchade
Facebook: https://www.facebook.com/LeahDSchade/
Read also:
Top 10 EcoPreacher Posts – 1st Anniversary on Patheos