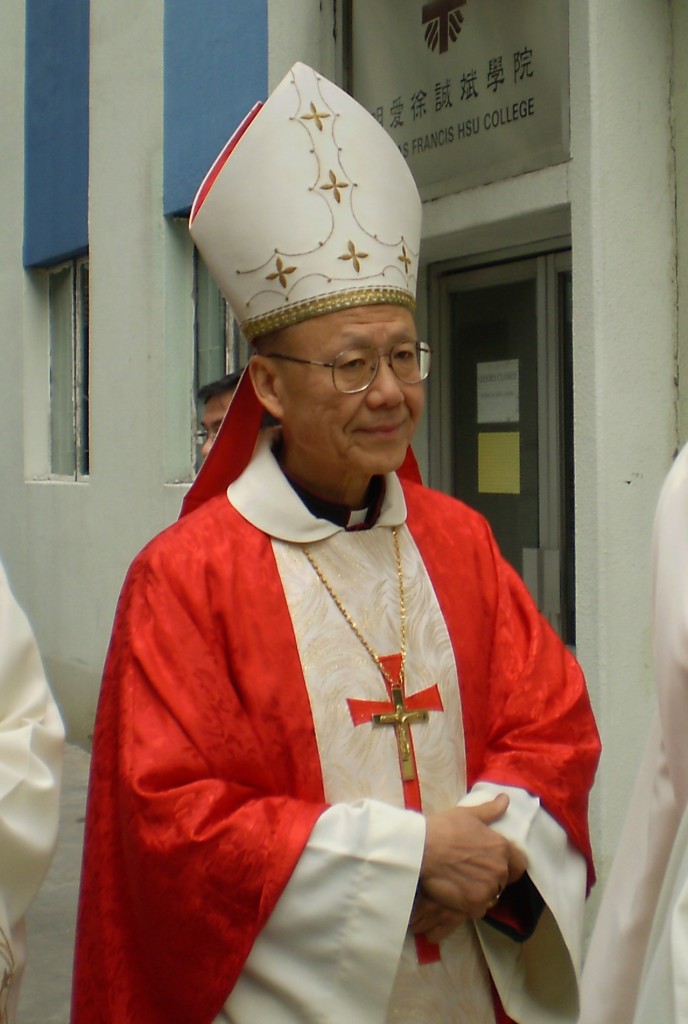 There's an 8,000 word piece that just landed in Hong Kong's Catholic newspaper, the Kung Kao Po, from Hong Kong's current bishop, John Cardinal Tong Hon. That's the successor to the retired Catholic Bishop of Hong Kong, about whom I tend to write a bit more often, Joseph Cardinal Zen Ze-ken. What it seems to be about is that the Vatican is going to work something out with China quite imminently. It's been causing quite a stir on my news feed, even among Hongkongers who are not Catholic, as it seems to have been republished by a more local independent media source, The Stand News.
I am still reading the document, so it will be a bit before my thoughts will have been fully processed. But take this as a bit of a placeholder, as it seems to signal a very significant disagreement on the Catholic Church in China from among the ranks of the Hong Kong Catholic Diocese. While St John Paul II once called the church in Taiwan a 'bridge church' to China in 1984, John Baptist Cardinal Wu took the Bishop of Rome's blanket application to all Chinese Catholics living outside of the mainland to be a 'bridge church,' as did one of the major analysts of Sino-Vatican relations, political scientist Sister Beatrice Leung. Wu's thoughts on the matter were even more explicitly spelled out in his widely-cited pastoral letter in 1989 anticipating the 1997 handover, 'March Into the Bright Decade.'
There is much more to say about Hong Kong's role as a 'bridge church' in light of its own return to Chinese sovereignty from British colonialism in a political framework that the People's Republic of China's then-Paramount Leader Deng Xiaoping called 'one country, two systems,' as spelled out in the 1984 Sino-British Joint Declaration and in Hong Kong's mini-constitution, the Basic Law. Certainly, it has affected the way that Catholic theology is done in Hong Kong – and I happen to think that Hong Kong has been an exciting crucible for the doing of Catholic theology because of its very unique reception of the Second Vatican Council at the 1970 Diocesan Convention convened by Bishop Francis Hsu. Moreover, Cardinal Tong has explicitly used the language of the 'bridge church' since the start of his episcopate.
By tomorrow or so, I hope to say something about Tong's article and what prognostications may lie within this text about the future of the Catholic Church in China. In the meantime, I've indexed some previous posts here that I've written about Hong Kong and China, most of which have some reference to Christianity and some of which have explicit references to Catholicism:
I also gave a series of three interviews to Artur Rosman on Ethika Politka on Chinese Catholicism in light of the Umbrella Movement based on a talk I gave on Hong Kong Catholicism in light of the Umbrella Movement at the University of Washington's Catholic Newman Center. Be sure also to check out the new edited volume that I took the lead in editing, especially as it has an interesting piece in there about Hong Kong Catholic involvement in the Umbrella Movement democracy protests by Mary Yuen at the Diocese's Justice and Peace Commission. Finally, there is a lengthier article that I have on Christianity and the democracy movement in Hong Kong.
Now for me – back to reading!