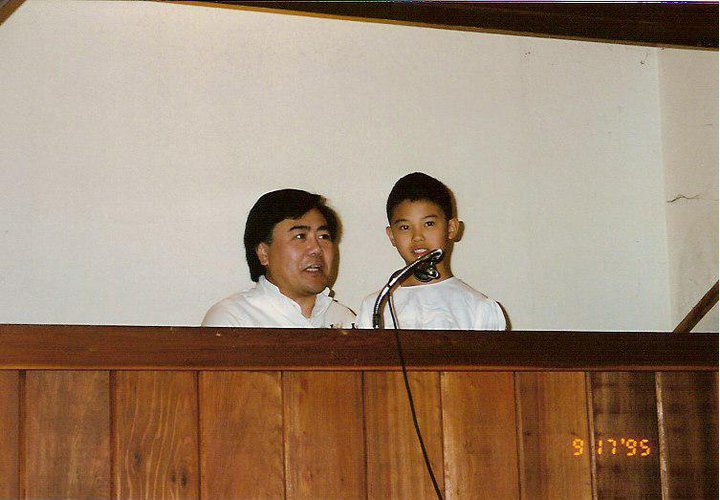 On September 17, 1995, I was baptized by the hand of the Rev. James Ou at Chinese for Christ, Church of Hayward, into water in the name of the Father and of the Son and of the Holy Spirit. It was not the beginning of my Christian journey, according to the theology my family professed at the time, and indeed, in mysterious ways, I can still now justify our formulations then in apostolic terms. I had, as the evangelicals say, asked Jesus into my heart four years before that, waking my mother up from a nap because it was urgent that I not go to hell. Soon afterward, so the story goes, I was afflicted by a nightmare about the Teenage Mutant Ninja Turtles, and upon waking, my family threw all the merchandise out, even the underwear. In Catholic terms, I had been baptized by desire, and in Chinese Christian theology, I too had the equivalent of having my idols smashed and burned with fire.
I got baptized in water when I was nine, and after that went down, the board of deacons – the equivalent to what most Christians in the apostolic churches would know as a parish council – changed the acceptable age of baptism to twelve. That is still early by the standards of most churches that do not baptize babies. It is usually sixteen, which is the age at which my wife was baptized in an evangelical church in Richmond, British Columbia. I snuck in there because my friend, who was also named Justin, was getting baptized. We were the same age, and I figured that if he was allowed to do it, so could I. My parents gently protested that I, unlike my friend, had not attended baptism class. I told them that, given my Christian education and the fact that I was a pastor's son, I could probably teach it. They had no objections to my saying that, and thus, I was added to the end of the list.
Having no formal catechesis, I may as well have been baptized as a baby. Now that I look back, my mystagogy then was steep. The next year, a sex scandal involving my friend Justin's parents happened. I look at the baptism pictures and see another guy who caused a scandal over a very colorful character's membership application at another church my father later started. I see another friend that I was baptized with whose mother was like family to me. I do not know if my friend still practices her Christian faith – we have grown distant – but I hear she is doing well, and I, for my part, pray for her mom daily and ask her to pray to the Lord for me too.
When I became Catholic, I had to find my baptismal certificate and give it to my spiritual father. He took it to the copy machine, made a photocopy for the eparchy, and said that it was valid because we had used water and the Trinitarian formula. I took great comfort when he said that, because it means that as critical as I am of the practices of my Protestant sisters and brothers, at the very least I can acknowledge that we are all Christians, heightening the stakes of our ecumenical efforts. I asked him shortly thereafter whether it was important for me to pray to saints whose dates coincide with my birthday. He said that my baptismal date was probably more important. That was when I discovered that my baptismal date coincides with the Holy Martyrs Sophia and her daughters Faith, Hope, and Love. That is today on the Old Calendar, on which I worship when I am in Chicago.
Here I am, then, discovering more than two decades after the fact that when I was baptized, I not only took as patron saint one who is both philosopher and martyr, but also I have had the prayers of the martyr saint who herself is named for Holy Wisdom and her daughters for the virtues accompanying me on a spiritual journey that I cannot say has been easy. It is a happy mix-up usually when we say that Metropolitan Andrey Sheptytsky asked that all the Greek-Catholic churches put up an icon of Holy Sophia above their altars, we may think of the martyrs. It is not, of course – Sheptytsky's prayer was to Divine Wisdom, the feminine form of the Logos – but there is something to these women martyr-saints whose presence has been engracing my life, likely since the day of my baptism. Of them, Holy Justin the Philosopher and Martyr and the Holy Martyrs Sophia and her daughters Faith, Hope, and Love, I ask a double portion of their wisdom, that if I should ever be offered their crown, I will like them profess my love for Christ, the true philosophy.
I am, after all, from a church of martyrs and have joined a church of martyrs, as my spiritual father reflected when my friend Faith, who is Chinese, was received into our church. When I write about my old church and have to specify 'Chinese Protestantism,' the words almost stick in my throat. I knew no such thing when I was baptized, and I still am revolted that missionary propaganda has gifted us with a schism such that Catholics and Protestants use entirely different words for God and Lord though the truth is that one is holy, one is Lord, Jesus Christ, in the glory of God the Father. We were just Christians, and if there was anything our church could be called, it was the Chinese church, the Church of China like the Church of Kyiv, though I am not sure what city we would call local for ourselves (any choice at this point would be too controversial). We had impeccable claim to being the Church of China in those uppercase terms. Our founder, the Rev Stephen Chiu, was one of the revivalists in Republican China who had been tortured by the communists. Chinese for Christ was an association of churches founded by those evangelists, men like Calvin Chao and Moses Yu. We claimed the line of those who were faithful to the Lord in the midst of great persecution, like John Sung, Watchman Nee, and Wang Mingdao.
Much as I talk up the differences between Mandarin-speaking and Cantonese-speaking Christians, the Church of China in this sense does not know this distinction. Philip Teng, a Mandarin-speaking revivalist, set up one of the most prominent evangelical churches in Hong Kong, North Point Alliance Church, from which church planters like Augustus Chao went to Canada and started congregations that spawned a movement of Chinese evangelicalism in major Canadian cities (from where, incidentally, we get a number of catechumens and converts in Richmond). Thomas Wang, a disciple of John Sung whose Mandarin has always been far better than his Cantonese, set up shop at the Chinese Christian Mission speaking English while gathering an army of Cantonese-speaking students to his cause. Our very own Stephen Chiu spoke both Mandarin and Cantonese, and a number of people in the San Francisco Bay Area who can claim this lineage, including at the charismatic River of Life networks from Taiwan, where James Ou and Liu Tong can speak both. That the tracks of my heart run in both languages should be no surprise to anyone from within the church of my baptism. Both languages, and more, were spoken by these confessors of the faith, and their experiences parallel the suffering of their Catholic sisters and brothers, whose works of courage still are proclaimed in blessing by no less than the Theotokos who stands atop Sheshan Cathedral holding aloft her Son whose hands our outstretched to bless the entire land.
I was therefore baptized in the Chinese church and received by chrismation into the Church of Kyiv. In reflecting on my own journey together with those we received this summer – none of whom were ethnic Ukrainians – my understanding of the catholicity of the Kyivan Church radically deepened. I had at the beginning of my mystagogy thought that somehow I should be identifying myself as 'Ukrainian Catholic,' a term that not even those in Ukraine use to describe themselves – we are Greek Catholic. Through this mystagogical journey – and as I watch my sisters and brothers from the churches of Japan and China begin their journeys – I have learned that all that this church does is to make us more ourselves, just as she herself is becoming who she is as an autonomous Catholic church with full rights to a patriarchate and in full communion with our sister church in Rome. Because our catholicity is not dependent on our uniatism – indeed, uniatism is inimical to understanding ourselves as Catholic in and of ourselves – those of us who join her discover that we have come into the fullness of our Christian life, that in this liturgical gathering the deepest longings of the churches into which we were first baptized are fulfilled.
I used to be uncomfortable about my Catholic and Orthodox sisters and brothers telling me that I still sounded the same when I wrote theology after my conversion. Indeed, someone wrote me yesterday to inform me that I had to submit to Rome or go back to Protestantism, and then proceeded to unfriend me when I would do neither. But if it is the case that the Church of Kyiv is becoming more herself and makes us more ourselves, then is it any wonder that I sound more like a Chinese Christian now that I am Catholic than I ever did before? Is it not more of a delight that I find out on this side of my chrismation that the holy women and men, philosophers and martyrs, have been praying for me all this time by virtue of my baptism by water and the Trinitarian formula? Do I not rejoice with all creation that is baptized with Christ that the languages of my heart can be the mercy seat upon which the Lord dwells in my body? If these sensibilities are being misread as protestantizing, then I challenge these colonizers to demonstrate to me that it is not they who are the schismatics, so content as they are with schism that they oppress us by making us children of their divorce. Truly does the outcry of the divided children of the Holy Equals-of-the-Apostles Volodymyr and Olha resonate with my heart formed in the baptism of the Chinese church.
I am reminded of a song in our church that came out around the time I was baptized. It is sung by a Taiwanese American praise group called Stream of Praise. My criticism of them is similar to my critique of most Protestants, and indeed most Western Christians, that the openness of their hearts often makes them vulnerable to ideological colonization because they do not seem to be able to discern between persons and institutions. My pro-democracy friends will be aghast to learn, for example, that I am quoting Stream of Praise because they are known for having apolitical views, which usually translates for them into a cryptic establishmentarian practice that mutes critique of Chinese governments national and local on this and that side of the Taiwan straits – an especially dangerous thing in this moment of authoritarian expansion. It would be like my white evangelical friends discovering that I still know all my music from Hillsong.
What is hard for my Protestant sisters and brothers, it seems, is that citation and reflection is an automatic form of membership, which to me sounds like a perverse variant of justification by faith alone – that by one's intentions, one's institutional membership is determined. And yet, on the same token, their weakness before institutions can also be seen by their overdetermined faith in being able to speak to persons and think that they are having a heart to heart. The Vatican-China deal is Exhibit A of this misplaced trust, where Francis speaks repeatedly of the goodwill of the Chinese people without any sense of the global oppression being wrought by the current authoritarian capitalist regime there. In ignoring politics by playing up an orientalist view of Chinese culture while inventing a fictional bishops' conference that is both unnecessary and smacks more of the bishop-centric ideology espoused by the recently deposed former Cardinal McCarrick, the church of China is being thrown under the bus by the Patriarch of the West, who, frankly, has his own house to clean. Khomiakov was right when he said that 'all Protestants are Crypto-Papists' and then used the 'concise language of algebra' to make the point that 'all the West knows but one datum a; whether it be preceded by the positive sign +, as with the Romanists, or with the negative -, as with the Protestants, the a remains the same' ('Third Letter to William Palmer,' in On Spiritual Unity: A Slavophile Reader, p. 151). I know a guy who therefore, on this reading of Khomiakov, calls the Latin Church the first Protestants. Given that the revisionist literature on the secularization thesis points to the papal revolutions of the tenth century as the first step in transforming the sæculum from a time to a space, he may have a point.
But Chinese culture itself is beautiful. It is itself the culture – indeed, the cultivation – of the heart through bodily and intellectual practice. It is the language of music. It discerns at the level of the person in terms of cleanness and perversion, affect and intent, breath and spirit. In this, I have always felt that the essence of the Chinese church as the way of the heart is so beautifully distilled in the song for which the group Stream of Praise is named, and as numerous as their problems may be, it is as if the spirituality I found there became fulfilled in my entry into Catholicism, the exact way that Henri de Lubac SJ said that it would be in his classic book Catholicism. While I will quote it in full and provide a very literal and awkwardly wooden translation so as to capture the images latent in the Chinese, I will end with it with very little reflection, in an effort to let it sit so that I can ponder on this day of the Old Calendar anniversary of my baptism:
從天父而來的愛和恩典 From the Heavenly Father's issue of love and grace
把我們冰冷的心溶解 Our frozen hearts are brought to melting
讓我們獻出每個音符 That each musical note that we emit
把它化為讚美之泉 May blossom into a stream of praise.
讓我們張開口 舉起手 Let us open wide our mouths, raise up our hands,
向永生之主稱謝 To the eternal Lord give praise
使讚美之泉流入每個人的心間 That a stream of praise might flow forth to the rooms of every person's hearts
That each musical note that we emit might blossom into a stream of praise – this to me is the spirituality of my baptism, fulfilled now in the musical culture that I find in the Church of Kyiv, with its tragic and romantic Galician tones, its simple and festal melodies, its powerful bass chords. To be Catholic is to discover that I have been so transfigured, that from merely existing I am in fact icon, that from being an individual I am person, that from thinking that the faith was ideological to ingesting the bread and wine transfigured on the altar into the very Body and Blood of our Lord Jesus Christ that he like fire might enter I who am but grass and yet not burn my body alive.
The mystery is that this journey began, as I reflect, all the way back then, when I was baptized at Chinese for Christ, Church of Hayward, just because my friend Justin wanted to be baptized. We did not believe in the mysterious presence in Jordan water – indeed, we did not understand that that concept was even viable – and we thought that intentions were more important than sacraments, but the thing that I will probably spend my life reflecting on is that none of that mattered. When I was plunged into that water in the Trinitarian formula, my heart opened in song and every musical note I emitted from that point on has blossomed into a stream of praise, carried to the Lord by the prayers of Holy Justin the Philosopher and Martyr and the Holy Martyrs Sophia and her daughters Faith, Hope, and Love. As they pray for me, I am immersed into the Lord's ocean of mercy. Jesus Christ, the Wisdom of God, is my philosophy, and as I praise him in song, my intellect – and indeed, my entire consciousness – is brought into the mercy seat of my heart's inner chamber, where I meet the Lord and commune with him in hesychastic stillness.