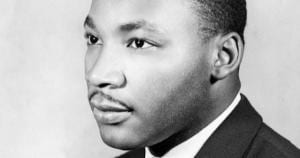 God's church must be built and sustained God's way. What is that way? Reverend Doctor King looks to God's Word for guidelines in how His people can grow a good work. After all, ". . .we in the church don't want the funds of grace cut off from the divine treasury . . ."
King finds guidelines in the message of the Lord in the Temple where Jesus fulfills the message of the prophet Isaiah:
The Spirit of the Lord is upon me, because he hath anointed me to preach the gospel to the poor; he hath sent me to heal the brokenhearted, to preach deliverance to the captives, and recovering of sight to the blind, to set at liberty them that are bruised. . .
The church is to do the things Jesus describes. 
We are to heal the brokenhearted. 
King says: "You see, broken-heartedness is not a physical condition; it's a condition of spiritual exhaustion." King preaches life as one finds it in the Bible, not the prosperity heresy, growing today. King points out even our good decisions do not always work out: eduction, marriage, children. If we have great blessing up to a point, then death intrudes. No human as a human gets out of life a "winner."
King is right. When we believe we can make a "right confession," then we assume that God can be manipulated. This is witchcraft of the diabolical kind: trying to control the good God to meet our desires. When our desires are less than the perfect good that is the will of God, our religious actions are devilish.
This breaks our hearts, but the church gives hope to the broken-hearted! This begins by acknowledging that we are broken-hearted: 
The church must say in substance that broken heartedness is a fact of life. Don't try to escape when you come to that experience. Don't try to repress it. Don't end up in cynicism. Don't get mean when you come to that experience. (Make it plain) The church must say to men and woman that Good Friday (Yes, sir) is a fact of life. The church must say to people that failure is a fact of life.
God has the power, King notes, to give us an inner peace, an "equilibrium" in our pain. If we lay our burden down, best we can, then the pain will not break us. After all, all life can do to us is kill us, and life will end in death, but death is victory for a Christian! The bad choices of those around us, the broken world system, and our own faults can leave us in a bad way if we do not seek the hope that is in God.
That hope is in God's character. Over the long arc of history, God will bring justice, healing, and mercy to the cosmos. And blessed news, this vast plan of God does not just bring hope in general, but to each one of us!
"Secondly, when the church is true to its guidelines, it sets out to preach deliverance to them that are captive."
"The church is called to set free those that are captive, to set free those that are victims of the slavery of segregation and discrimination, those who are caught up in the slavery of fear and prejudice."
King points out that too often pastors are silent when they should speak. White pastors look at white congregants who are slaves to prejudice and fear. The pastor should speak a prophetic word and set them free. My own father taught me the lesson when it came to the injustice of abortion, of the racism of Pentecostal organizations that were segregated, and on personal sins (even in my own life) that he would speak the truth regardless. 
Like Dr. King, he was willing to go to jail for the truth. He followed the "guidelines of God" not the guidelines of men.
Are there pastors in even Orthodox churches who are afraid to speak the full message of God about sexuality morality from the  pulpit in fear of rocking the church? Are they willing to deliver from fear knowing their calling is from God and not from men? As Rev. Dr. King put it, we must preach also against "riotous living" in an age when the riotous is marketed and the righteous is mocked.
The Church will not bow to even Orthodox emperors when they deviate from the right practice or right doctrine. We stand with
Mark of Ephesus
choosing 
defeat 
rather than to lose our souls.
And then the church, if it is true to its guidelines, must preach the acceptable year of the Lord. You know the acceptable year of the Lord is the year that is acceptable to God because it fulfills the demands of his kingdom.
The acceptable year of the Lord is that year when men will love their enemies, (Yes) bless them that curse them, pray for them that despitefully use them.
The City of God was, is, and is to come. Jesus came and revealed God to mankind. There is a glorification that is to come, yet the job of the Church now is to live in that City now the best we can. We love our enemies now. . .at all cost. We set as many captives free as we can now. We repent from our sins now. We feed the hungry now. We visit the prisoners now. 
This is not the job of governments, though perhaps governments might help. This the job of God's church, our job, and we must begin if we are to be the church. King's peroration is mighty:
The acceptable year of the Lord is that year when every knee shall bow and every tongue shall confess the name of Jesus. And everywhere men will cry out, "Hallelujah, hallelujah! The kingdom of this world has become the kingdom of our Lord and his Christ, and he shall reign forever and ever. Hallelujah, hallelujah!" The acceptable year of the Lord is God's.

…

These are our guidelines, and if we will only follow the guidelines, we will be ready for God's kingdom, (Yes) we will be doing what God's church is called to do. We won't be a little social club. (Make it plain) We won't be a little entertainment center. But we'll be about the serious business (Yes) of bringing God's kingdom to this earth.
Listen to the sermon.
———————————————-
I have written about Rev. Dr. King (and his father!) several times. (Hopefully many of the obvious questions you might ask me regarding my opinions on Rev. Dr. King will be answered in the links.
As always with great books and leaders, especially on authors or topics on which I lack training, I begin as a student. First, I learn. Second, I apply what is true. Third, I consider what seems wrong. Fourth, I assume I am wrong for a goodly bit. Fifth, if I still think I am right, I express my ideas to a community to see!