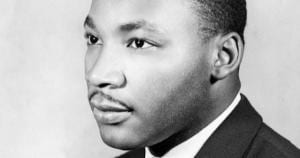 Listen to the sermon. Listen to the people interacting with the preacher, changing the sermon by their silences or their loud responses. Read what you have heard and learn. Find what the Spirit was saying through this servant. Disagree, if disagree we must on some details, later.
The Reverend Doctor Martin Luther King Jr. was a global statesman, a brilliant strategist, and civil rights leader. All of these jobs were in harmony with his first and most enduring role: pastor, preacher, and prophet.
This sermon is not about triumph, but human brokenness. The man who dreamed the Civil Rights movement into immortality in Washington went to his home church and preached on unfulfilled dreams. He begins with this text:
"And it was in the heart of David my father to build an house for the name of the Lord God of Israel. And the Lord said unto David my father, 'Whereas it was in thine heart to build an house unto my name, thou didst well that it was within thine heart.' "
Solomon, Israel's most powerful king, looks back on the founder of his dynasty, his father David, and recollects an unfulfilled dream of the great man. King finds "cosmic significance" in this rarely preached passage. "It says so much in so few words."
King, not so far from being murdered, knows that nobody finishes the work they desire to do if they wish a good work. This was even true in building "temples of character."
So many of us in life start out building temples: temples of character, temples of justice, temples of peace. And so often we don't finish them. Because life is like Schubert's "Unfinished Symphony." At so many points we start, we try, we set out to build our various temples. And I guess one of the great agonies of life is that we are constantly trying to finish that which is unfinishable. We are commanded to do that. And so we, like David, find ourselves in so many instances having to face the fact that our dreams are not fulfilled.
King is relentless, reminding the congregation that great men saw good dreams deferred. Tragically:
So many of our forebears used to sing about freedom. And they dreamed of the day that they would be able to get out of the bosom of slavery, the long night of injustice. (Yes, sir) And they used to sing little songs: "Nobody knows de trouble I seen, nobody knows but Jesus." (Yes) They thought about a better day as they dreamed their dream. And they would say, "I'm so glad the trouble don't last always. (Yeah) By and by, by and by, I'm going to lay down my heavy load." (Yes, sir) And they used to sing it because of a powerful dream. (Yes) But so many died without having the dream fulfilled.
The desire for liberty was there, justice was coming, but bad men made bad choices and so those dreams were deferred.  Yet we are commanded to keep on trying to "finish that which" cannot be finished. Most of our tasks will not be complete: peace, justice, perfect mercy. Our task, our learning, comes in making what humanity has made crooked, a bit straighter.
King, who knew himself, was too honest to stop there. The Jim Crow laws, men bent to do evil, might slow the work of history, but they were not alone. There was a "struggle in the universe," but the struggle is "in our own lives." Pastor King gently reminds us, in a very weary voice, that in "everyone of us" there is a civil war going on between good and evil. He presses the point: all of us fail, pulled back, unable to do all we wish to do.
Sanctification, working our salvation out fully, will not come this side of Glory, but God is gracious and merciful to his children. God does not leave us where we are, but sees where we are, through His grace going to the end. The dream was in our heart and God will bring that dream to pass. We cannot make it without God's mercy.
In the final analysis, God knows (Yes) that his children are weak and they are frail. (Yes, he does) In the final analysis, what God requires is that your heart is right. (Amen. Yes) Salvation isn't reaching the destination of absolute morality, but it's being in the process and on the right road. (Yes)

. . .

Salvation is being on the right road, not having reached a destination. Oh, we have to finally face the point that there is none good but the father. (That's right) But if you're on the right road, God has the power, (Yes, sir) and he has something called Grace. (Yes, sir) And he puts you where you ought to be.
Dr. Vincent Harding, who knew King personally, says that as King preached this message in his home church, near the end of his life with growing external danger all around him,  Pastor King was also trying to express his own struggles.** These were not merely against external evils, but the "civil war" within himself:
I don't know this morning about you, but I can make a testimony. (Yes, sir. That's my life) You don't need to go out this morning saying that Martin Luther King is a saint. Oh, no. (Yes) I want you to know this morning that I'm a sinner like all of God's children. But I want to be a good man. (Yes. Preach it) And I want to hear a voice saying to me one day, "I take you in and I bless you, because you try. (Yes. Amen) It is well (Preach it) that it was within thine heart." (Yes) What's in your heart this morning? (Oh Lord) If you get your heart right …
King was not hopeless, because God is merciful. When he preached this sermon, he was only thirty-eight. He would not see the end of his thirty-ninth year. He had done enough in that time for many to think of him as the "last American Founder." However, as a Christian man he was not content. He was not satisfied with a world still full of injustice and he was not content with himself. He was a sinner, but he wanted to be a good man.
There was justice with mercy for everyone, America on race, Martin Luther King in life.
And the question I want to raise this morning with you: Is your heart right? (Yes. Preach) If your heart isn't right, fix it up today; get God to fix it up.
I bow and pray: "Lord Jesus Christ, son of God, have mercy on me a sinner."
Listen here.
———————————————-
I have written about Rev. Dr. King (and his father!) several times. (Hopefully many of the obvious questions you might ask me regarding my opinions on Rev. Dr. King will be answered in the links.
As always with great books and leaders, especially on authors or topics on which I lack training, I begin as a student. First, I learn. Second, I apply what is true. Third, I consider what seems wrong. Fourth, I assume I am wrong for a goodly bit. Fifth, if I still think I am right, I express my ideas to a community to see!
**A Knock at Midnight (edited by Claiborne Carson), page 187.