Alzheimer's disease is one of the most frightening diagnoses to many of us. A decline in which we lose not only our memories, but our ability to recognize our own loved ones or care for our most basic bodily functions is assumed to be a fate worse than death. As poet and author Jeanne Murray Walker said in an interview here on Patheos:
By 2050 the incidence of Alzheimer's is expected to quadruple worldwide. As a recent op-ed in the New York Times argued, fear of the disease causes children to abandon their parents, and parents to consider suicide, rather than live through dementia.
But Walker goes on to say more, and what she adds is vital:
What a parent has to gain from being cared for by her children may be obvious; it's less clear what the child has to gain. But listen: taking care of my mother during her Alzheimer's years left me with gifts that surely would not have come to me any other way.
"Listen!" says Walker in her rich, beautiful memoir of witnessing her mother's final years, The Geography of Memory. "Listen!" says my friend David, who is blogging about his experience living with an Alzheimer's diagnosis, and the surprising discovery that he is happier, and more emotionally open, than he ever has been. Neither writer denies the potential for Alzheimer's to cause suffering. But they want us to know that life with Alzheimer's, like life with many varieties of illness and misfortune, can nurture joy, connection, and a deeper awareness even as it brings heartache and pain.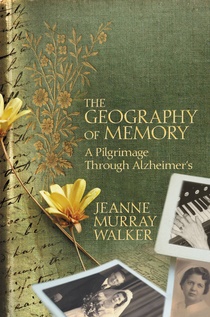 The subtitle of Walker's book is A Pilgrimage Through Alzheimer's. But truth be told, there is very little about Alzheimer's itself in this book. The central subject is not a disease but a person—Walker's strong-willed mother who hated to read but loved the Bible, whose impeccable dress gave way to a haphazard but vibrant mixing of patterns and colors in her final years, whose fundamentalist faith caused a clear but not insurmountable rift with her daughter. Walker writes of mundane struggles and griefs that will be familiar to anyone who has cared for an ailing and aging parent or in-law—the exhausting grind of caring for a parent along with children, spouse, home, and job; the circular, infuriating conversations about using a walker or moving up to the next level of assisted-living care; the fraught disagreements with siblings and the parent herself about what should be done as physical and cognitive capacities decline. Walker's writing is anything but mundane, and her account of her mother's final years is peppered with Walker's childhood memories, particularly those in which she worked to separate herself from the mother whose unwavering love and personality carried her children through terribly hard times (including the death of their father), but could also feel stifling.
Walker struggled in particular to free herself from her mother's "literal way of reading" and fundamentalist "feedback loop" of "absolute, unambiguous, dead certainty." Her different take on faith becomes symbolized by a fluorescent green plastic cross for sale at Walker's Christian summer camp. Her mother shunned all outward symbols of faith, crosses included. Walker writes:
My odd and secret love for the green fluorescent cross…was my earliest inkling that some life force might be stronger than the need for certainty. Following it, I discovered the shining ambiguity of this world, the endless unfolding of it, the mystery of how a tree can be both a tree and a symbol, standing for something besides itself. I found the possibility of paradox, and also the ongoing chance that I might be wrong.
It will be no surprise to my regular readers I loved all that stuff about paradox and ambiguity, nor that my favorite passages from The Geography of Memory have to do with suffering, and what the Christian faith does or doesn't say about it. Of the cross, Walker writes:
As I sit here watching Mother, the genius of Christianity occurs to me. The story is, God entered human history and suffered. If God is eternal, then maybe that suffering is always in the "now." I wonder what that means. I think it means God has a good memory. Two thousand years later, he still recalls what it's like to feel confused, abandoned, hurt.
And of the possibility of heaven:
Maybe faith gives a person the ability to see whatever joy and beauty and wit flickers in the disorienting darkness. Or maybe it is the result of paying attention more to those flickers than to the darkness itself. I don't know. How can we know for sure that the flickers are clues to how the story will end? We can't, not for sure. Nevertheless, most mornings I wake up believing that we are perennials, not annuals. That feeling, itself, is a gift. Surely what dies will spring back to life. I suspect it was my mother who taught me that faith—good and true flower show judge that she was.
Walker writes, "it [is] our stories—our own images and emotions—that give us a way of talking to one another." The Geography of Memory is fundamentally a good story, one that will resonate with many readers regardless of the exact form their faith takes, or whether caring for an aging and ailing parent is in their past or their future. Walker has written a story about Alzheimer's, yes, and about her mother, and about her. But fundamentally, it is a story about memory and faith—about times when they surround and buoy us, and times when they evade our reach.
I am participating in a Patheos Book Club discussion on "The Geography of Memory." Author Jeanne Murray Walker will be participating in a live chat with interested readers TODAY (September 24( at 12:30 p.m. Eastern. Access the chat and find more information and reviews on the Book Club page.