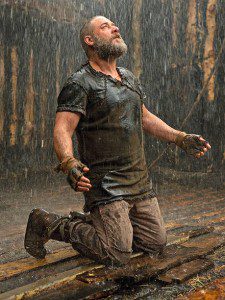 Darren Aronofsky's Noah was scheduled to have its world premiere in Mexico City tonight, but apparently the director popped down there a day early to speak to the public.
It's not clear from the reports in Milenio and El Universal whether the actual film was shown yesterday, but apparently Aronofsky told the crowd that he chose Mexico City for the film's premiere because he visits that country all the time.
Amateur videos of Mexican interviews with Douglas Booth and Logan Lerman, who play two of Noah's sons, have already popped up on YouTube.
I have not yet found any interviews of Aronofsky himself from Mexico, though NY1 did just post this profile of the director, which looks at his life and career and includes a few video clips that are, alas, available only to Time Warner Cable subscribers.
There isn't much about Noah itself in the article, though there is an amusing anecdote about how the studio wanted Aronofsky to cut his former teacher's cameo:
Aronofsky calls Noah the patron saint of his creative life, because the story was the subject of a poem he wrote as a 13-year-old at Mark Twain Junior High School on Coney Island.

"I had a magical teacher, Mrs. Vera Fried, and she asked everyone to write a poem based on peace, and it turned out it was a contest for the U.N., and I ended up winning it, and it was the first time I thought maybe, 'Hey, wow, maybe I can be a writer, a storyteller,'" he says.

Aronofsky contacted Vera Fried, now retired in Florida, and invited her to the set.

"I was like, 'You know what, we need an extra today.' So I stuck her and made her into this one-eyed crone, and she has some speaking lines with Russell," he says. "And when the studio was like, 'You know what, that shot, you should cut that shot out,' I was like, 'There's no f-ing way we're going to cut that shot out. That's staying in the movie.'"
The New Yorker also has a new article on the making of Noah, and you have to be a subscriber to access that one, too. There's lots of interesting stuff in there, though.
For example, it seems the studio was prepared at one point to "mak[e] the film less faithful to Genesis and more faithful to people's sentimental recollections of Genesis," and even went so far as to test-screen an 86-minute version that "began with a montage of religious imagery, ended with a Christian rock song, and skipped the whole middle". Yikes. (The finished film is about 35 minutes longer than that.)
Meanwhile, Variety reports that industry insiders are predicting an opening of $35 million or more for the film when it opens March 28. The studio, however, is said to be estimating a lower opening of around $27.5 million to help manage expectations.
If the film meets either of those targets, it would automatically outgross all but one of Aronofsky's previous films in North America. (The exception is Black Swan, which grossed $107 million over the course of the 2010 awards season.)
It would also be one of the five best opening weekends for a film starring Russell Crowe, and the second-biggest opening for a Bible film after The Passion of the Christ, which grossed $83.8 million in its first weekend back in 2004.
Estimating the first-weekend figures for Noah has been trickier than it would be for most major films, partly because the studios don't know how to track the churchgoing demographic, which is a substantial part of the film's intended audience but by no means the only part. Son of God had a much better opening than expected two weekends ago, and many of those who bought tickets for that film expressed interest in seeing Noah too, but the film has attracted its share of controversy, too.
Speaking of which, a representative for the censorship board in the United Arab Emirates confirmed today that the film will, in fact, be banned in that country. Said Juma Obaid Al Leem, director of the Media Content Tracking Department at the National Media Council in that country: "The film conflicts with [many] religions. Out of respect for these religious sentiments, we are banning the film."
Noah has also been banned in Qatar and Bahrain, and censors in similarly Muslim countries like Jordan, Kuwait and Egypt are expected to follow suit.
The ban has the support at least one theatre owner in Bahrain, but historian Juan Cole notes that a secular organization in Egypt called 'The Front for Creativity' has slammed the local Sunni institution that called on Muslim authorities to ban the film. Cole looks at this controversy in the light of recent changes to Egypt's constitution and asks, 'Will Russell Crowe as Noah help Egypt Separate Religion and State?'
Closer to home, National Religious Broadcasters head honcho Jerry A. Johnson has supplemented his previous columns on the film — in which he listed five positive things and five negative things about the film — with a new column for Christianity Today in which he advocates a middle ground for Christians between enthusiastically endorsing the film on the one hand and boycotting it on the other hand.
Finally, don't forget to check out the new videos that were released today, which I discussed in my previous post. Plus, Aronofsky has tweeted a few new images from his Noah-themed art show, and I have added them to the collection of images here.