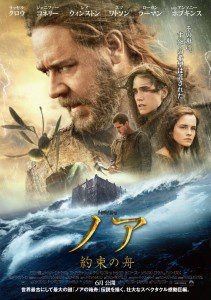 Darren Aronofsky's Noah has had a difficult time getting released overseas in some countries. First some Muslim countries banned it for its lack of piety, and then China — the second-largest moviegoing market in the world — banned it for being too religious.
The film also had to put off its release in the Philippines, due to a dispute between two distributors. But now at least that has been taken care of, as various sites are reporting that the film is due to open in the Philippines on June 11 — which might mean that the film has already opened there, given that that country is on the other side of the International Date Line.
Articles on the film, containing quotes from various people, have recently appeared on news sites based in the Philippines, but it is not clear to me whether these articles contain any new quotes or are simply repeating stuff from other articles.
Beyond that, the big news this week is that Noah will open in its last major market — i.e. Japan — on Friday.
Aronofsky flew to Japan a few weeks ago to promote the film, but if any coverage of that visit has appeared online, it has not appeared in my Google News alerts.
However, it's worth noting that the film's promoters are doing something rather unique in Japan that has not, to my knowledge, been tried anywhere else.
The Japanese poster for the film, which you can see above, includes an olive-bearing twig that did not appear on the posters for this film in any other country. And if you go to the film's Japanese website, it includes a page for the 'Olive of Hope' campaign, which is loosely connected to the olive branch carried by the dove in the film.
I can't read Japanese, but a friend of a friend who does tells me that the website basically says the Japanese film distributor will donate one olive tree seedling to the town of Shodoshima, a.k.a. the home of olive cultivation in Japan, for every 1,000 "likes" that the film receives on its Japanese Facebook page. Right now the Facebook page has 1.3 million "likes", so that translates to at least 1,300 seedlings.
It will be interesting to see how well Noah does in Japan. Aronofsky's last film, Black Swan, grossed $27.4 million there three years ago, but none of his previous films earned more than a tiny, tiny fraction of that, according to Box Office Mojo.