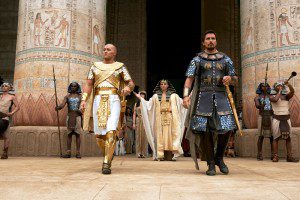 New interviews with John Turturro and Joel Edgerton, who play the Pharaohs Seti and Ramses in Exodus: Gods and Kings, have popped up in the last few days. The actors were giving the interviews to promote other projects, but along the way they made a few comments about their upcoming Bible epic.
First, Turturro, promoting the video release of Fading Gigolo, told The Playlist that he was amazed by the sheer number of cameras that Ridley Scott used while shooting Exodus: "I never worked with that many cameras, or live leopards at my feet. . . . I never had seen that many cameras, and I worked with Michael Bay." (Turturro made similar comments last year.)
Turturro also remarks that he had "a bunch of scenes with Christian Bale", who plays Moses in the film — and this is just fueling my not-entirely-serious speculation that Exodus might follow the Gladiator template, whereby a ruler (Seti / Marcus Aurelius) thinks one of his generals (Moses / Maximus) would make a better ruler than his son (Ramses / Commodus), but then the son (or someone on his side, such as Exodus's Queen Tuya) kills the ruler to ensure that the son will take the throne.
Second, Edgerton discussed Exodus briefly with the Sydney Morning Herald while promoting one of his Aussie films, Felony.
Among the tidbits that come up: he played some scenes "covered in a light dusting of real gold"; he took "tonnes of photos" of the 50-foot-high statue of his head; and, in one scene, he was "standing on scaffolding ordering the hanging of a family, with 1000 extras standing around watching." (Première magazine reported earlier this year that the film would include a scene in which Ramses orders the hanging of a priestess. Does Ramses execute her entire family, or are there multiple scenes of hanging?)
Finally, Edgerton spoke to the SBS Network in Australia about the controversy over the film's allegedly "racist" casting. (No, the critics aren't complaining that none of the main Hebrew characters are played by Jewish actors, or that Edgerton lacks the wavy red hair that the historical Ramses had — and still has, in mummified form.)
Edgerton is the first person involved with the film to comment on the controversy, as far as I am aware, though he didn't say very much:
It's not my job to make those decisions. . . . I got asked to do a job and it would have been very hard to say no to that job. But I do say that I am sensitive to it and I do, I do understand and empathize with that position, and I'd be silly to say otherwise.
It will be interesting to see what Ridley Scott and the others have to say about this issue when someone finally gets a chance to put the question to them.
You can watch a video of Edgerton fielding the question below: