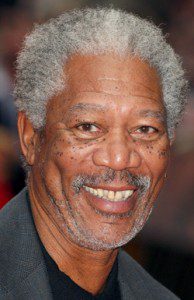 Recent Bible epics like Noah and Exodus: Gods and Kings have been dogged by controversy for casting white actors in all the main roles — or at least in the most prominent roles. The makers of the newest version of Ben-Hur, however, may have steered clear of all that by announcing today that the first actor to sign on for the movie is none other than Morgan Freeman.
Deadline reports that Freeman will play "Ildarin, the man who teaches the slave Ben-Hur to become a champion caliber chariot racer." Presumably the name "Ildarin" is a variation on "Ilderim", which was the name of the Arab sheikh who sponsored Ben-Hur's chariots in the original novel. In the 1959 film, he was played by Hugh Griffith, a Welsh actor in dark make-up who won an Oscar for his performance. In the 2010 mini-series, he was played by Art Malik, who hails from Pakistan.
Last month, it was reported that the filmmakers were courting Tom Hiddleston for the part of Judah Ben-Hur, but right now "it's not clear if he will take part." No other casting has been announced yet. But the producers are currently looking at shooting the film in Rome, and the release date is still set for February 26, 2016.
Update: Just to clarify, it's certainly possible that Freeman's character is not an Arab sheikh. If the character's name has changed, then other things about him may have changed, too. But Deadline says the new film is sticking even closer to the book than the 1959 film did, so I suspect the character hasn't changed all that much.