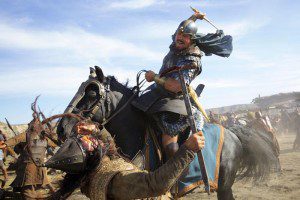 Exodus: Gods and Kings is still falling at the box office, but not as fast it was.
As expected, the post-Christmas surge at the box office put the brakes on the film's slide, so that it earned an estimated $6.7 million this weekend and dropped only 16.7% compared to last weekend.
This is better than the 46.7% and 55.7% by which Son of God and Noah dropped during their third weeks, respectively. Exodus has also grossed $52.5 million in total as of this Sunday, which puts it ahead of where Son of God was at a comparable point in its release for the first time ever.
However, Exodus was one of only three films in the Top 15 that made less money this weekend than last weekend. The others were The Hobbit: The Battle of the Five Armies, which kept the #1 spot but slid 24.3%, and Penguins of Madagascar, which slid 6.5% and is on track to be the lowest-grossing computer-animated DreamWorks cartoon ever (not counting the Aardman co-production Flushed Away).
Thanks in part to three new films (Unbroken, Into the Woods, The Gambler) and a fourth that went into wider release (The Imitation Game), Exodus — which opened at #1 just two weeks ago — slid to 9th place at the box office this weekend. It also fell behind The Hunger Games: Mockingay Part 1, which is now in its sixth week.
The $52.5 million earned by Exodus so far in North America makes it the 8th-highest-grossing Ridley Scott movie (out of 22 movies), behind three Russell Crowe movies (Gladiator, American Gangster, Robin Hood), two sequels (Hannibal, Prometheus), Black Hawk Down and Alien — all of which earned over $80 million.
For Christian Bale, it will soon be his 10th-highest-grossing film in North America, behind four "franchise" movies (the Dark Knight trilogy, Terminator Salvation), two David O. Russell movies (American Hustle, The Fighter) and three supporting roles (Pocahontas, Public Enemies, Shaft) — all of which earned over $70 million.
Time will tell if Exodus moves any higher up either of those charts.
Overseas, Exodus was released in several new territories this week and has raised its foreign total to $96.3 million, thus giving it a global total of $148.8 million.
Update: Deadline has a more detailed breakdown of the overseas figures:
Off muscular bows in Brazil, France, the UK and Germany, Ridley Scott's Exodus: Gods And Kings earned $31M on 6,671 screens in 39 markets this holiday frame. Although the film won't be getting released in some Middle Eastern markets, the international cume is a burning bush away from the $100M mark with $97.03M. Brazil opened at No. 1 and earned $6.68M from 901 dates this session giving Fox its second biggest opening ever in the market. In France, it was No. 3 behind local heartwarmer The Bélier Family and The Hobbit with $5.35M from 587; the UK was No. 2 behind Hobbit with $4.25M from 750; and Germany was No. 3 behind Hobbit and Til Schweiger's Warner drama Honig In Kopf with $3.64M at 597. Among other markets, Mexico was up 8% in its fourth frame for a cume of $11.2M; Spain was also up 11% in its fourth outing with a $9.8M cume and Holland was up 28% for a $1.66M cume. Russia sees the Red Sea part next weekend.
If I find any more details along these lines, I will add them to this post.