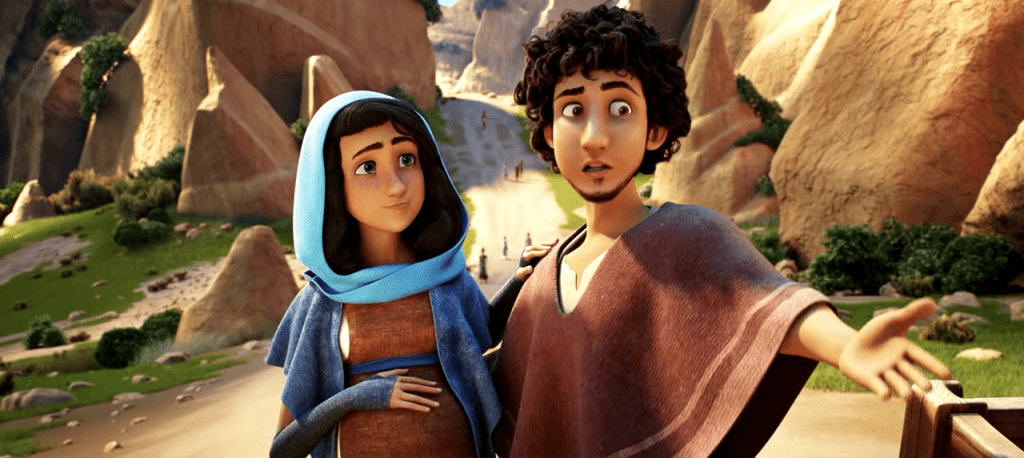 The Star had its premiere over the weekend, and more interviews with the cast and crew have surfaced online. Check out some excerpts below the jump.
First, my friend Steven D. Greydanus spoke to director Timothy Reckart for the National Catholic Register:
I wanted to present Mary as someone who is open to God's plan, who is looking forward to it and is optimistic — a woman who would say "Yes" to an angel when an angel says "Hey, do you want to be the mother of the Son of God?"

Mary shows in that moment that she was someone who was willing to accept the unknown with faith and hope. So I tried to build a character for Mary that was kind of relaxed and trusting and like, "Everything's going to be fine; don't worry about it, Joseph."

And then I thought it would be fun if Joseph is the guy who is always about planning and thinking ahead. After all, he's the carpenter; in this day and age I think he would have been a mechanical engineer or something. So I think it makes sense for him to be the guy who is like, "Okay, we are going to pack all these things, here's our itinerary, we are going to stop at this hotel and get a room." And then when everything falls apart, Joseph's arc is that he has to learn to let go. . . .

At some point, when they are in the middle of nowhere, she gets an intuition that this may not be easy, this road that she's accepted from God. This is all a way of baking in a scene that comes later in the Bible: the presentation of Jesus in the Temple, when Simeon and Anna come over and tell Mary that your son is going to be a sign of contradiction, all that stuff.

It didn't fit into the timeline of our story, but I think it's an important aspect of Mary's character that it was a process for her to realize that this wasn't all going to be fun — it wasn't all going to be good news. I think that we've presented that this shows the difficulty of the vocation that God gave to Mary and Joseph, but also shows them working through difficulty with faith and with love for each other.
Nell Minow also spoke to Reckart for The Huffington Post:
Was the world you created based on research or imagination?

It's a combination of both. We did do a lot of research and we also used a lot of creative license. The research was really a guide for colors and architectural styles. Our big insight was that it looks kind of broken down and dusty now but 2,000 years ago these buildings weren't in ruins; they all had a fresh coat of paint. So the idea of making them look lived in now instead of like they should have looked 2000 years ago. So we thought this was a good opportunity to make the Holy Land look a little bit fresher than we're used to seeing it; more colorful, more lively. But then as far as topography, for instance we built Bethlehem on the side of a hill which was not based on research. It was based more on the need of the story because we wanted that to be the site of this really heightened act three climax and having those layers of elevation really helped the story.
Meanwhile, producer DeVon Franklin was profiled by The Hollywood Reporter:
What was the inspiration for an animated version of the story of the birth of Christ with The Star?

I believe it's the first faith-based movie in CGI to be done by a major studio. The Prince of Egypt was done about 20 years ago [by DreamWorks], but that was a 2D film. The family films in the marketplace that find success are because faith-based audiences go to family films. So we're doing the Nativity, a story that everyone knows, but we're doing it animated. We'll see if it works. If it does, it can open a whole new avenue for films of faith.
And Zachary Levi, who voices Joseph, spoke to Leanna Feliz here at Patheos:
A lot of times biblical characters and people are put on these pedestals, like there's nothing wrong with them, they're all saints. But it's like, 'No, they were schmucks like everybody else." We are all broken. And Joseph was struggling. I can't even imagine what that's like, having your wife come up to you and say "I'm pregnant, not your kid, not even another dude's kid, God's kid." Like, that doesn't make any sense at all. So I love that I got to get an opportunity to make a biblical character a human character.
Variety also covered the film's premiere:
"The Bible doesn't tell us what the animals were thinking, so that's a sandbox that we basically had free rein to be creative in," director Timothy Reckart said. . . .

"If you go back to the Bible, he didn't say much," co-star Zachary Levi said about his character, Joseph. "[But] the writers did a great job of bringing a lot of that to life."
Finally, here's a video interview with Gina Rodriguez, who voices Mary:
The Star opens in theatres across North America on November 17.
November 17 update: More interviews have surfaced.
First, Feliz also spoke to Rodriguez and Reckart, the latter of whom said:
The movie ends with a theme of forgiveness. Why do you think that is significant?

Forgiveness is kind of a two-part thing. Yes, you are welcome to come to the manger, but there is also a call involved in forgiveness, the call to live your life the best you can. It's not like you get to write off everything you've ever done, but it's a call to improve yourself. That's also a call to hope, because I can be better than I am. I think that is the state of all of us.
Reckart also spoke to another Patheos blogger, namely Kate O'Hare:
CBN News spoke to Reckart, Rodriguez and Levi:
Actor Zachary Levi didn't have as much to pull from for the role in "The Star." He plays Joseph. "The source material is pretty much all you have to work with. And even in the source material, there is not much to go on. It's a lot of bullet points," Levi joked.
The Christian Post spoke to the actors behind the film's two human leads:
And Hollywood Outbreak spoke to Levi:
If I find any more interviews of note, I will add them to this post.