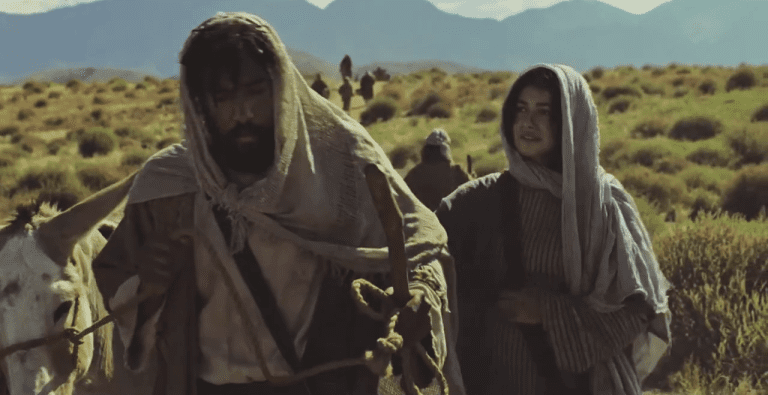 Christmas Special – 'The Messengers'
Matthew 1; Luke 1-2
Synopsis. In AD 48, roughly two decades after the death and resurrection of Jesus, Mary Magdalene pays a secret visit to Jesus' mother Mary at the home of Lazarus. Mary tells Mary Magdalene to take a message to Luke, who has been doing research for an account of Jesus' life that he is planning to write. Along the way, in flashback, we see Mary and Joseph arrive in Bethlehem just before Mary gives birth to Jesus in 4 BC.
–
Gospels. This episode marks the second time (after 'The Shepherd') that The Chosen has depicted the birth of Jesus, as described in Matthew 1:18-25 and Luke 2:1-20.
There isn't a whole lot of overlap between the Nativity accounts in Matthew and Luke. The two accounts do agree that Jesus was born to a virgin named Mary in a town called Bethlehem, and that Mary's husband or fiance was a man named Joseph.
But aside from that, the two accounts emphasize very different things, with Matthew focusing largely on Joseph's experience while Luke focuses on Mary's.
This episode takes most of its dramatic detail from Luke's gospel – which makes sense, as the episode is framed as a story that Mary shares with Luke. These details include:
Mary's recitation of the Magnificat (1:46-55);
Mary and Joseph traveling to Bethlehem from Nazareth (2:1-5);
the newborn Jesus being put in a manger (2:6-7); and
angels appearing to nearby shepherds on the night that Jesus is born (2:8-15).
But the dialogue also refers to a number of details from Matthew's gospel, such as the fact that an angel spoke to Joseph in a dream (1:20-21), or the fact that Joseph wanted to protect Mary from public disgrace when he learned she was pregnant (1:19).
Mary also refers to some advice she got from her cousin Elizabeth — who was pregnant with John the Baptist — about staying active when she feels up to it (cf. Luke 1).
–
This is one of the few films to show Mary reciting the entire Magnificat. The only other major films I can think of that have included the entire Magnificat are the word-for-word adaptations of Luke produced by the Genesis Project and the Lumo Project.
However, Mary does not quite recite the entire Magnificat all at once. At the end of the episode, the older Mary recites almost all of it in her message to Luke, but she skips over one line ("for he has looked upon the humble estate of his servant"). By that point, however, we have already heard the young Mary say that line when she goes into labour and she recites the first part of the Magnificat under her breath.
–
Mary and Joseph both talk about the messages they got from the angels (or "messengers") who spoke to them. ("Messengers" is what the Greek word "angels" means.)
Among other things, they note that the angels said two things to both of them:
Do not be afraid (Matthew 1:20, Luke 1:30); and
Mary will give birth to a son and call him Jesus (Matthew 1:21, Luke 1:31).
Mary says her angel said "nothing is impossible with God". That isn't exactly what Gabriel told her in Luke 1:37 ("no word from God will ever fail"), but close enough.
After Jesus is born, Joseph remarks that Mary's angel said the child will be called "holy, the Son of God" (Luke 1:35), and he also notes that there is a prophecy which says the promised one will be called "Immanuel" (Isaiah 7:14, quoted in Matthew 1:23).
–
To explain why she neglected to tell Luke about the Magnificat during her interview with him, Mary says, "As you know, I like to treasure things in my heart."
This line is a nod to Luke's description of Mary's thoughts in Luke 2:19 & 51.
–
This episode introduces Lazarus, who will become a significant figure in the story of Jesus when he is raised from the dead shortly before the crucifixion of Jesus (John 11).
The biblical Lazarus became so famous after his resurrection that the priests conspired to have him killed, though we do not know if they succeeded (John 12:9-11). In this episode, Lazarus is still alive two decades after Jesus' ministry and seems to be keeping his Christianity a secret. Do his neighbours not know who he is?
Interestingly, in at least two films, Lazarus is killed after his resurrection — and in both cases, the person who kills him is Paul, who of course was not yet Christian at that point. In this episode, Lazarus knows Paul personally but we don't know how they met.
The biblical Lazarus appears to have been a wealthy man – he owned his own tomb (John 11:17-44), and his sister could afford to pour a jar of perfume worth about a year's wages on Jesus' head (John 12:1-5) – and he lived in a village called Bethany, less than two miles from Jerusalem (John 11:1, 18). (Bethany was so close to Jerusalem that Jesus spent his nights there during his visits to the city; cf. Mark 11:11-12, Matthew 21:17-18.)
The Lazarus of this episode lives inside a walled city. It is not specified which one.
–
Curiously, while this episode gives us updates on a number of disciples …
Big James and Nathanael are dead,
Simon the Zealot is traveling "all over the place" but is somehow also using his Jewish-revolutionary connections to help sneak Christians around behind the authorities' backs,
Peter is becoming bolder in his preaching,
Andrew is on the verge of getting arrested in Greece
… it tells us nothing about John, who was supposed to be looking after Mary (as per John 19:25-27) and was last seen living with her in the prologue to S2E1. Where is he?
–
Note also that Mary Magdalene calls Peter "Peter".
Until now, he has always been called by his birth name, Simon. The biblical Jesus did give Simon the nickname "Peter" (Mark 3:16, Luke 6:14, John 1:42; cf. Matthew 16:18), but Jesus hasn't given him that nickname in the series yet. Presumably that will happen soon, now that there is another Simon among the disciples (i.e. Simon the Zealot).
–
Lazarus addresses Mary as "woman", which echoes how Jesus addressed her in John 2:4 and 19:26. But Mary Magdalene calls her "mother", which echoes how John addressed her in S2E1 (which, in turn, reflects how Jesus told Mary and John to be "mother" and "son" to each other after he was gone, as per John 19:25-27).
–
The Roman soldier who checks Tychicus's cart turns back to his fellow soldiers, who are playing a game of some sort, and says, "Better not have skipped my turn!"
This may be a nod to the games the Romans played at the foot of the cross when Jesus was crucified (Mark 15:24, Matthew 27:35, Luke 23:34, John 19:23-24).
–
Luke says he has "begun collecting historical accounts" as research for his gospel. This echoes the opening words of Luke's gospel (Luke 1:1-4), where the author acknowledges that many people have written their own versions of Jesus' story and he has been "carefully investigating" what happened so he can write his own account.
–
The Acts of the Apostles. This episode does not depict any of the events in the book of Acts, per se, but the scenes set in AD 48 do take place within the timeframe of Acts.
Curiously, Mary Magdalene says Luke is with Paul in Rome, but there is no evidence that Paul or Luke had been to Rome or had even met each other at this point.
Paul's first missionary journey (Acts 13-14) is typically dated to AD 46-49 – basically the timeframe of this episode – and it never went further than modern-day Turkey.
It is also widely thought that Paul did not meet Luke until his second missionary journey, which never went further than Greece, because the first of the "we" passages – the first passage in which Luke seems to be describing events that he participated in himself – is Acts 16:10. (The second missionary journey is dated to the early AD 50s because of Paul's encounter with Gallio, a figure that we know from secular history, in Acts 18:12-17.)
Paul does not appear to have visited Rome until around AD 60, as per Acts 28:16.
–
Mary Magdalene is smuggled into the city by Tychicus, a man who is mentioned once in Acts near the end of Paul's third missionary journey, in Acts 20:4.
Tychicus is also mentioned in four of Paul's epistles, usually because Paul is sending him somewhere (Ephesians 6:21-22, Colossians 4:7-9, II Timothy 4:12, Titus 3:12).
Lazarus says Tychicus has a reputation for being "brave and righteous", but this does not seem to be based on any of the biblical passages that mention Tychicus.
–
Mary Magdalene mentions the martyrdoms of Big James and Nathanael.
The martyrdom of James is mentioned in Acts 12:2, and was already alluded to in S2E1. It also must have happened at least four years before Mary Magdalene mentions it here, as James was killed by Herod Agrippa I, who died in AD 44 (cf. Acts 12:23).
The death of Nathanael is not mentioned in the Bible, but it is traditionally believed that most of the apostles died as martyrs. No particular tradition about Nathanael's death is alluded to here — though interestingly, a Chosen-branded Bible study says Nathanael is believed to have died in AD 82, thirty-four years after this episode!
–
Tychicus says he has "found the way", as part of his secret greeting to Lazarus.
This bit of code language may be a nod to the fact that the early Christian movement was sometimes known as "the Way" (Acts 9:2; 19:9, 23; 24:14).
–
Old Testament. Mary and Joseph both quote or paraphrase Psalm 63.
Mary quotes verse 1 when Joseph seems to be having trouble finding a place for them to stay: "Oh God, you are my God. Earnestly I seek you, my soul thirsts for you, my flesh faints for you as in a dry and weary land where there is no water."
Joseph quotes verse 7 when Mary goes into labour: "He has been our help, and in the shadow of his wings, we will sing for joy."
–
Mary Magdalene says the Magnificat is "amazing. It's like the Song of Hannah but even more beautiful." The Song of Hannah comes from I Samuel 2:1-10 and is a prayer of thanks from Hannah after the birth of her son, the prophet Samuel.
–
When Mary says goodbye to Mary Magdalene, she recites a blessing from Numbers 6:24-26 ("The Lord bless you and keep you; the Lord make his face shine on you and be gracious to you; the Lord turn his face toward you and bring you peace").
Interestingly, in its original context, this blessing was given by the Israelite priests, so Mary is arguably performing a priestly role in blessing Mary Magdalene this way.
–
Themes. A major theme of this episode is the humility with which Jesus came into this world, becoming not just a human but an infant born in the presence of animals.
The humility is underlined when Mary describes her "humble estate" while going into labour, and when Joseph shovels manure while preparing a place for Mary to lie.
–
Historical quibbles. Mary and Joseph walk past a sign that says the road to Bethlehem was completed during the reign of Herod Antipas.
This is odd, as Jesus was born during the reign of Antipas's father, Herod the Great (as per Matthew 2:1-18 and Luke 1:5), and in any case Antipas never ruled over Bethlehem. (Antipas became tetrarch of Galilee and Perea after Herod's death. Bethlehem is in Judea, which went to Antipas's brother Archelaus after Herod's death.)
–
Tychicus in AD 48, and Joseph in 4 BC, both have "papers" with them when they travel.
This feels like an anachronism, borrowed from 20th-century war movies or spy movies. It is also not clear to me if parchment or papyrus would have been affordable enough, or literacy common enough, for "papers" to be in widespread use like this.
The reference to Mary staying in "a secure location" also feels like a spy-movie thing.
–
The episode plays strongly on the idea that Christians were facing widespread persecution in the late AD 40s, but that isn't the picture one gets from the book of Acts.
Yes, there were mobs here and there that hounded Paul and attacked him and his friends – and Judea in particular was a dangerous place to be, as both the book of Acts and the works of Josephus attest (witness the martyrdom of John's brother James in Acts 12:2, or the martyrdom of Jesus' brother James as described by Josephus) – but one doesn't get the sense that there was an organized crackdown across the Roman Empire.
If anything, the Roman authorities were holding the mob in check. The two Jameses were both killed during gaps between Roman governors – one of them was killed by Herod Agrippa I during the brief three-year window in which he ruled over Judea, while the other was killed by the Sanhedrin when the Roman governor died unexpectedly and his replacement hadn't arrived in Judea yet – and Paul was saved from mobs on a few occasions by Roman officials who had zero interest in religious disputes.
Indeed, by the end of Acts, Paul felt safer appealing his case to Caesar than facing a court in Jerusalem. Yes, ironically, the Caesar at that time was Nero, who would go on to kill Paul, according to tradition – but that was when Nero was looking for scapegoats after the burning of Rome, which had not yet happened when Acts comes to a close.
–
Tychicus and Lazarus greet each other by making the sign of the fish in the ground.
This sign was originally a symbol of female fertility in Greco-Roman culture. It was eventually adopted by Christians as a secret symbol of the faith, partly because of the significant role that fish and fishermen played in the ministry of Jesus, and partly because the letters that spelled the Greek word for "fish" (ichthus) lent themselves to an acrostic that, in English, translates to "Jesus Christ, Son of God, Saviour".
It is said that, when Christians met strangers on the road, they would sometimes trace an arc in the ground with their feet and wait to see if the other person completed the image with another arc, thereby signifying that the other person was a Christian too. That is what Tychicus and Lazarus are doing when they meet – though it is not clear to me if the symbol would have been in use this early, or if non-Greeks like Lazarus would have used it, or if it makes sense for Tychicus to use it in this context when he is not approaching a stranger on the road but standing outside the home of a famous Christian.
–
This episode incorporates a modern theory that the "swaddling clothes" the baby Jesus was wrapped in were part of a Jewish ritual for inspecting sacrificial lambs.
There doesn't seem to be any evidence for this claim in the ancient sources. One blogger tried to trace the origins of this theory and couldn't find any sources for it.
–
This episode follows the ancient tradition that Jesus was born in a stable.
Some scholars today, however, argue that Jesus was actually born in a house, and that the feeding trough (or manger) that he rested in was on the lower level of the house.
While Luke 2:7 says there was no room at the "inn", as some translations put it, the underlying Greek word (katalyma) is the same word Jesus uses when looking for a "guest room" within which he can eat the Last Supper in Mark 14:14 and Luke 22:11.
So it's quite possible that Mary wasn't as cut off from other people as we tend to think – or that she had as much privacy as we think! – when she gave birth to Jesus.
–
Geography. Mary says she and Joseph have been traveling for five weeks.
Google Maps indicates that the distance between Nazareth and Bethlehem is about 150km and can be walked in a little more than 30 hours. You could easily walk that distance in one week, if you walked five hours per day. But it shouldn't take five weeks.
–
Mary and Joseph walk past a sign that says "BETHLEEM MMDXXVII MILIA".
This would appear to indicate that Bethlehem is 2,527 miles from Rome by road. Google Maps indicates that walking the long way from Rome to Bethlehem – avoiding the shortcuts by boat that Google recommends – would indeed be about that long.
–
As noted above, the biblical Lazarus lived in a village less than two miles from Jerusalem (John 11:1, 18), but the Lazarus of this episode lives within a walled city. This episode is set two decades after the main series, though, so that isn't necessarily a discrepancy.
–
Humanization. The Chosen has avoided taking sides on the question of whether Mary and Joseph ever consummated their marriage. (Broadly speaking, Protestants tend to think they did, while Catholic and Orthodox Christians believe they didn't.)
This episode doesn't address the question at all, but it might hint at romantic feelings between Mary and Joseph, e.g. when Mary says she'd like to get off the donkey so she can walk with Joseph, or when Mary and Joseph say "I love you" to each other.
–
Mary experiences labour pains. Later, shortly after Jesus is born, Joseph and Mary share a laugh, and Mary asks Joseph not to make her laugh because it hurts to laugh.
There is an old church tradition that Mary, as the new Eve, did not experience the pain in childbirth that the original Eve was cursed with in Genesis 3:16. But most films have ignored this tradition since at least Franco Zeffirelli's Jesus of Nazareth (1977), and The Chosen already showed Mary experiencing labour pains in its pilot episode.
–
The conversations between Mary and Joseph have their share of casual banter, even when they discuss their experiences with the angels.
Joseph mentions some of the other names that have been prophesied for Jesus – "the Son of God", "Immanuel" – and then says, "Are we going to stick with Jesus?" Mary replies, "I think we should." And Joseph nods in agreement and says, "Probably best, huh?"
–
Language issues. When the innkeeper says there is no room for Mary and Joseph in the inn, Joseph uses an almost-profanity and says, "This is bull dropping here!"
Later, to reassure Mary, Joseph says, "We've got this," which sounds rather modern.
–
Miscellaneous. The older Mary says she must share the Magnificat with Luke and his readers because the words "felt like God's words as much as my own."
This taps into an interesting question: Did the authors of the Bible believe that they were divinely inspired when they wrote their books and letters?
S2E1 showed John interviewing the disciples as he took notes for his gospel. This episode shows Luke doing research for his gospel. At what point, if any, would either of them have said that their work ended and divine inspiration began?
–
It's striking how this basically Evangelical production sometimes tilts in a direction that is arguably somewhat Catholic or Orthodox in sensibility.
First, Mary Magdalene calls the other Mary "mother".
John called her that in S2E1, but that was long after Jesus had entrusted Mary to him and told them they were to be "mother" and "son" to each other (as per John 19:25-27). Mary Magdalene's use of that word suggests that Mary is now recognized as "mother" in a more general sense, at least among those who know her personally. And this, in turn, fits with how some churches have called Mary the 'Mother of the Church'.
The scene in which Mary gives Mary Magdalene the priestly blessing would also fit with this sense of an elevated role for Mary within the Christian community.
Second, the religious significance of Jesus' swaddling clothes – and the way Mary gives them to Mary Magdalene – hints at the impulse behind the keeping of relics.
There are currently at least two sets of relics that claim to be the swaddling clothes worn by Jesus – one in Aachen, Germany and one in Dubrovnik, Croatia – but you don't have to believe in either of these claims to recognize or appreciate the human desire for physical contact with the past. Many parents today keep their children's baby clothes. It makes sense that Mary might have done this too – and might have passed the clothes on.
–
Between the "bull dropping" remark and the close-up of Joseph shoveling manure, this episode has a somewhat scatological focus for a "faith-based" biblical drama.
It's all of a piece, though, with the scene in S1E1 where Matthew steps in crap and is called a "public anus" (a play on the Latin word "publicanus", meaning "tax collector"), or the scene in S1E5 where Simon Peter is shocked to learn that the messiah has made a living building latrines. Poop and where it comes from is how this series keeps it real.
–
This episode leans into its continuity with the other episodes that exist so far.
The older Mary mentions that she removed a piece of the swaddling cloth and gave it to a shepherd, as seen in the pilot episode. She also recalls meeting Mary Magdalene at the wedding in Cana, though we did not see them talk to each other in S1E5.
–
The Chosen recaps:
Season 1: review | scripture index
Episode recaps: The Shepherd | one | two | three | four | five | six | seven | eight
Season 2: The Messengers review | scripture index
Episode recaps: one | two | three | four | five | six | seven | eight | The Messengers
–
The Chosen can be streamed in full via VidAngel or the show's app (Android | Apple).
The episode was also livestreamed on December 12, as part of the 2021 Christmas special, with an intro by director Dallas Jenkins (the episode begins at the 1:24:30 mark):
You can also watch a five-minute clip from the episode here:
–
TV show recaps:
Prophet Joseph | The Bible | A.D. The Bible Continues | Of Kings and Prophets
Movie scene guides:
Risen | The Young Messiah | Paul, Apostle of Christ | Mary Magdalene