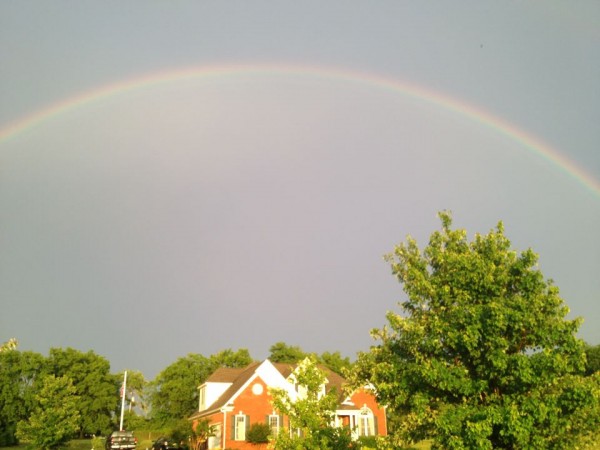 This sunny afternoon, I took the kids to Austin's trap shooting practice. We were thankful when a cloud came through to lessen the heat. He was shooting 100 rounds, so we needed the relief from the sun. Then, out of nowhere, we saw a wind and rain storm coming over the hills. The skeet were not going in a predictable pattern, so the boys were missing their shots. The gravel road next to us stirred and dust from it enveloped us. We couldn't see, we coughed. The things on our table got picked up and thrown across the field. All of us scurried to get to shelter as lightning suddenly started flashing in the sky. When we finally got in the car, the visibility was so low that we could barely get home. David, on his way home from work during the same time, ran over one of those orange and white traffic barriers which was tossed onto the interstate. My friend's minivan was hit by one of those little swimming pools usually in suburban back yards.
By the time we got home, Naomi was crying in the car, horrified by the pounding rain. It was so loud on our metal roof that we had to shout to hear each other. Even though we only had to traverse five feet to get inside the house, we were all completely soaked.
Then, almost immediately, it all stopped.
After working on the Romney effort since 2006, you guys know. It's been hard. We've weathered our storms. We've been beaten up. We've been caught off guard by unexpected turns-of-events.
Then, tonight, Gov. Romney clinched the nomination, finally crossing the threshold of 1,144 delegates.
At that precise moment, our household was embraced by a rainbow — a symbol of God's mercy in spite of it all.
Honestly, I was tempted to take this moment for granted… I was tempted to remind our readers at EFM that we have a long way to go. But instead, I stood back and was very very thankful for the moment.