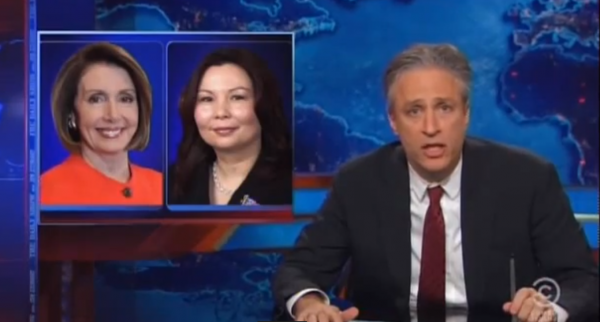 Nancy Pelosi is (supposedly) a champion of voting rights and equal opportunity for women. But she just missed a big opportunity to prove she believes her own rhetoric.
Fellow Democratic representative Tammy Duckworth can't make a House leadership vote because she's pregnant, and her doctor said it wouldn't be safe for her to fly to DC. She asked to vote by proxy instead. How did pro-women-pro-voting Pelosi respond?
No go.
Jon Stewart picked up on the duplicity. "You are suppressing the vote of a minority pregnant woman who is a wounded war veteran — she is everything you supposedly stand for, stuffed into one individual!"
See what else he had to say to Pelosi:
Read more on the Patheos Faith and Family Channel and follow Nancy on Facebook, Twitter, and Instagram!