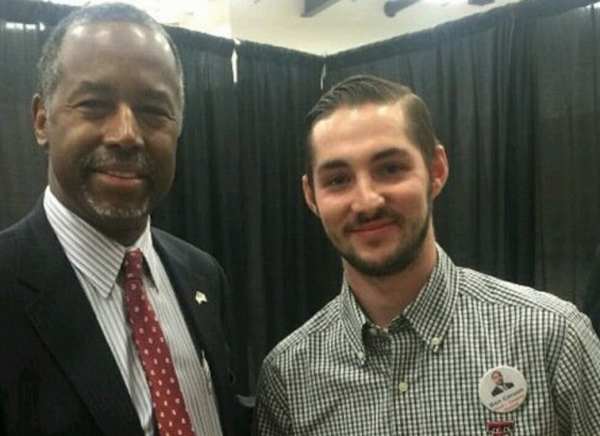 A 25 year old man who was working for Ben Carson's campaign was tragically killed in a car accident this week.
Braden Joplin was traveling for the campaign in Iowa when his van hit a patch of ice, flipped and was struck by another vehicle.  Braden was transported to a nearby hospital where he passed away.
The Carson campaign commented:
Mr. Carson, who was in South Carolina, had spoken to Mr. Joplin's family, his campaign said in the statement, and to the attending physician.

In a statement later on Tuesday, Mr. Carson said "I had the privilege of knowing Braden Joplin personally, and am filled with a deep and profound sadness at his passing." He continued:

"A presidential candidate asks a lot of his or her volunteers, working long hours in the cold, under-appreciated. They are the unsung heroes of the political process. The outpouring of support for Braden and his family from fellow candidates, as well as their staffs and volunteers, demonstrates that life will always transcend politics, and I thank them for their kind words. Please continue to keep Braden's family and friends in your prayers as they struggle through this difficult time."
Rest in peace, Braden.  We will be praying for Braden's family and the entire Carson team as they grieve this great loss.
(Photo: Twitter)
Read more on the Patheos Faith and Family Channel, follow Nancy on Facebook, Twitter, and Instagram!