There's a Silmarillion movie in this post…  What?  A Silmarillion movie??
Read on, Middle Earth wayfarer…
In Part 1, The Silmarillion was praised and placed in its rightful place as one of the great works of literature.
In Part 2, Lord of the Rings fans were tantalized with some of the deep back stories that bear up Middle Earth, found only in The Silmarillion.
Here, in Part 3, I now SOLVE the problem most people have with the The Silmarillion, that it's too hard to read.
The answer: don't read it!  Listen to it.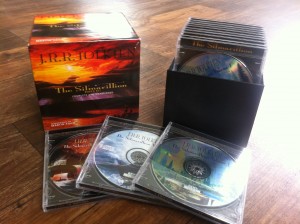 But, this nice little picture probably won't help you much.  To give you a really good idea how fabulous it is, I've put together a little video with excerpts from the audiobook, and fabulous Silmarillion art by Kip Rasmussen.
(If you're reading this in email, you might not see the video, click here for the vid.)
ENJOY!
Shameless P.S.
Follow Tom's ramblings on facebook and twitter and his website, and check out his new movie!