Warning!  Raving fangirl sentimentality incoming!
Ten years.  Has it really been?  A decade ago, I was cruising the aisles of my local brick and mortar bookstore, waiting for something to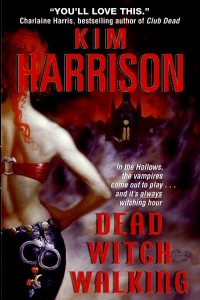 jump out at me, when a single, lonely copy of a book by an author I had never heard of caught my eye.  Kim Harrison's Dead Witch Walking was wedged there on the shelf, amidst the plethora of titles by authors I had read many times over, but this was something new, something special.  A quick perusal of the back cover followed by a quick breeze through the sales counter, I was on my way home with a new, somewhere more familiar world to explore.  A world that ten years later has become the ruler by which all other books are measured.
And it all started when a witch, a vampire and a pixy walked into a bar, quit their jobs, moved into a church and set about independently thwarting the evil plans of the supernatural races now living openly amongst humans since half of the world's population was wiped out forty years ago by a genetically modified tomato.  Wait, what?
That's right, nearly a decade before the GMO Food controversy, Kim Harrison began writing an amazing journey taking place in "The Hollows".  Throughout the series, we enjoy the trials and tribulations of Rachel Morgan, witch and independent runner who is just as likely to kick you in the face as to drop you with her cherry red, spell loaded paintball gun as she struggles to face her foes and her own inner (and outer) demons.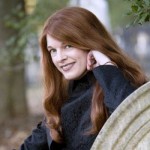 Longer than I've known my husband, or any place that I've ever called home, The Hollows series has been a refuge into which I could escape when I needed a break from reality.  Thirteen novels, countless novellas, two graphic novels, a world book compendium and an anthology are all convenient escape hatches which, by the worn and discolored pages, I have loved to the point of abuse all too frequently over the years.
Murdering bio-drug lords, banshees, human hate groups, master vampires and depraved demons (who aren't abominations from hell but a separate species exiled to the Ever After) all come to play in the Hollows.  As we watch Rachel and the gang overcome their enemies latest devious plans, we also watch them suffer through cleverly written abusive relationships, questions of sexuality, tested loyalties, addiction, loving those that are wrong for them and above all else, a constant changing perception of morality.  It was white or black… Maybe it was gray… and then it just was.
The characters are flawed, beautifully so, with layers of insecurities and bravado sprinkled with hope and fear.  They are almost tangible, real to the mind of the reader.    They evolve, they grow, they move forward in this constantly changing little world that spilled out of the mind of one of the most brilliant writers ever, and into the hearts of millions of fans across the globe.  I often wonder if the CW Network is kicking themselves yet for passing on the series, due to what many fans believe was the fault of a poorly written pilot.  But I digress, perhaps someday soon Hollywood will come knocking, begging to bring this amazing world into a stunning visual reality.
Now, ten years later — the advance copy of book thirteen, the final installment of the series "The Witch with no Name" has crossed my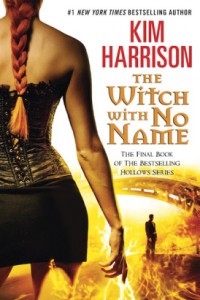 e-reader for the third time, and I'm more in love with the series as it draws to a close than I've ever been.  Loving it for everything it is, even the parts I didn't like.  Even the characters I didn't want to let go of.  Book thirteen, the world breaker of the series has a special place waiting on my shelf.  My questions were answered, the loose ends tied… but enough was left to my imagination that while the written story may end on the final page, life in the Hollows continues on.  Aspiring writers take note and read this series.  This is how you end things.  This is how it's done.  Let the swan song end on a high note.
Of course, I say this as if I know how it really and truly ends, but I don't.  In all her infinite wisdom, Kim Harrison withheld the final chapter even from the advanced copies to avoid spoilers winding up online.  I like to also think of this as a parting gift to those of us reading those advanced copies.  You see, I approached this last book with fear.  It ends here, there will be no more.  So that last little piece gave me something to hold onto for just a little while longer before having to finally "close the book" on a series that has been present for a third of my lifetime, and has become a cherished friend.
If you'd like to learn more about the books or the author, visit kimharrison.net.  If you're in the market for something new, something different, I highly recommend the entire series (Bonus, you won't have to wait ten years to read them all like I did)!
Melody Evans is a Social Media Manager for a family of healthcare companies and a freelance book review blogger for Up All Night Novels.  When she's not  forgoing sleep in the endless pursuit of literary satisfaction, she can often be found diligently glued to her keyboard, seeking new outlets to express her love of all things geek chic.