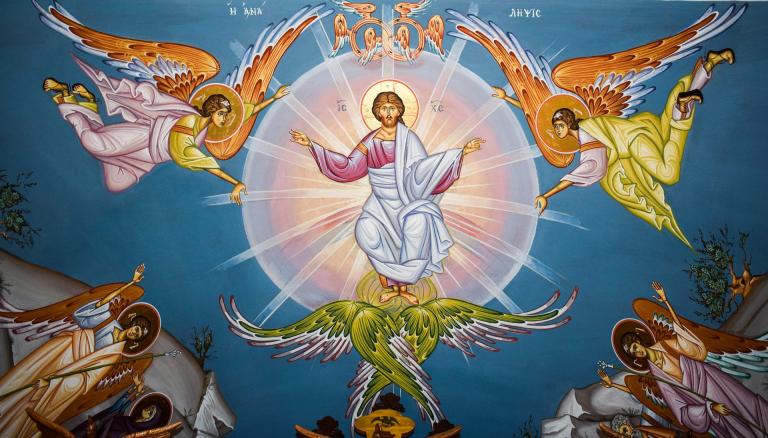 For Advent we have been thinking through the Nicene Creed, a product of the Council of Nicaea, which Santa Claus–I mean, St. Nicholas–is believed to have attended. So we can think of this confession of faith as the Christmas Creed.
In our earlier posts, we reflected on what the creed says about the divine nature of Christ and about what it says about the human nature of Christ. Today, just in time for Christmas Eve, we contemplate what the creed says about how those two natures come together in the person of Jesus Christ.
The Second Article of the Nicene Creed:
I believe. . . .

[His Divine Nature] . . .in one Lord Jesus Christ, the only-begotten Son of God, begotten of His Father before all worlds, God of God, Light of Light, very God of very God, begotten, not made, being of one substance with the Father, by whom all things were made;

[His Human Nature] who for us men and for our salvation came down from heaven and was incarnate by the Holy Spirit of the virgin Mary and was made man; and was crucified also for us under Pontius Pilate. He suffered and was buried.

[His Two Natures] And the third day He rose again
Jesus, like other human beings, was dead and buried. But He did not stay that way. His resurrection was not just about a "spiritual" survival after death. It was not just His divine nature that survived. Jesus rose bodily. He rose as both God and as Man. Because He is God, death could not hold Him, but because He is Man, His resurrection impacts all of us who have a human nature.
Again, Christ's incarnation, death, and resurrection is "for us," "for our salvation." Thus, because of His human nature, when we are united with Him by faith, through baptism, what is said of Christ here is said also of us: "We were buried therefore with him by baptism into death, in order that, just as Christ was raised from the dead by the glory of the Father, we too might walk in newness of life" (Romans 6:4).
according to the Scriptures
I love this shout out to the Scriptures. God's Word tells us what Christ did "for us." We would never know otherwise. As St. Thomas Aquinas said, our reason can tell us that there is a God, but not that He became Man for our sakes. For that information, we need the God's revelation of Himself that He gives us in human language.
and ascended into heaven and sits at the right hand of the Father.
Having accomplished everything for our salvation, the incarnate Son of God assumed His place in the Holy Trinity. Again, He ascended bodily. Christ's human nature, body and all, is now part of the Godhead!
This is underscored by the Athanasian Creed, which memorably speaks of the two natures not as some duality within Christ but inhering together in a personal union: "Although He is God and man, He is not two, but one Christ." And then the Athanasian Creed describes the incarnation in words that allude to Christ's ascension and to the assumption of human nature into God Himself: "one, however, not by the conversion of the divinity into flesh but by the assumption of the humanity into God."
Some people think that because Jesus sits at the right hand of the Father, He isn't here any more. But that implies that the Triune God "isn't here," as if He were not omnipresent. (See Acts 17:27-28). As the Apostle Paul says, bringing together Christ's descent ("he came down from heaven") and His ascension, Jesus now fills everything: "He who descended is the one who also ascended far above all the heavens, that he might fill all things" (Ephesians 4:10).
Because Jesus has ascended to His Father's right hand, He is no longer spatially limited. He was enclosed in the manger at Bethlehem. But now He can also be with us today–in our hearts (Ephesians 3:7), when two or three are gathered in His name (Matthew 18:20), in the Lord's Supper (1 Corinthians 10:16). "And behold, I am with you always, to the end of the age."(Matthew 28:20)
And He will come again with glory to judge both the living and the dead,
Jesus Christ, true God and true Man, will come back. The first time it was to suffer and be crucified for us. The next time He will come in glory. He will set things right. That will be a fearsome experience for many. But that our judge is also our savior is the greatest consolation for Christians.
whose kingdom will have no end.
And His reign will never end. And we will reign with Him (Revelation 22:5).
Jumping ahead to the Holy Spirit part of the creed, we see its last words, in which Christ's resurrection and His everlasting kingdom become ours: "I look for the resurrection of the dead and the life of the world to come. Amen."
Such a confession of Christ shows why Christians are filled with such joy at the celebration of His incarnation. This is the foundation for a merry Christmas!
Illustration: "Ascension of Christ" by Dimitris Vetsikas via Pixabay, CC0, Creative Commons