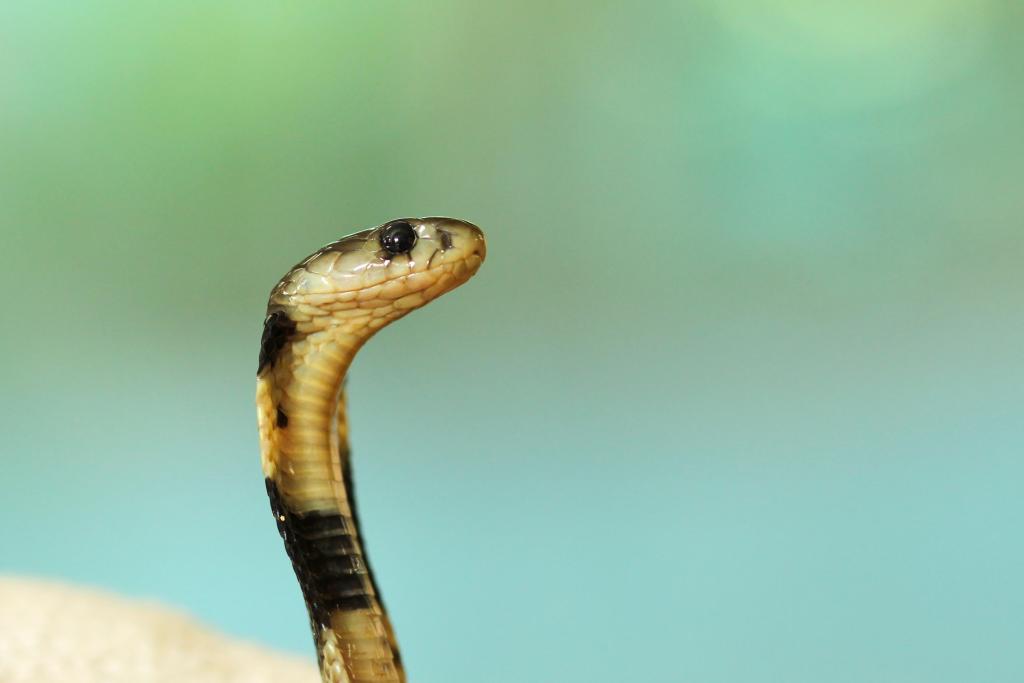 This post gives a few miscellaneous updates concerning the government's efforts to "sinicize" the Chinese church. As I've noted before (here and here), "sinicization" is a communist code word for propagating socialism in and through the church. I then highlight how one church responded with godly discernment to official edicts that would compromise their Christian witness.
Recent Happenings in the Chinese Church
For a long time, the government-sanctioned TSPM ("Three-Self Patriotic Movement") church has not allowed minors to attend church activities… at least officially. Leaders have never implemented such policies evenly from city to city. In Wenzhou, for example, one will see large, elaborate "vacation Bible schools" throughout the summertime. Times have changed.
A new trend is spreading in certain parts of China. Government officials in some areas now forbid anyone under 35-years-old from attending TSPM church services. That's not young. Since so much of TSPM church members are older, this policy can be enacted with little internal resistance. The obvious goal is to kill Christianity through gradual depletion.
This measure is consistent with an explicit strategy written in Document 19, the government's formal plan to deal with religion. Written back in 1982, Document 19 states,
Only after the gradual development of the Socialist, economic, cultural, scientific, and technological enterprise and of a Socialist civilization with its own material and spiritual values, will the type of society and level of awareness that gave rise to the existence of religion gradually disappear.

Such a great enterprise naturally cannot be accomplished within a short period of time, nor even within one, two or three generations. Only after a long period of history, after many generations have passed, and after the combined struggle of the broad masses of both believers and non-believers will this come about.
How does China plan to gradually eliminate Christianity? Tony Lambert's comments are noteworthy,
In the internal version of Document 19 it is made very clear that the CCP must "powerfully direct and organise all relevant departments" including "people's organisations" such as the TSPM and CPA to implement the Party's religious policies.
In recent years, Chairman Xi has merely applied the strategy laid out by the Party nearly 40 years ago. His predecessors were too lax by comparison.
Does Sinicization have an upside?
Perhaps, this is not a bad thing.
What will people hear if they do attend a TSPM church? Who knows for sure? But we are certainly seeing an official effort to ensure that uniform socialist teaching spreads across TSPM churches. What things are being taught?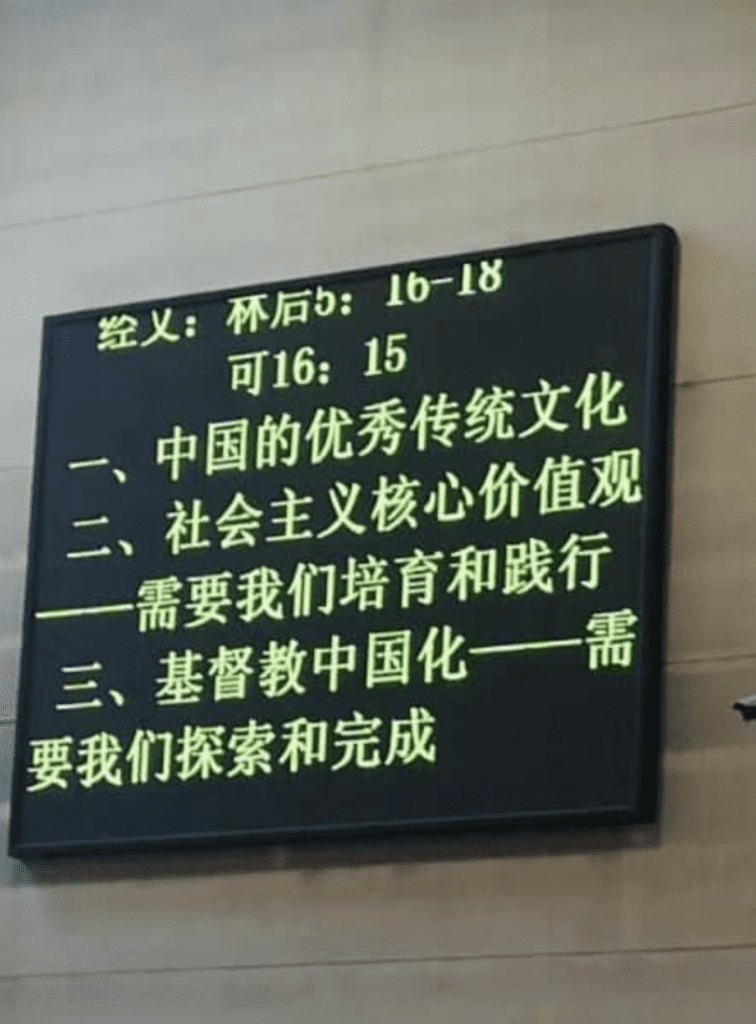 Look at the picture above. It was taken by a believer who attended a TSPM church service. At the top, we see the biblical texts that the congregation is to focus on during the service. These include 2 Corinthians 5:16-18 and Mark 16:15.
The board then lists the three sermon points. They are:
1. China's excellent traditional culture
2. Socialism's core values
–– needs our cultivation and implementation
3. Sinicization of Christianity
–– needs our exploration and accomplishment
Curious what cited verses say and how they lead to the above three points? I can help you with the first question; you're on your own with the second.
2 Corinthians 5:16–18 says,
16 From now on, therefore, we regard no one according to the flesh. Even though we once regarded Christ according to the flesh, we regard him thus no longer. 17 Therefore, if anyone is in Christ, he is a new creation. The old has passed away; behold, the new has come. 18 All this is from God, who through Christ reconciled us to himself and gave us the ministry of reconciliation;
Conveniently, the sermon stops just before Paul adds,
19 that is, in Christ God was reconciling the world to himself, not counting their trespasses against them, and entrusting to us the message of reconciliation. 20 Therefore, we are ambassadors for Christ, God making his appeal through us. We implore you on behalf of Christ, be reconciled to God. 21 For our sake he made him to be sin who knew no sin, so that in him we might become the righteousness of God.
As for the second text, the sermon draws from the disputed ending of Mark's gospel, which says:
[Jesus] said to them, "Go into all the world and proclaim the gospel to the whole creation."
What about (unofficial or unregistered) house churches (HCs)? In different places, officials have tried various measures to control HCs. They have demanded to see churches' tithing records. They have demanded HCs install cameras so that the government can ensure pastors are teaching Party-approved messages.
A Pastor's Timely Wisdom
The government has shown shrewdness. As Jesus said, "For the sons of this world are more shrewd in dealing with their own generation than the sons of light" (Luke 16:8). Yet, Christ extorts his people to demonstrate great wisdom in response. Matthew 10:16–20 says,
Behold, I am sending you out as sheep in the midst of wolves, so be wise as serpents and innocent as doves. 17 Beware of men, for they will deliver you over to courts and flog you in their synagogues, 18 and you will be dragged before governors and kings for my sake, to bear witness before them and the Gentiles. 19 When they deliver you over, do not be anxious how you are to speak or what you are to say, for what you are to say will be given to you in that hour. 20 For it is not you who speak, but the Spirit of your Father speaking through you.
Several Chinese pastors have exemplified the vv. 19-20. The following is my favorite example.
As many know, local government officials in many places have required churches to hang portraits of Chairman Mao and Xi Jin Ping in their sanctuaries. In one location, a pastor received this edict yet did not want to comply. The government representatives did not require him to remove the cross or depictions of Christ. Instead, he was told to place an image of Mao and Xi to the right and left of the cross, which hung center stage behind the pulpit. Envisioning the scene in the pastor's mind, the Spirit granted him the perfect answer for the occasion.
"I don't think that would be a good idea," the pastor advised.
"Why?" the officials asked.
"The Bible describes the crucifixion of Jesus Christ," he replied. "The Bible says that criminals, rebels, were executed beside him. One hung on his left; the other on his right. By hanging pictures of Chairman Mao and Chairman Xi on each side of the cross… well, uh, I don't think you want people to see that. It might imply they are criminals."
Needless to say, the local authorities agreed and no longer demanded the church to put up such propaganda at the altar.